Politics
Ayanna Pressley is getting the former office of her 'shero'
Pressley got the office following a trade with a fellow incoming freshman Democrat.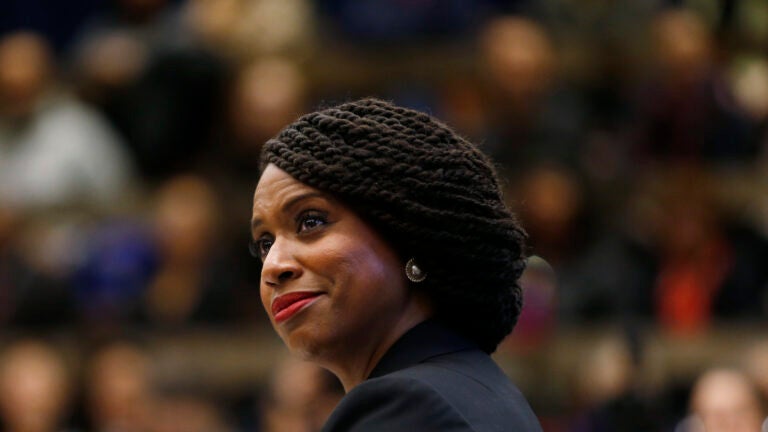 Ayanna Pressley is the first black woman that Massachusetts has ever elected to Congress. And when Pressley arrives in January, she is going to have an office with a trailblazing history of its own.
In a tweet Monday afternoon, the 7th District congresswoman-elect announced that she's getting the former office of Rep. Shirley Chisholm, the first black woman in the country elected to Congress. Pressley, who has repeatedly called Chisholm her "shero" and inspiration for running for public office, said she got the late Brooklyn congresswoman's space after trading House office lottery numbers with fellow Democrat and soon-to-be freshman Rep. Katie Hill.
Wow! TY Mommy for the extra bday luck! We just learned my Congressional Office designation will be #ShirleyChisholm 's former office. How's that for divine intervention, AND the selflessness of my colleague @KatieHill4CA who drew a better lottery# but still wanted me to have it.

— Ayanna Pressley (@AyannaPressley) December 17, 2018
"No doubt you're going to do amazing things from that office," Hill tweeted back Monday, which was coincidentally the birthday of Pressley's late mother, a fellow "shero."
Pressley told MassLive in a statement Monday that she was "deeply thankful" to Hill for "graciously offering to switch offices."
"Shirley Chisholm has been a 'shero' of mine since I was a girl," she said. "Her commitment to fighting injustice and lifting up the voices of those who had been disenfranchised is an inspiration and an example I hope to follow."
Chisholm was elected to Congress in 1968 and represented New York's 12th District until 1983. She died in 2005 and was posthumously awarded the Presidential Medal of Freedom in 2015. Chisholm was also the first black woman to run for president and the first woman to run for the Democratic presidential nomination in 1972.
During her visit to the Capitol for freshman orientation last month, Pressley tweeted a photo of herself posing in front of the iconic portrait of Chisholm.
Because of her. pic.twitter.com/6QTXadxdON

— Ayanna Pressley (@AyannaPressley) November 16, 2018
From the beginning of her congressional primary campaign against incumbent Democratic Rep. Michael Capuano, Pressley also wore a pin that read "BYOC." An acronym for "bring your own chair," the pin was a reference to Chisholm's famous quote: "If they don't give you a seat at the table, bring a folding chair."
https://twitter.com/AyannaPressley/status/1059627199530180608