Politics
Joe Kennedy III got a single vote in the election for House speaker
He was not a candidate.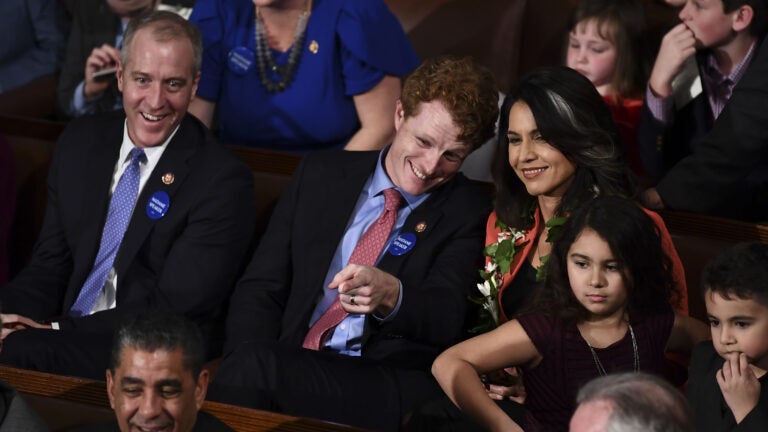 Rep. Nancy Pelosi recaptured the House speaker's gavel with an overwhelming majority of the Democratic votes in Thursday's speakership election, though a small minority of her party's members did keep their pledge to withhold their support.
And one of them cast their vote instead for Rep. Joe Kennedy III, who wasn't even running in the first place.
During the roll call vote Thursday afternoon, Rep. Conor Lamb — a Pennsylvania Democrat who had consistently opposed Pelosi's speakership bid — shouted Kennedy's name when it was his turn to vote. The Massachusetts congressman could be seen laughing after Lamb recorded his vote.
Lamb was among 15 Democrats who voted either present or for another member of the party, including former Vice President Joe Biden and Rep. John Lewis. Pelosi still easily clinched the speakership by a final tally of 220-192.
Thursday wasn't the first time Kennedy's name has been floated for speaker, even though the 38-year-old Newton Democrat has been an unwavering Pelosi ally — and was showing as much during the speakership vote.
Brought a little swag to the House Floor to celebrate an historic day. Gavel returns to the proper hands. #MadameSpeaker #SpeakerPelosi pic.twitter.com/M3MXxrIZyP

— Rep. Joe Kennedy III (@RepJoeKennedy) January 3, 2019
The Washington Post reported in November that some anti-Pelosi Democrats, including fellow Massachusetts Rep. Seth Moulton, even tried to recruit Kennedy to run for speaker during their short-lived effort to replace the longtime party leader (after reaching a deal, Moulton voted for Pelosi on Thursday).
Kennedy, who reportedly declined those requests, also publicly declared that he wasn't running for speaker at an event in Needham in November and has continued to stand in full support of Pelosi. In fact, he was the one who officially nominated the California congresswoman for speaker during the Democratic leadership elections later that month.
"We are at this extraordinary opportunity in the Democratic caucus to try to deliver on some promises, hold administration accountable, but recognize that we aspire to be a big tent party and you've got to find ways to build that consensus, empower our members, and unify behind values and policies," Kennedy told WBZ ahead of the caucus vote. "There is nobody that's better at doing that than Nancy Pelosi. Period."