Politics
Is the media's Elizabeth Warren coverage repeating the same mistakes of 2016?
The early coverage of the Massachusetts senator's presidential bid has sparked growing criticism.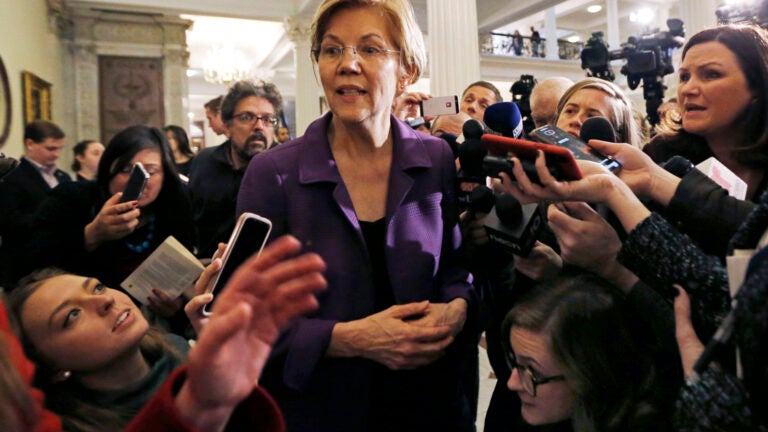 Just a few days into 2019, some Democrats and media critics are seeing ghosts of the type of 2016 campaign coverage they say sunk Hillary Clinton. And now it's haunting Elizabeth Warren.
Shortly after the 2016 election, a Harvard study on the media's campaign coverage found that policy — what Clinton and Donald Trump would actually do as president — accounted for just 10 percent of their overall news coverage. In the case of both candidates, their policies were by far overshadowed by coverage about the "horse race" and their "alleged scandals."
Follow-up research concurred that the coverage disproportionately focused on Clinton's use of a private email server as secretary of state, even compared to Trump's numerous controversies. Another analysis last year found that in "in just six days, The New York Times ran as many [front-page] stories about Hillary Clinton's emails as they did about all policy issues combined in the 69 days leading up to the election."
In the first few days of Warren's own presidential candidacy, some observers see a few familiar tendencies, with coverage centering around her handling of past Native American heritage claims and so-called "likability."
"The media should reflect on what it got wrong last time: principally, its tendency to skew the balance between perceived scandal and substantive policy talk," wrote the Columbia Journalism Review. "Warren's candidacy, in particular, recalls some familiar pitfalls for the press: for 'Hillary's emails' see 'DNA test,' for 'crooked Hillary' see 'Pocahontas,' for 'cold and unlikable' see 'cold and unlikable.'"
Before Warren even announced the formation of her exploratory committee, some political and media figures complained that the coverage of the Massachusetts senator's potential presidential campaign was unfairly focusing on the DNA test she took in an attempt to settle the Native American ancestry controversy, as opposed to the actual policy proposals she was putting forward.
"There's something very (Hillary) Clinton-esque about the Warren DNA test story and the way the press is handling it," FiveThirtyEight editor-in-chief Nate Silver tweeted last month in response to a New York Times story about the political implications of the test, which Warren released in October, and that asserted that the "lingering cloud over her likely presidential campaign has only darkened."
Silver said that while Warren "showed poor judgement," the press was treating a "minor story" like a "major crisis."
There's something very (Hillary) Clinton-esque about the Warren DNA test story and the way the press is handling it.
—Yeah she showed poor judgement.
—But it's a minor story treated like a major crisis.
—Probably a proxy for other concerns (and/or biases).https://t.co/9uRhvnWgET

— Nate Silver (@NateSilver538) December 6, 2018
Neera Tanden, the president of the liberal think tank American Progress and a prominent Clinton supporter in 2016, wrote that she had "pangs of [post-traumatic stress disorder] already."
I can just see the relentless fixation start now.

— Neera Tanden (@neeratanden) December 6, 2018
Like Clinton's email controversy, Warren's DNA test quickly became a plum target for conservative media. But The New York Times isn't the only mainstream outlet treating it like a central 2020 issue. The Washington Post also reported on how the decision was reverberating within Warren's then-nascent presidential campaign last month and stated that the DNA test had "enraged tribal groups and other minorities."
However, citing interviews with "a dozen tribal chiefs, Native politicians, researchers and influencers," HuffPost reported this Friday that the narrative of "enraged tribal group" is "incredibly overblown."
"It's media fodder. It's sensationalism. That's what it is," Richard Sneed, the principal chief of the North Carolina-based Eastern Band of Cherokee Indians, told the outlet.
Another more recent, dovetailing strain of media criticism has been of the coverage drawing comparisons to Clinton's "likability."
In a press conference Monday outside her Cambridge home, the first two questions the Massachusetts senator faced were about whether she was electable enough or too "polarizing." Warren declined to engage with the premise.
"I'm in this fight because I understand what's happening to working families," she answered, decrying the decline of the middle class in the United States in recent decades.
Still, much of the immediate coverage focused on perception and style over substance.
The article that perhaps stirred the most controversy — a Politico story Monday titled "Warren battles the ghosts of Hillary" — posited that Warren "shares too many of the attributes that sank Hillary Clinton" and had to battle perceptions of being too "cold or unlikable" — despite not directly quoting anyone making that argument. In fact, the article mostly quoted people who said the portrayals were unfair and perhaps sexist.
A similar article Monday in The Atlantic — "Elizabeth Warren Doesn't Want to Be Hillary 2.0" — granted anonymity to political operatives working for other Democratic candidates who argued Warren was "overly cautious and cold."
The coverage resulted in more than a few outraged Democrats, as well as media members, especially considering that Warren and Clinton are hardy similar politically and even have somewhat of a contentious personal history (perhaps the thing they have most in common is being the subject of coordinated attack campaigns from the right).
"I've covered both of them and Hillary and Warren are NOTHING alike…except for their anatomy, and they both seem to like dogs," tweeted New York Times reporter Amy Chozick.
Washington Post media critic Eric Wemple called the Politico article "ill-conceived" and Warren herself even sent out a fundraising email in response to the outlet's tweet promoting the story.
Elizabeth Warren just send out a fundraising email based on the Politico likability tweet pic.twitter.com/lgzT7KNE43

— Amanda Terkel (@aterkel) January 2, 2019
"We're used to being compared to any woman who's ever lost an election, and we're used to the anonymous, angsty quotes from 'concerned' insiders, and the she-can-never-win garbage churned out by the Republican propaganda machine and recycled by the media," her campaign wrote to supporters Wednesday.
As The Atlantic reported in the aforementioned story, during Warren's 2012 Senate campaign, former Sen. Scott Brown's team tried to paint her as the next Martha Coakley, the Massachusetts attorney general who lost the 2010 special election seat. It didn't work.
"And you know what? We're also used to proving them all wrong," her campaign wrote this week.
Warren even tweeted a video of herself on a train with the caption: "I hear women candidates are most likable in the quiet car!"
I hear women candidates are most likable in the quiet car! I'll be talking again on @maddow @ 9pm ET. pic.twitter.com/DnVIw2RSgG

— Elizabeth Warren (@ewarren) January 2, 2019
In fairness, Warren does appear to face some challenges in what is expected to be a crowded Democratic primary field.
For instance, there doesn't appear to be the same level of early grassroots enthusiasm for Warren's candidacy this cycle — including in early-primary states, like New Hampshire and Iowa — compared to before the 2016 election, when progressive groups launched "Draft Warren" campaigns. Recent polling has showed even voters in Warren's home state of Massachusetts didn't want her to run.
Still, some media members say the prognosticating this far out is premature.
"Perhaps we should all just wait and see how the narrative unfolds rather than trying to predict what the narrative will be," former longtime CBS News anchor Dan Rather tweeted Tuesday.
So Elizabeth Warren announces she's running. And already judgements come flooding in. Does she have a chance? Will she be a strong candidate? I don't know. Perhaps we should all just wait and see how the narrative unfolds rather than trying to predict what the narrative will be.

— Dan Rather (@DanRather) January 2, 2019
In a monologue on his show Wednesday, MSNBC anchor Chris Hayes said both the media and voters should be focusing on "what the candidate's worldview is, what their platform calls for concretely, how they've conducted themselves as a window into how they might be in the future, and what we can best find out about their mettle and their judgment."
"Who will they fight for? What will they fight for? Can they be trusted to do what they say? Everything else is noise," he continued. "And trust me, there will be an awful lot of noise in the next 22 months."