Politics
Jim McGovern is overhauling the House rules. Here's what you need to know about the changes.
"[Republicans] presided over the most closed Congress in history. I don't want that to be my legacy."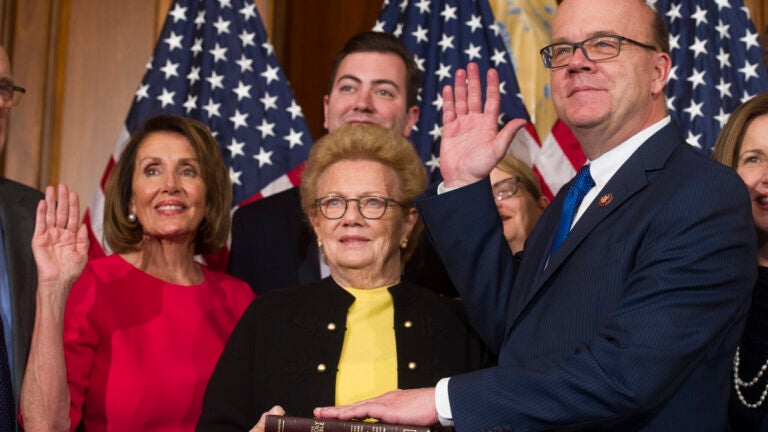 The saying may be that democracy dies in darkness. But Rep. Jim McGovern has joked that over the past few years it's actually the House Rules Committee "where democracy goes to die."
As the ranking Democrat on the Rules Committee under Republican leadership, McGovern frequently protested the majority party's historic lack of openness in the legislative process.
"They presided over the most closed Congress in history," the Massachusetts congressman told Boston.com in an interview. "I don't want that to be my legacy."
With Democrats now in control of the House, McGovern has ascended to Rules Committee chair and spearheaded what he says is an "unprecedented" package to reform the way bills are debated and modernize Congress. In a vote Thursday night, most — but not all — Democrats and even a couple of Republicans voted to adopt the new rules.
While frustrated by the intra-party defectors, McGovern says he's "really proud" of the final rules package, which is one thing House Democrats actually have the power to enact without the approval of the Senate or President Donald Trump.
"Look, we have divided government," said the Worcester Democrat. "And so there are limits to what a Democratic House can ultimately accomplish with a Republican Senate and a Republican president — especially a president as erratic as this one. But the one thing we can do is we can run the place like professionals."
What's in the package?
One of the biggest priorities for McGovern was restoring an open legislative process.
The new rules package requires that all bills referred to the Rules Committee, which sets the conditions for debating a bill before it advances to the House floor, must first have a committee hearing and markup before moving forward.
"Under the Republican leadership, bills would routinely come to the Rules Committee that never had hearings, that no committee ever considered," he said. "We're requiring committees to actually do their job before legislation comes to the Rules Committee."
The bill also mandates that major pieces of legislation are available for 72 hours for House members to read before they go to the floor for a vote, a change from the requirement of about 24 hours.
There's also a new requirement that bills with more than 290 co-sponsors (two-thirds of the House) are guaranteed to get a floor vote, which is intended to expedite bills with broad, bipartisan support — even if those in charge aren't on board.
There are also provisions that McGoverns says will empower individual members and their constituents, such as giving voting rights to the delegates representing Washington, D.C., and Puerto Rico and requiring that committees hold "Member Day" hearings, in which all House members are provided the opportunity to present their legislative ideas.
The rules package will create select committees on addressing the climate change crisis and modernizing Congress, install an Office of Diversity focused on the congressional workforce, and "unequivocally ban discrimination on the basis of sexual orientation or gender identity" in Congress. And with the swearing in of the first two Muslim congresswoman, the package is clarifying the House's 180-year-old ban on headwear to allow hijabs and other religious headwear.
McGovern noted that not only is the overall package a stark departure from the rules under Republican leadership, but also from the rules under periods of Democratic leadership prior to when the GOP took control in 2011.
"It's going to be up to us to be able to stay true to our word and to our rules," he said.
The rules package also includes a raft of ethics reforms, including a ban on members serving on publicly traded corporate boards and a requirement that the Ethics Committee investigate if any member is  indicted or charged with criminal conduct.
(House Democrats are also planning to introduce a sweeping anti-corruption and government reform bill as their first piece of legislation — H.R. 1 — this session.)
And amid the larger societal reckoning with workplace culture and sexual harassment, the rules package will ban sexual relationships between members and employees of the committees on which they serve, prevent nondisclosure agreements from prohibiting Capitol Hill staffers from reporting workplace violations, and require that members reimburse taxpayers for discrimination settlements.
"I think a lot of our Democratic values are incorporated in this package," McGovern said.
What's the deal with the dispute over PAYGO?
While the vast majority of Democrats voted in favor of the rules package, McGovern and House Speaker Nancy Pelosi did have to respond to a small rebellion from a few fellow progressives over an obscure rule in the package known as PAYGO.
Short for "pay-as-you-go," the provision requires that any new spending must be offset by tax increases or budget cuts, with the supposed goal of not increasing the federal deficit. If legislation is passed without offsets, the Office of Management and Budget is required to make across-the-board sequestration budget cuts at the end of the congressional session.
Some progressive Democrats, including California Rep. Ro Khanna and New York Rep. Alexandria Ocasio-Cortez, argue that PAYGO is "terrible economics" and a "political maneuver designed to hamstring progress" on health care and other major reforms. Both said they would vote against the entire rules package as a result.
Tomorrow I will also vote No on the rules package, which is trying to slip in #PAYGO.

PAYGO isn't only bad economics, as @RoKhanna explains; it's also a dark political maneuver designed to hamstring progress on healthcare+other leg.

We shouldn't hinder ourselves from the start. https://t.co/WW3UaBs7vh

— Alexandria Ocasio-Cortez (@AOC) January 2, 2019
And McGovern, a fellow member of the Congressional Progressive Caucus, largely agrees.
"I have some serious reservations with PAYGO," he said. "And I think we have to have a thorough discussion about a better way to move forward, because investing in programs, for example, that stimulate economic growth or that feed the hungry, I would say actually result in net savings. But no matter what I think about Paygo, it is the law of the land."
As McGovern notes, PAYGO was passed into actual statutory law in 2010 under President Barack Obama. And in 2011, House Republicans changed the chamber's rules to replace it with "CUTGO," which mandated that new spending could only be offset by spending cuts in other areas.
While it would take an actual bill to get rid of PAYGO, changing the House rules to get rid of CUTGO was at least a step in the right direction, according to McGovern.
"This is where I'm a little bit frustrated about some of the discussion about this in terms of the rules package," he said. "PAYGO is not created by the rules package. PAYGO is the law. If you want to repeal PAYGO, then you got to introduce a bill and pass it in the House and Senate and get the president to sign it."
McGovern continued: "What we're saying in the rules package is — CUTGO is what the Republicans put in — we're not doing that. We're going to reserve our right to find offsets in compliance with the law, because if we don't, that means that we'll pass a bill and then the Senate passes a bill, the Senate can decide where the offsets are and this Republican Senate will probably go after things that I care about. And if they don't want to do it, Mick Mulvaney at OMB does it. And I wouldn't trust him to tell me the correct time, never mind to do the right thing in terms of finding offsets that are acceptable."
In a tweet earlier this week, McGovern assured his peers that he would do "everything in my power to ensure [PAYGO] doesn't prevent Medicare for All and other progressive causes from moving forward, including waiving the House rule."
And other progressive Democrats appear to take him at his word. Ultimately, Khanna, Ocasio-Cortez, and Hawaii Rep. Tulsi Gabbard were the only Democrats who voted against the rules package Thursday. The rest of the of progressive caucus members in the House voted for it and Reps. Marc Pocan and Pramila Jayapal, of Wisconsin and Washington, respectively, announced Wednesday that they would introduce the required legislation to repeal PAYGO.
That is why we will be introducing legislation in the 116th Congress to end #PAYGO. In the meantime, @RepMcGovern and House Leadership have committed to us that #PAYGO will not be an impediment to advancing key progressive priorities in the 116th Congress.

— Rep. Mark Pocan (@repmarkpocan) January 2, 2019
That is why @RepMarkPocan and I will be introducing legislation shortly to repeal PayGo and have a hearing on it to highlight all the reasons why PayGo is bad policy and bad for millions of working Americans who deserve a bold, visionary progressive agenda.

— Rep. Pramila Jayapal (@RepJayapal) January 3, 2019
McGovern says he's also on board with the legislative effort
"There's no other way to do it," he said. "And I get it. People like to have these — I understand people's frustration on PAYGO, because I share a lot of that frustration. But we gotta be real about how we change it, and we have to be real about how we don't change it."
How did the rules package come together?
Despite the last-minute dramatics, McGovern says the final rules package was the result of "unprecedented" bipartisan outreach. Since the fall, McGovern has been meeting with both Democrats and Republicans to seek their input on potential rule changes.
"I have spoke to virtually every caucus and committee chair that's in this institution," he said. "I've met with countless members individually. … All these ideas are not 'Jim McGoven came up with these ideas one day.' These ideas, you know, people came to us about, so I feel good about it."
McGovern said the process was especially unique for a rules package.
"I've been here for awhile," said the 12th-term congressman. "I've never ever been asked my opinion on the rules package. In fact, most of the time we don't even know what's in the rules package when it comes from the floor."
Another remarkable aspect of the rules package was that it actually got GOP votes. Three Republicans — Reps. Tom Reed and John Katko of New York, and Brian Fitzpatrick of Pennsylvania — voted yes Thursday night. According to Roll Call, it was the first time anyone from the minority party voted for the majority party's rules package.
"What is unprecedented about this rules package is that this is the first time that I know of where there has been an open process where we sought advice from Democrats and even Republicans," McGovern said. "There are ideas in here that will promote more bipartisanship. There are ideas in here that will empower individual members. The bottom line is we want to run this place like professionals."
McGovern noted that the package is still a "work in progress" and they could make amendments throughout the session as they see fit. Part of role of the special committee on modernizing the House will facilitate further rule changes. But McGovern is happy with what the chamber passed Thursday.
"We want to restore some integrity to the House of Representatives and I think this is a good first step," he said. "I'm really proud of the final result."