Politics
Althea Garrison, a longtime candidate, is now a Boston city councilor
"I worked for this for all those years. I worked very hard."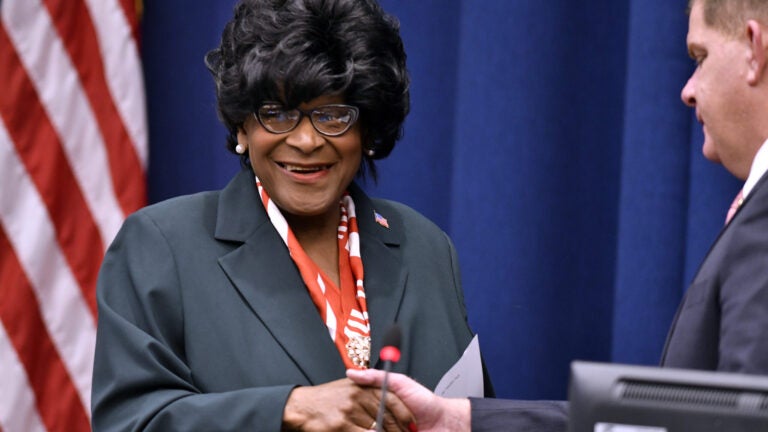 Althea Garrison ran for a seat on the Boston City Council for decades.
In late 2017, she ran for an at-large councilor seat finishing fifth — or, in other words, she was the first runner-up in a race for four seats.
But over a year later, what may have once been considered a loss is a loss no longer.
On Wednesday, Garrison was sworn into office with a standing ovation, as the Dorchester resident and perennial candidate took her seat in City Hall's Christopher Iannella Chamber and filled a vacancy left by now former councilor, Congresswoman Ayanna Pressley.
"I worked for this for all those years. I worked very hard," Garrison told Boston.com. "And I'm self motivated. Nobody don't have to motivate me."
She was awarded Pressley's seat for her runner-up finish, where she garnered nearly 7 percent of the vote, and now she's slated to carry out the final year left in the two-year term through the next race this fall.
But Wednesday also marked the start of Garrison's first time back in public office since 1994, after she served one term in the Massachusetts House of Representatives.
Garrison has made regular bids for office in city and state elections for decades. Most recently, she ran as an independent in the race for her former state House of Representatives seat in November and was ultimately beat by Democrat Liz Miranda.
"This is not her first swearing in," Mayor Marty Walsh noted in the council chamber Wednesday.
In her new role, Garrison, who voted for President Donald Trump, has said she will likely be the most conservative member of the council.
But Garrison indicated Wednesday that she feels she'll fit in well, and expressed support for a plan unveiled by the Walsh administration this week that targets boosting affordable housing funding, among other issues.
She said she would prioritize addressing problems facing senior citizens and homeless veterans during her time in office.
There's a lot of work ahead, Garrison said, particularly for creating affordable housing. She also wants to establish rent control measures and end the practice of evictions without cause.
"A lot of the seniors can't afford the housing," she said in an interview. "And I think the council is going to have to define what is real affordable housing because the housing they're saying is affordable is not affordable."
Another new day! Welcome to the @BOSCityCouncil Councilor #AltheaGarrison – I was thrilled to document this moment with @CityOfBoston @marty_walsh Chief @patrickbrophy9 #bospoli pic.twitter.com/niN6pz1Iqx

— Annissa Essaibi-George (@AnnissaForBos) January 9, 2019
City Council President Andrea Campbell thanked Garrison for not only agreeing to serve, but also for "having had the courage to run." 
She said Pressley called earlier to offer her congratulations from Washington, D.C.
"We've had many conversations, and I know (Councilor Garrison is) ready to get to work and each of us are ready to partner in the work with her," Campbell said.
Garrison thanked her friends and supporters who "kept the faith" in her candidacy and cast a ballot for her that November day over a year ago.
And she wasted no time to make clear: Yes, she will run again for her seat this fall.
"No doubt about it," she said in an interview.