Politics
Charlie Baker announces bill to legalize sports gambling in Massachusetts
Here's what we know so far about the plan.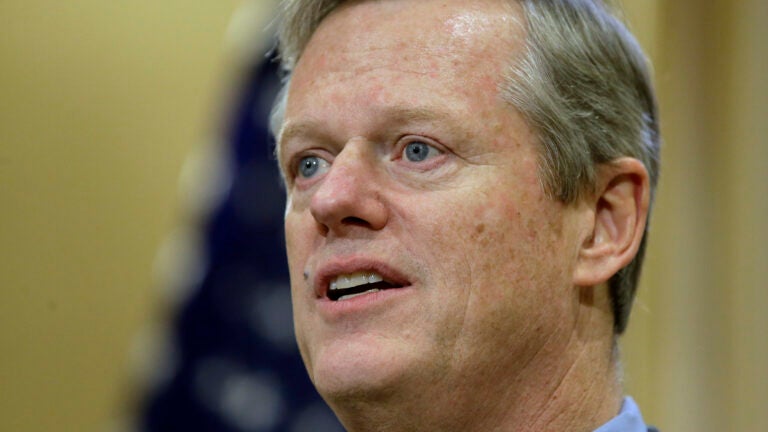 Gov. Charlie Baker announced Thursday that he plans to file legislation to legalize bets on professional sports in Massachusetts, following the Supreme Court decision last May striking down a federal sports gambling ban.
"Expanding Massachusetts' developing gaming industry to include wagering on professional sports is an opportunity for Massachusetts to invest in local aid while remaining competitive with many other states pursuing similar regulations," Baker said in a statement Thursday morning.
Similar to the state's current regulations for daily fantasy sports, the Republican governor's proposal would continue to prohibit gambling on high school, collegiate, and amateur sporting events, nor would it allow betting on esports. And like the state's casinos, only adults over the age of 21 would be allowed to place sports bets.
Baker's plan would authorize the Massachusetts Gaming Commission — which currently oversees one currently open casino in Springfield, a soon-to-open casino in Everett, and a slots parlor in Plainville — to issue newly created sports wagering licenses to the state's current gaming licensees. Under the legislation, only already-licensed casinos would be able to operate onsite sports wagering lounges.
However, the proposal would also separately allow the Gaming Commission to license unaffiliated entities to conduct online only sports wagering, such as daily fantasy companies, like the Boston-based DraftKings. Casinos would also be able to offer — or contract with another company to offer — online sports gambling, in addition to their onsite betting lounges.
In an interview Thursday afternoon, Baker told WGBH's "Boston Public Radio" that the legislation was based on the sports gambling legalization bill passed in New Jersey last June, which the Bay State governor said was by most accounts the "best way to frame it."
Since the Supreme Court decision last year, seven additional states, including neighboring Rhode Island, have legalized sports gambling — joining Nevada, where wagering on both professional and college sports has been allowed since 1949.
"It's legal, it's going to start happening in a lot of other states … and, I think, from our point of view, it's probably a conversation we need to have," Baker told WGBH, reiterating that the Massachusetts bill would only legalize betting on professional sports.
"We think this is a relatively responsible way to go about doing it," he said.
Under Baker's plan, the application fee for an initial license would be $100,000, which would go toward covering the Gaming Commission's administration of the application process. If approved, companies would have to pay a licensing fee every five years of at least $500,000.
In-person sports gambling licensees would also pay a tax rate of 10 percent, and online wagering licensees, as well as daily fantasy sports companies, would pay a rate of 12.5 percent.
If passed, the administration estimates that their plan would result in $35 million in state revenue in the upcoming 2020 fiscal year, which would exclusively go toward the Gaming Commission's local aid fund.
Baker's bill also calls for a cashless system for sports gambling, an age and identity verification system for online users, and regulations to protect people placing wagers.
"Our legislation puts forth a series of commonsense proposals to ensure potential licensees are thoroughly vetted and safeguards are in place to protect against problem gambling and illegal activity," the governor said in his statement Thursday. "We look forward to working with our colleagues in the Legislature to pass this bill into law."
https://twitter.com/MassGovernor/status/1085932861675450369