Politics
John Kerry has a one-word message for Donald Trump
In Davos, the former Massachusetts senator said that "people will die" because of the president's actions.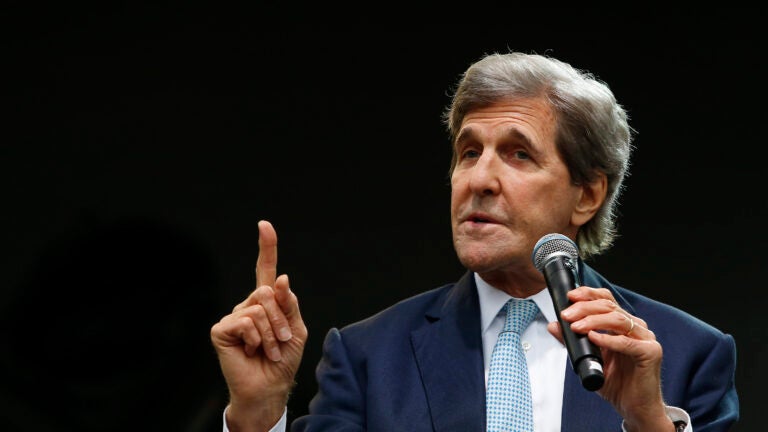 John Kerry has a simple message for President Donald Trump.
During an appearance on a CNBC panel about climate change at the World Economic Forum in Davos, Switzerland, the former U.S. secretary of state and Massachusetts senator was asked what he would tell Trump, if the Republican president was sitting opposite from him.
Kerry initially suggested that he couldn't entertain the premise of the question.
"[Trump] doesn't take any of this seriously," said the 75-year-old former Democratic presidential nominee. "He doesn't have the ability to have that kind of conversation."
However, when pressed, Kerry offered a stoic, one-word response, intended for the president.
What would John Kerry say to Trump if they were sitting across from each other? "Resign." https://t.co/jKtRgh4Vm8 pic.twitter.com/NXbMzQ5gfx

— CNBC (@CNBC) January 22, 2019
"Resign," he said, earning cheers and laughs from the panel's live audience.
Kerry didn't appear to find the topic humorous.
As the country's former top diplomat and negotiator of both the Paris climate accord and the Iran nuclear deal, Kerry has vocally lamented Trump's efforts to undermine the two international agreements, as well as the administration's general no-compromise approach to diplomacy.
Kerry has said he specifically thinks Trump's decision to withdraw the United States from the Paris agreement will go down in history as "one of the most self-destructive days in presidencies ever."
During the panel Tuesday, he said the country's withdrawal — which can't legally take effect until Nov. 4, 2020 — would "cost lives."
In October, a report by United Nations scientists found that the world has about a decade to make "unprecedented" changes to decrease greenhouse gas emissions, in order to avoid the potentially devastating effects of global warming and sea level rise. Earlier this month, greenhouse gas emissions in the United States, which make up a sixth of global emissions and have been trending downward since 2005, increased by 3.4 percent.
Kerry said Tuesday that Trump is not solely responsible for the lack of necessary global action to address climate change. But he reiterated that the withdrawal from the Paris agreement would be costly.
"People will die because of the president's decision," Kerry said.
"I wish there was a lawsuit capacity that could hold people liable for such an insane decision as he has made, which will cost lives," John Kerry says about Trump's action on climate change. #WEF19 https://t.co/yDS6JYgD6P pic.twitter.com/knnUOu0Jfk

— CNBC (@CNBC) January 22, 2019
Trump was originally scheduled to also attend the World Economic Forum in Davos, but ultimately decided to skip the elite gathering amid the ongoing government shutdown, which began more than a month ago.