Politics
What you need to know about Elizabeth Warren's positions on Puerto Rico
"It's time to show the people of Puerto Rico some respect."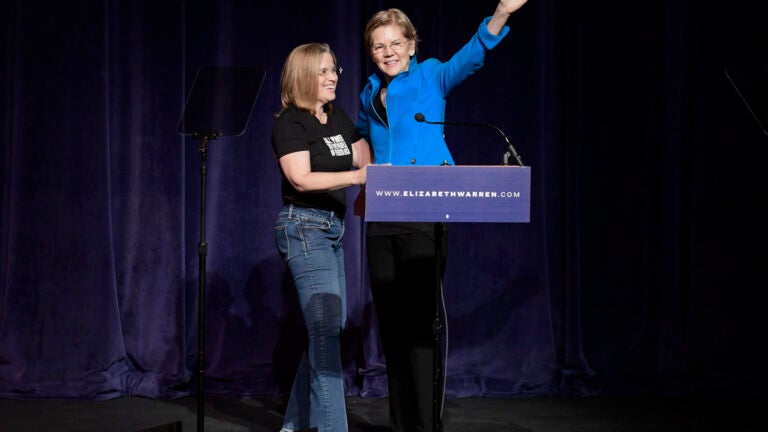 The media's attention may have moved on, but Puerto Rico is still struggling to recover from Hurricane Maria, which ravaged the island 16 months ago. Sen. Elizabeth Warren attributes the slow recovery to the federal government's "disrespectful" treatment of the U.S. territory and its 3.3 million citizens.
"I say it's time to change that," Warren said during an event this week in San Juan, the island's capital. "It's time to show the people of Puerto Rico some respect."
The Massachusetts Democrat and 2020 presidential contender has sharply criticized President Donald Trump's administration for its response to Maria's "extraordinary" devastation. The Federal Emergency Management Agency has itself admitted it was vastly unprepared.
A University of Michigan study released Tuesday found that the federal response to Hurricane Harvey in Texas and Hurricane Irma in Florida "was faster and more generous" in terms of money and staffing compared with the Maria response, even though the latter storm was stronger when it made landfall and caused more damage.
The Puerto Rican government estimates that the hurricane killed 2,975 people, making it one of the deadliest disasters in American history.
"In the days and weeks after Hurricane Maria, it was already clear that the Trump Administration's response was far too little, too late," Warren told Boston.com in a statement. "FEMA's own report last summer confirmed that the agency's response was woefully deficient. Now this study provides even more evidence."
Despite being U.S. citizens, Puerto Ricans do not have federal voting rights if they live on the island. They can, however, vote in presidential primaries.
Warren, who announced her 2020 presidential exploratory committee on Dec. 31, made the island territory her first trip after visits to the early-voting primary states of Iowa and New Hampshire. Here's a look at what she said during the visit and what she's proposing to do to help Puerto Rico.
Why she's critical of the hurricane response
Since Maria's immediate aftermath in late September 2017, Warren has vocally and repeatedly called for more funding for Puerto Rico's recovery, as well as increased oversight of the response.
"Let's get some accountability for what's gone wrong," she said Tuesday. "Countless FEMA personnel have worked long and hard to help Puerto Rico dig out after the hurricanes. But they have had too few resources and too little support from Washington."
Warren was one of four senators who voted against the nomination of FEMA Administrator Brock Long, who was confirmed to lead the agency three months before Maria made landfall in Puerto Rico (a Warren aide says she had concerns about Long's experience and his support of Trump's proposed FEMA cuts).
According to NBC News, the island has been assigned $20 billion in federal funds to rebuild its homes and electrical grid, but still hasn't received all of that money. In total, Puerto Rico and the U.S. Virgin Islands, which had also been hit by Irma, incurred an estimated $90 billion in damage from Maria. From the days immediately after the storm, Warren has criticized the Trump administration for not being prepared.
Warren has repeatedly introduced legislation to establish a "9/11-style" independent commission to investigate the federal response to both Maria and Irma in Puerto Rico and the Virgin Islands. But she says the evidence has reached the point at which Long should step down.
"FEMA's leadership must be held accountable for its botched response in Puerto Rico," Warren told Boston.com. "Brock Long should resign or be fired."
Along with Sen. Bernie Sanders, Warren is advocating for a so-called "Marshall Plan" for Puerto Rico and the Virgin Islands, which would allocate $146 billion to fund new energy infrastructure, health care, education, economic development, and environmental cleanup, without adding to the territories' debt (more on that later).
The Bay State senator is also backing a bill to provide longterm housing to hurricane survivors who evacuated the island, after FEMA decided to not extend its Disaster Housing Assistance Program for those displaced.
More recently, following reports that Trump attempted to cut off congressionally approved recovery money to Puerto Rico and that the ongoing government shutdown has stalled reconstruction funds, Warren wrote to administration officials expressing concern and asking for answers. The Trump administration has also reportedly considered diverting money set aside for Puerto Rico's recovery to build his proposed U.S.-Mexico border wall.
During her appearance Tuesday in San Juan, Warren vowed to do everything in her power to block the "insulting" proposal, if it moves forward.
"It's disrespectful," she said. "This ugliness has gone far enough. Puerto Rico has suffered enough. We will not allow anyone to sabotage your recovery — not even the president of the United States."
That $70 billion question
Puerto Rico's problems don't end with the recovery. Warren said Tuesday that the island is facing "twin catastrophes."
"The recent physical devastation of the island caught the world's attention, but these storms were piled on top of a much longer-running economic devastation of Puerto Rico," she said.
In its defense, FEMA told CBS News this week that the ideal disaster response is "federally supported, state managed, and locally executed," but that the efforts were hampered by Puerto Rico's "aging infrastructure, a decayed power grid, and liquidity issues."
Warren traces those issues back to Puerto Rico's debt crisis.
The peculiar crisis — a vicious fiscal cycle created by Congress and exacerbated by both local political decisions and Wall Street firms — has resulted in the island falling more than $70 billion in debt, which exceeds its gross domestic product. Gov. Ricardo Rosselló said in 2016 that the debt had become un-payable.
Puerto Rico lacks the bankruptcy options of a corporation or American city, so Congress passed a bill in 2016, PROMESA, imposing a federally advisory board to oversee a bankruptcy-like debt restructuring plan. Since then, the board has put an emphasis on paying back Puerto Rico's Wall Street creditors, while cutting the island's funding for government services and infrastructure.
In other words, the island was already badly hobbled when Maria hit.
Warren notes that she opposed PROMESA and has tied Puerto Rico's debt story into her larger populist message.
"The control board has slashed basic government services throughout the island, while generously helping out the Wall Street firms that hold your debt," the senator said in San Juan. "That's government that works for Wall Street, but not for working people—and I believe we should fight back."
Last year, Warren embraced the idea of giving Puerto Rico a clean slate, signing onto a bill that would provide the territory a pathway to eliminate its debt without having to resort to austerity.
"Our bill will give territories that have suffered an extraordinary crisis a route to comprehensive debt relief and a chance to get back on their feet," she said at the time.
The 51 state?
Of course, one of the contributing factors for why Puerto Rico faces unique challenges is its in-between status as a U.S. territory.
The island has held several referendums in the past asking resident if they wanted to become independent or an official state. Currently, a solid plurality, if not majority, of Puerto Ricans, including its top elected officials, support its long campaign to become the 51st state.
Every president since at least Gerald Ford has said they would support Puerto Rican statehood if that's what the majority wanted. However, in the midst of a dispute with San Juan's mayor, Trump said he was an "absolute no" on statehood (during the campaign, he supported Puerto Ricans' right to decide on the issue). The move would also have to be approved by Congress.
During her appearance in Puerto Rico this week, Warren says she supports statehood if that's what residents want.
"Respect starts with status," she said. "For over a hundred years, too many leaders have imposed too many decisions on you against your will. Respect for Puerto Rico means that you have the right to determine the nature of your association with the United States. Puerto Rico deserves self-determination on this question, and I will support the decision of the people of Puerto Rico."