Politics
'We are a healthy blended family,' Ayanna Pressley says of being a stepmom
"She is without question my child."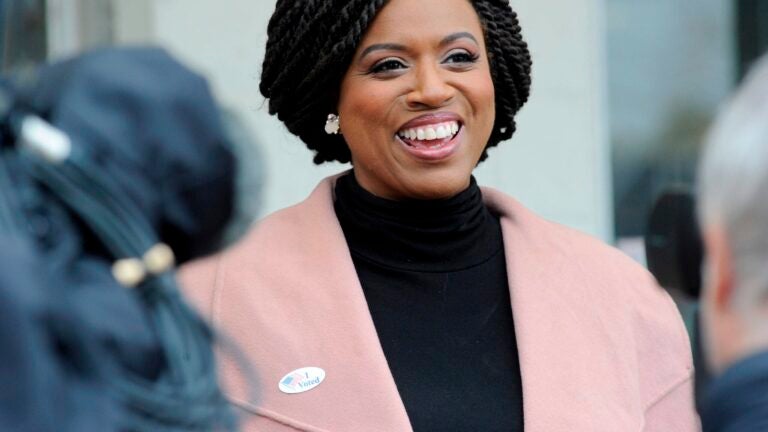 Rep. Ayanna Pressley has a message for those who think she should stop referring to her husband's child as her "stepdaughter" — thanks, but no thanks.
The Massachusetts congresswoman said someone approached her at an event on Sunday with the argument that she shouldn't use the term "stepdaughter."
"It was inferred that by calling Cora my step-daughter, I am creating a distinction or a step down," Pressley wrote on Twitter Monday. "There is no distinction in my heart and she is without question my child."
Pressley and her husband, Conan Harris, met in 2011, and they married in 2014.
The congresswoman called it the "joy of [her] life" to be "Bonus Mom" to Cora. "I love & honor her Bio Mom," Pressley wrote on Twitter. "We are a healthy blended family, like many today. #wegood Thx!"

Yesterday, at an event, someone asked me to stop referring to Cora as my stepdaughter. To be clear, Cora has been in my life since she was 2 y/o & being her Bonus Mom is the joy of my life. I love & honor her Bio Mom. We are a healthy blended family, like many today. #wegood Thx! pic.twitter.com/IFddRPLwTr

— Ayanna Pressley (@AyannaPressley) January 28, 2019
Later tonight, @RepDWStweets will host a dinner for "Moms in the House" 40% of our #116 Congress are women, & many are Moms. In 2019 there are many family models. Whether you are a single mom, (like mine was) bonus or bio mom, 2 mom household or a grandmother raising a grandchild https://t.co/pUKdJXqWUQ

— Ayanna Pressley (@AyannaPressley) January 28, 2019
https://twitter.com/AyannaPressley/status/1089896765942312960