Politics
Ed Markey and Alexandria Ocasio-Cortez are planning to introduce a Green New Deal bill
Here's what we know so far.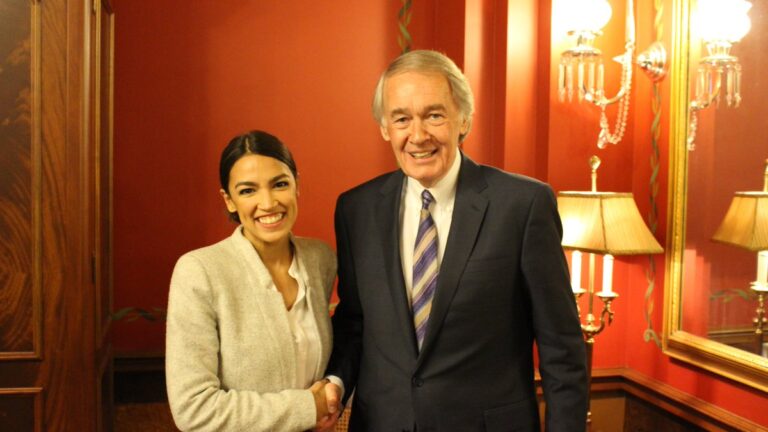 Sen. Ed Markey is working with New York Rep. Alexandria Ocasio-Cortez on a Green New Deal bill, according to Giselle Barry, a spokeswoman for the Massachusetts senator.
The exact text and timing of the bill haven't been finalized, Barry said Thursday morning. However, Axios reports that the two Democrats could introduce the legislation — aimed at addressing climate change by investing in clean-energy jobs and infrastructure — in their respective congressional chambers as soon as next Wednesday or Thursday.
While the concept of a Green New Deal has only recently been thrust into the national spotlight by Ocasio-Cortez's insurgent campaign and the Democratic takeover of the House of Representatives, Markey has been focusing on the increasingly pressing issue of climate change for years.
As a congressman in 2009, the Malden Democrat co-authored the only large-scale climate change legislation to ever pass in a chamber of Congress, establishing energy efficiency standards and a cap-and-trade system that his office says would have reduced greenhouse gas emissions 80 percent by 2050. The bill ultimately died in the Senate. Markey also chaired the House's recently revived select committee on global warming.
Less than a month after Ocasio-Cortez's election, Markey — who now co-chairs the Senate's Climate Change Task Force — met with the 29-year-old freshman congresswoman in Washington, D.C., to talk about "transformational action" to address global warming.
"To me, the Green New Deal is this moment's climate manifesto," he later told WGBH. "It captures what FDR did, putting people to work doing good things. … I said to AOC, it's brilliant branding. Keep focusing on jobs, and environmental justice. I feel very good about this."
So excited to have a partner in the House in @Ocasio2018 who is ready to work on the bold, transformational action on #ClimateChange and #CleanEnergy we need. America needs a #GreenNewDeal, and we have the Congressional leadership to do it. pic.twitter.com/gR3OjECuqZ

— Ed Markey (@SenMarkey) December 3, 2018
On Jan.1, Markey tweeted that his "resolution for 2019" would be fighting in the Republican-controlled Senate for a Green New Deal.
Recent reports from both the United Nations and the federal government have warned of catastrophic damage due to climate change in the coming decades if global emissions from fossil fuels continue at their current pace. The predicted effects include rising sea levels, intensified natural disasters, and a worsening global refugee crisis.
While the details of Markey and Ocasio-Cortez's legislation haven't been released, Axios reports that an ambitious draft outline dating back to the Bronx congresswoman's campaign — which includes a goal of meeting 100 percent of national energy demands through renewable sources within 10 years and a job guarantee program for people working in the transition — has been "circulating."
"Climate change is the single biggest national security threat for the United States and the single biggest threat to worldwide industrialized civilization, and the effects of warming can be hard to predict and self-reinforcing," Ocasio-Cortez says on her campaign website. "We need to avoid a worldwide refugee crisis by waging a war for climate justice through the mobilization of our population and our government."
In a December opinion piece for The Boston Globe, Markey outlined his own "climate action" priorities, which included moving the country "100 percent clean energy within two decades," ushering in more offshore wind farms, and carbon pricing. He also called for investments in "green infrastructure" and a "major paradigm shift" in how the country approaches transportation and energy projects.
"We have the economic imperative to create opportunities and jobs for all," Markey wrote. "But more than that, we have the moral imperative to protect our planet for future generations."