Politics
Charlie Baker defended wind power after a Republican congressman questioned him on Capitol Hill
"Sometimes when something doesn't go the way it should go, everybody blames the concept."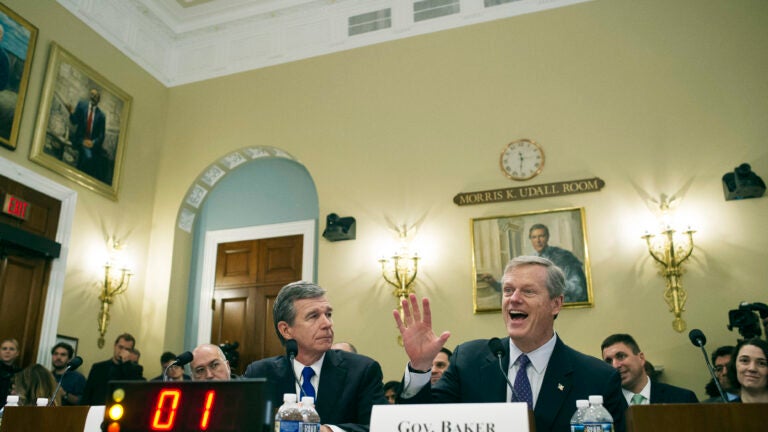 Climate change may not have been mentioned during President Donald Trump's State of the Union address Tuesday night, but Gov. Charlie Baker was in Washington, D.C., to talk about the subject Wednesday morning.
In the first House hearing on climate change since 2009, the Massachusetts governor testified about what his state is doing to — and what the federal government could do to help — reduce greenhouse gas emissions and make communities more resilient to the impacts of climate change.
"In Massachusetts climate change is not a partisan issue – while there may sometimes be disagreement on specific policies, we understand the science and we know the impacts are real," he told the House Committee on Natural Resources.
However, Baker was also challenged by some fellow members of the Republican Party, whose national leaders continue to cast doubt on the science of human-caused climate change and some clean energy initiatives.
Rep. Tom McClintock, a California Republican, said Baker had "waxed eloquently" about the Bay State's offshore wind projects, but raised questions about what he characterized as a "disaster" in Falmouth.
Falmouth's Board of Selectmen voted last month to remove two now-idle wind turbines, which cost the Cape Cod town about $10 million to build, but ultimately proved to be a nuisance to nearby residents.
"The small town went deeply into debt to finance them," McClintock said during the hearing Wednesday. "The townspeople couldn't bear the noise, the constant flickering light as 400-foot windmills turned. Property values plunged 20 percent. And I wonder how that squares with the bright picture that you painted."
Baker responded that one failed experience shouldn't undermine "things we need to do with respect to mitigation, adaptation, and resiliency" to deal with climate change, emphasizing that solutions should be "practical and cost effective."
"My father always used to say that there's two things: There's doing the right thing and then there's doing the thing right. And doing the right thing and doing it wrong doesn't necessarily solve the problem," he said.
The governor explained the "well-intended effort in Falmouth" failed in some respects due to how and where the turbines were sited. Installed in 2010 and 2011, the two turbines are just several hundred yards away from some residential properties.
Baker also drew a contrast with the state's current bidding process for the planned offshore wind project 20 miles south of Martha's Vineyard and Nantucket. Having learned from the never-implemented Nantucket Sound wind farm proposal, he said a key difference in the current process was having a "competitive" auction and requiring wind companies to sign long-term leases — as opposed to short-term contracts that had to be renewed "over and over again"
"We said that if you win, you're going to have the time you need to amortize the cost of actually making the investment in the project," Baker said. "Because of that consistency in the way we bid it and the fact that it was competitive, we got a great price."
Having spoken through his allotted time to answer, Baker made one final point about the criticisms.
"Sometimes when something doesn't go the way it should go, everybody blames the concept," he said. "Well, sometimes we just screw up the way we actually implement it and it makes the concept look bad."
During his appearance Wednesday alongside North Carolina Gov. Roy Cooper, Baker also plugged his state's goal of reducing carbon emissions by 80 percent below 1990 levels by 2050, as well as its involvement in a regional cap-and-trade program. But the Massachusetts governor said states and communities need support from the federal government to build resilient infrastructure and following through on "essential" emission reduction targets.
"This is not a challenge any one of us can solve alone," Baker said. "We need collective action from federal, state, and local governments, working with the private sector, to aggressively reduce our greenhouse gas emissions and adapt to the changes that are already in motion."