Politics
A Boston city councilor has a plan to make sure the marijuana industry is fair for minority residents
"We have a chance to get the cannabis industry right from the beginning."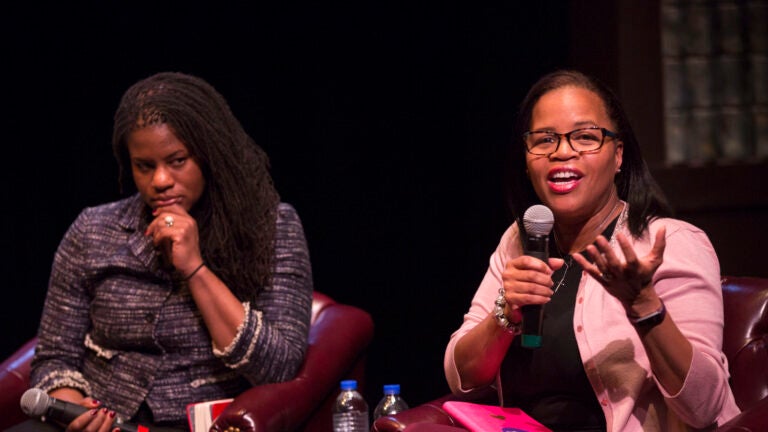 City Councilor Kim Janey has unveiled a proposal aimed at ensuring that Boston's expected to be lucrative marijuana industry is equitable and fair for minority owners, in part by issuing business licenses only to qualifying equity applicants for a two-year period.
The ordinance, which includes the formation of a "Boston Cannabis Board," spells out the creation of a city-run equity program aimed at prioritizing local residents over large companies.
Janey, councilor of District 7, told fellow officials Wednesday the proposal would give important assurance that as recreational marijuana establishments begin to set up shop in Boston, minorities who were disproportionately incarcerated for drug crimes have a fair chance to take advantage of a booming industry.
She cited statistics from the NAACP showing that although African Americans and whites use drugs similarly, the former demographic is imprisoned at a rate nearly six times higher on drug charges.
"As the cannabis industry grows, it's imperative that the economic benefits are directed to the communities that have for far too long been negatively impacted by the War on Drugs and racist discriminatory policies," Janey said.
The seven-page proposal introduces criteria for the city to frame an equity program, defining equity applicants on the basis of whether more than half of a business's ownership meets at least three out of five qualifications, according to the draft.
Those include:
1. A person who has resided in an area of disproportionate impact, as defined by the Cannabis Control Commission, for at least 5 of the past 10 years

2. A person who has a past conviction for the possession, sale, or trafficking of Marijuana, who has been a resident of Boston for the past 12 months; OR a person who is married to or is the child of a person with a past conviction for the possession, sale, or trafficking of Marijuana, who has been a resident of Boston for the past 12 months

3. A person who has resided in the City of Boston for at least the past 5 years

4. A person who is of Black, African American, Hispanic, or Latino descent

5. A person whose annual household income is below 400% of the federal poverty level
Forming an equitable industry in Boston was the focus of a lengthy meeting before councilors in December, where officials heard from activists who say women and people of color face significant financial barriers not shouldered by large marijuana companies.
The number of state-designated economic empowerment companies — businesses owned or that employ or benefit communities where drug-crime incarceration rates are high — that have applied to open in Boston have been scarce. Of the 50-plus companies that had applied, 27 had made it to the second step of the four-step process as of December. Only one was an economic empowerment applicant.
On Wednesday, Janey said the industry is poised to generate "enormous wealth," citing $27.9 million in sales in just the 10 weeks after the state's first retail shops opened for business in November.
"Ensuring equity in this emerging industry will help us correct the harms and right the wrongs that have been inflicted by mass incarceration," she said. "As I've said before, we need to make sure that communities that have been locked up are not locked out of this economic opportunity."
If we're serious about closing the wealth gap in Boston, w/ dealing w/ income inequality, w/ repairing the harms of the war on drugs and mass incarceration, we've got to be intentional. We've got to move forward w/ an equity program here in the city. It's not enough at the state.

— Kim Janey (@Kim_Janey) February 7, 2019
Under Janey's proposal, the city would only consider and approve licenses from qualified equity applicants for two years, with the exception of any applicants who applied prior to Feb. 1. After that period, the city's Cannabis Board would maintain a two-to-one ratio of equity applicant license holders to non-equity applicant license holders in the city, according to Janey.
The board would work to ensure the industry remains "equitable and safe," which includes forming the program to assist equity applicants, the ordinance draft says.
Legal, security, recruiting, and accounting assistance are all factors that could be included in the program, which would provide resources owners cannot currently access through federally funded small business grants that are not available to the marijuana industry, according to Janey's proposal.
The city-run program would instead be paid for through license fees and marijuana sales tax revenue, she said.
The board itself would include five members: three nominated by the mayor and confirmed by the council, and two put forth by the council and approved by the mayor. All may serve a maximum of three, two-year terms and each would bring a certain knowledge to the table, be it in public health, small business support, or public safety, among other areas of expertise.
The ordinance would create certain criteria for the board to consider when issuing licenses, including a company's plans to employ local residents and its involvement with monitoring neighborhood health and the environment.
The bill also spells out creating an online registry listing the ownership and investor information of marijuana businesses operating in Boston to promote transparency and charges the Office of Neighborhood Services and district city councilors with negotiating Host Community Agreements with prospective businesses.
Janey's ordinance, which is slated to undergo committee review, has already garnered support from a few councilors, including Councilor Lydia Edwards, who told Janey she is making history.
"What you are doing is an example of true leadership," she said. "You are setting a table where all are welcome to come in and figure out how we do this right."
Edwards said components of the ordinance also could set precedent across industries in Boston in regards to how companies operate within the city and its neighborhoods.
With a stack of applications only growing before officials and competition for licenses heating up, Councilor Michelle Wu, offering her own support, said the proposal is an example of how officials can lead with their values.
"This can't come a moment too soon," Wu said.