Politics
Why Elizabeth Warren chose Lawrence for her 'big announcement' this weekend
Warren will speak from the steps where one of the country's most significant labor movements began.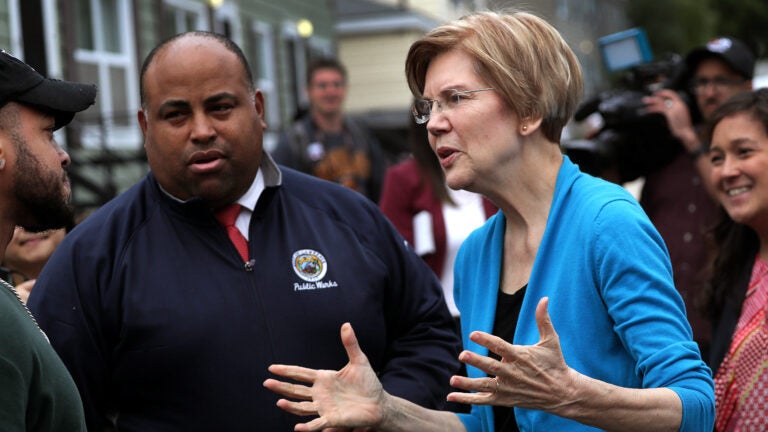 Sen. Elizabeth Warren is kicking off a cross-country circuit this weekend in New Hampshire and Iowa, before continuing to South Carolina, Georgia, Nevada, and California.
But before Warren heads out on the tour of early presidential primary states, she has an unspecified "big announcement" to make Saturday in Lawrence.
Who knows what that could be.
Following the Dec. 31 announcement of Warren's presidential exploratory committee, an official presidential campaign launch would be somewhat of a formality. But it would also be a symbolic milestone, and there's meaning behind the setting of Saturday's rally.
"Lawrence has a history of working people coming together to make change," Warren said in a video announcing the event.
The Massachusetts Democrat is planning to speak from the steps of Everett Mills, the same place where, 107 years ago, women textile workers chanting "short pay" walked off the job in protest of reduced hourly wages and dangerous — often deadly — working conditions.
Much like her campaign against the country's "rigged" political and economic systems, Warren says those Lawrence families in 1912 "decided to fight back against the greedy mill owners who cut workers' already meager salaries."
The historic strike spread to more than 25,000 local workers from dozens of different nationalities within a week and received national media coverage. While the efforts became combative and divisive among local residents and officials at the time, the strike succeeded after two months when local mill owners caved in March 1912. The show of force resulted in a ripple effect across New England, as other textile companies improved wages and working conditions in the hopes of preempting similar strikes.
Addressing the Lawrence strikers, Industrial Workers of the World founder Bill Haywood called it the "most signal victory of any organized body of working men in the world."
The movement became known as the "Bread and Roses" strike after the workers' slogan, "We want bread, and roses, too."
"That was shorthand for fair wages and dignity," Lawrence Mayor Dan Rivera told Boston.com.
Nicknamed the "Immigrant City," Lawrence's population is now nearly 80 percent Hispanic and nearly 40 percent foreign born, according to the most recent U.S. Census data. Rivera says the 80,000-person city remains a microcosm of the problems facing the American middle class, from affordable health care and education to the opioid crisis.
"We're facing some the same basic problems that our country is facing," said the 47-year-old mayor and Lawrence native.
According to census data, the median annual household income in Lawrence is $39,627, well below the national median of  $57,652 and the Massachusetts statewide median of $74,167. The traditionally blue-collar city has experienced the continuous decline of the manufacturing industry, which dropped to a low of 17.6 percent of all jobs in the city in 2017, according to the census. For the first time in 2015, health care and education service jobs surpassed manufacturing as the Lawrence's top industry.
Warren says the diverse community is "boldly pursuing the American dream."
"We're bursting with pride that the senator would choose Lawrence to talk about her possible run for the White House," Rivera said.
Rivera expects the Democratic primary field to become crowded with a lot of candidates, but says Warren would be a "great president" and has already been a "champion" for Lawrence.
Following the Merrimack Valley gas explosions that left one dead and thousands without heating or hot water for months, Warren and Sen. Ed Markey called for and held a congressional field hearing on the disaster, during which she directly demanded accountability from the presidents of Columbia Gas and NiSource. Warren and Markey have since kept pressuring the energy companies for answers and assistance in the recovery from the explosions.
And in addition to pushing larger housing and opioid addiction legislation that Warren's team says would benefit Lawrence, the senator has also helped secure federal funding for the city's fire department and for a study of a possible innovation center in Lawrence to support the "next generation of textile manufacturing."
Warren has also defended Lawrence in the face of President Donald Trump's immigration threats over its so-called sanctuary city status. Lawrence also was the site of some of country's first federal arrests of undocumented immigrants applying to become legal residents.
Trump himself — as well as his administration officials and neighboring Republican governors — have specifically singled out Lawrence as a gateway city for the local drug trade, blaming its sanctuary city policies. Rivera says the president has been "trafficking in pain and divisiveness, creating boogiemen where we need solutions."
"This is not a political problem, this is not a crime problem, this is not an immigration problem," he said at the time. "This is a human problem. This is an American problem, with more than 175 Americans dying every day."
With Democrats set to run a historically diverse field of presidential primary candidates, Rivera says Warren herself may not be a person of color, but he thinks her early experiences growing up in poverty in Oklahoma and with the "struggle for equality" as a woman "inform her view" on the socioeconomic disadvantages facing minorities in the United States.
"It's not a third-person story," he said. "It's something that she has lived herself."
Despite the "news of the day," an allusion to Warren's apology for identifying herself as a Native American, Rivera said that even undecided voters should attend Warren's event Saturday to at least hear her message in person.
"You don't get the full force of her unless you're in the room with her," he said, suggesting that maybe "they'll like what they hear"
"And maybe they'll see something in Lawrence that they like, too," he added.