Politics
Here's everyone who endorsed Elizabeth Warren during her 2020 presidential campaign launch
"We're ready to fight for it."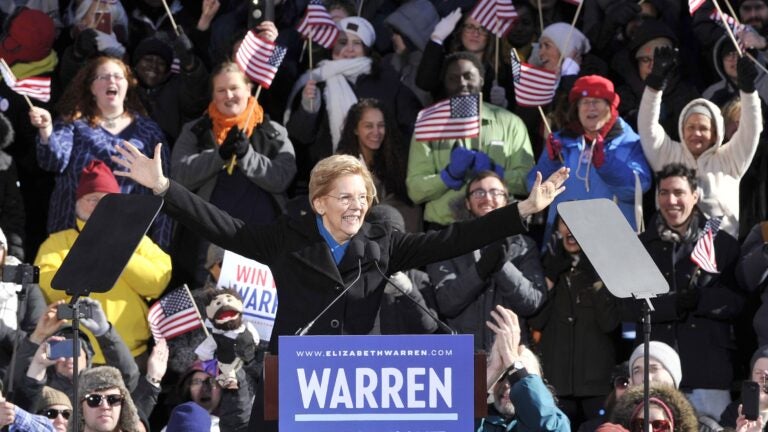 Sen. Elizabeth Warren made it official Saturday. And so did a handful of her fellow Massachusetts Democrats.
Before Warren took the stage at her 2020 presidential campaign kick-off rally in Lawrence, she was endorsed by her former Harvard Law School student, Rep. Joe Kennedy III.
"I am here with you today because there is one candidate in this race, one U.S. Senator, one proud daughter of Oklahoma and adopted daughter of our mighty Commonwealth who has dedicated her entire life to this battle, to our cause," Kennedy told the crowd of supporters outside Everett Mills, introducing Warren as the "next president of the United States."
But Kennedy wasn't the only one who announced his support. Here's a look at who endorsed Warren on Saturday:
Sen. Ed Markey
Warren's partner in the U.S. Senate said he has watched her "fighting in the trenches" for the last six years.
"From her one-woman protection detail fighting to ensure that Wall Street reforms stay on the books, so that retirement can be about dignity and not despair, fighting to raise the minimum wage so that no one working 40 hours a week still lives in poverty, fighting for our brothers and sisters in Puerto Rico to make sure that they get the housing that they deserve as American citizens," Markey said.
"I've been in Congress for a while now and no one knows how to fight for what is right better than Elizabeth Warren," he said, adding "no one knows better how to get under Donald Trump's skin better than" his fellow Bay State senator.
Markey spoke of citizens' "dreams" for living wages, gender equality, paid family leave, and universal health and child care.
"There is one more dream that I know all of us agree with: the dream that Elizabeth Warren will be the first female president of the United States of America," he said.
Rep. Joe Kennedy III
The Massachusetts congressman calls economic injustice "the challenge of our time," entangled with other issues like racial discrimination, immigration, climate change, and health care.
"For decades before most people in power noticed something was wrong, there was Elizabeth," he said. "Before there was an editorial every day lamenting about economic inequity, Elizabeth Warren knew that stock prices don't offer a full accounting of our country's economic story. Medical bankruptcies, foreclosures, and paychecks are part of that story, too. And the most powerful nation on earth with the most powerful economy in human history doesn't have to sacrifice people for progress."
Kennedy recalled asking the senator why she originally went into the "complicated and arcane" field of bankruptcy law.
"Her response: Because bankruptcy is about how our system treats people when they lose everything, when rock bottom comes," he said. "And the deeper meaning she took from that. That ours is a country of second chances, of redemption, of horizons that don't disappear when fate gives you a tough hand. … In Elizabeth Warren's America, we pull them up. We fight by their side. We refuse to leave anyone behind."
Backstage in Lawrence getting ready for #Warren2020! pic.twitter.com/Kz6bcsS7Xu

— Joe Kennedy (@joekennedy) February 9, 2019
Rep. Lori Trahan
The newly sworn-in 3rd District congresswoman, who represents Lawrence in the U.S. House of Representatives, said it was "critical that we elect a president who acknowledges the fact that while this economy might be working well for the wealthiest amongst us, the vast majority of hard-working Americans are being locked out of opportunity to earn a fair living and support their families."
Trahan said it was clear that the country needs to "fundamentally reorient our economy."
"Elizabeth Warren has been fighting unapologetically against the status quo to advance a progressive agenda for workers and for women — long before she got to the United States Senate," she said.
Trahan said she was proud to stand with the senator in her bid to "restore decency and a sense of our common values to the presidency and put a worker-focused economic agenda front and center."
Boston City Councilor Michelle Wu
Another former Harvard Law student, Wu said Warren was the best teacher she had.
"She didn't just teach how to argue a case or issue, but pushed us to dig deeper — not to accept the legal system as it is, but to understand the forces of power and influence that wrote the laws to begin with," said the 34-year-old city councilor. "We had a teacher who not only equipped her students with the tools to make change and hold the system accountable, but inspired us with her own example."
Wu also commended Warren's efforts overseeing the federal government's financial system bailouts and establishing the Consumer Financial Protection Bureau, before running for Senate in 2012.
"[Warren] is a major reason why I ran for office and why countless other young people have run in Massachusetts," she said, calling for "bold ideas for fix the deep problems facing our generation."
"And we're ready to fight for it," Wu added.
#TeamWarren proud to be in Lawrence cheering on @ewarren as she launches her campaign for President!! @danrivera01843 @stevenwtompkins #mapoli #POTUS pic.twitter.com/IrXSa8W20C

— Michelle Wu 吳弭 (@wutrain) February 9, 2019
Suffolk County Sheriff Steve Tompkins
Tompkins said the country is still "in a 200-year-long fight for fairness, quality, and justice."
"We're here this morning because we know that fight is far from over," he said. "Too many families are living paycheck to paycheck. Too many politicians are bought and paid for by the rich and powerful. Too many black and brown folks are facing blatant bigotry at the ballot box."
"That fight calls for Senator Elizabeth Warren," he added.
Lawrence Mayor Dan Rivera
Rivera said one of the first calls he got following the Merrimack Valley explosions last year was from Warren.
"That's just who she is," he said. "Elizabeth will fight for us to tip the scales back to the working family's side. She will see immigrants for what we are — the backbone of America."
Rivera said Warren has known what it means to grow up living paycheck to paycheck.
"In Elizabeth Warren, we have someone who will never forget what and who he is fighting for," he said.
Massachusetts Senate President Karen Spilka
The Ashland senator was in the audience Saturday and tweeted that she has had a "first-hand" view of Warren's work.
"Elizabeth Warren is the kind of fearless, visionary & tireless leader we need as our next President," Spilka tweeted.
Elizabeth Warren is the kind of fearless, visionary & tireless leader we need as our next President. I'm honored to be with her today as she launches her campaign. I've seen first-hand what drives her & I know Americans are eager to have a President with a proven track record. pic.twitter.com/mibzk7QJGq

— Karen Spilka (@KarenSpilka) February 9, 2019
Progressive Change Campaign Committee
The PCCC was the group back initially launched the "Draft Warren" campaign in 2011 before her Senate run and today boasts nearly a million people in its membership. According to the group, the PCCC is the first national organization to endorse Warren's 2020 campaign.
"We proudly endorse Elizabeth Warren because we believe she'll be the most electable Democrat, and the best President, for America," co-founder Stephanie Taylor said in a statement, adding that Warren has a "proven track record of fighting for regular people and taking on power."
"To defeat Trump in 2020, we need someone who voters know will always be on their side against powerful corporate interests and who is willing to challenge corruption," Taylor said. "That's Elizabeth Warren."