Politics
Seth Moulton is thinking about running for president
Here are potential factors weighing on his decision.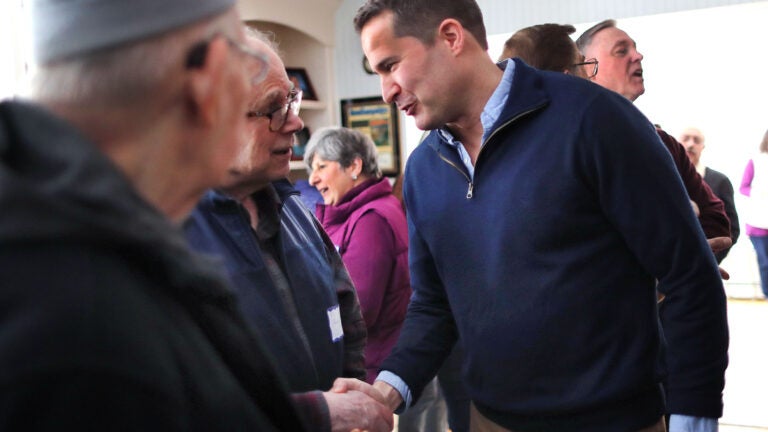 Maybe there was something more to those Iowa and New Hampshire trips after all?
After more than 18 months of rumors, Rep. Seth Moulton is for the first time publicly acknowledging what some have long expected.
"I'm thinking about running for president," Moulton told BuzzFeed News in an interview published Monday morning.
"I'm not definitely running, but I'm going to take a very hard look at it," the 40-year-old Salem Democrat said. "A very serious look at it. Because I believe it's time for a new generation of leadership, and we gotta send Donald Trump packing."
Matt Corridoni, a spokesman for Moulton, notes that the 6th District congressman is not yet launching a campaign, nor has he even launched a 2020 exploratory committee. However, Corridoni confirmed to Boston.com that Moulton will "be taking the next several months to seriously look at this." (Corridoni, it's worth noting, left Moulton's congressional office just last month to work full-time for his political team.)
If he decides to run, Moulton would join Hawaii Rep. Tulsi Gabbard as both the only current House members and Iraq war veterans in the 2020 Democratic primary. His interview with BuzzFeed also comes less than two days after fellow Massachusetts lawmaker Sen. Elizabeth Warren officially kicked off her presidential campaign.
Still, Moulton remains far from decided. Here are a few potential factors weighing on his decision.
Why he might run:
Moulton broke into the House in 2014 after unseating a nine-term Democrat, Rep. John Tierney, in a primary campaign. The Harvard-educated Marine veteran has since made waves in Congress with his consistent calls for a "new generation" of Democratic leadership.
Democratic primary voters appear to be in line with those calls. A recent USA Today/Suffolk poll found that 59 percent of Democrats and independents said they would be "excited" about a fresh face running for president, which was more than the percentage of voters who said they're excited about any of the senators and other nationally known figures considering a 2020 bid.
Of course, the last time a relatively young, unknown candidate ran in a Democratic presidential primary, it turned out pretty well. Moulton even told BuzzFeed that he spoke to former President Barack Obama about running "about a year ago"  — at Obama's invitation.
Moulton also spent the last election cycle building a national political network, endorsing and campaigning for fellow veterans running for Congress. His Serve America PAC raised more than $2.3 million during the 2018 midterm elections. And he thinks military experience would be an asset in 2020.
"I think it would be valuable to have a commander in chief who's had to make life-or-death decisions before," Moulton told BuzzFeed.
"I think we need someone who you know, for whom standing up to a bully like Donald Trump isn't the biggest challenge he or she has ever faced in life," he continued. "And I think we need leaders who are focused on the future. Who are respectful of the past but are ready to turn the page, and chart a bright new course for this country."
A member of the moderate, fiscally conservative New Democratic Coalition, Moulton's positions have remained a mixed bag as the Democratic mainstream shifts to the left in policy. And an ABC News/Washington Post poll last month suggested that there could be "a lane" for a more moderate Democratic candidate in 2020.
While Moulton supports a national $15 minimum wage and the recently introduced framework for a Green New Deal, he has stopped short of endorsing the single-payer "Medicare for All" health care and tuition-less college proposals that most other high-profile Democratic presidential candidates have embraced. Moulton has also been a critic of both the Trump and Obama administrations' foreign policies.
Why he might not run:
That said, it's still unclear if Moulton is the new fresh-faced outsider that Democratic voters want.
The congressman faced intense backlash following his plan last fall to block Rep. Nancy Pelosi from becoming House speaker. The effort resulted in protests at Moulton's events and talk of a potential 2020 primary challenge (as well as a brutal series of "ratios" on Twitter).
Moulton's campaign for new Democratic congressional leaders ultimately led to a deal in which Pelosi and other top party members agreed to term limits for their leadership positions. Moulton declared the effort a success, though it appeared to have a negative impact on his reputation, both locally and across the country.
A poll last month found that Moulton was still viewed favorably by 61 percent of his North Shore constituents, but could be vulnerable to a primary challenge. And the news Monday that he was thinking of his own 2020 primary campaign was not greeted particularly enthusiastically on social media.
https://t.co/vVlybRHmQt pic.twitter.com/DDhtxB4BMF

— Nik DeCosta-Klipa (@NikDeCostaKlipa) February 11, 2019
Moulton appears unfazed by the criticism from fellow Democrats and has reminded reporters that he is "not beholden to the party," nor does he "owe them anything."
"I'm just gonna serve the country however best I can," he recently told BuzzFeed. "And if you want to lead, you have to take risks. But I'm not afraid of a primary challenge. I got here on a primary."
There are however non-political considerations for why Moulton may not run.
In October, he and his wife, Liz, welcomed their first daughter, Emmy, into the world. Moulton told BuzzFeed that it's already hard leaving her each week to head to Washington, D.C., and that "the prospect of being on the campaign trail for a couple of years is more difficult knowing that she's at home."
Then again, having a child has also broadened his own perspective about fighting to have an impact on the world.
"The other thing about having a child that I've come to appreciate the last few months is you feel a lot more invested in the future because you realize this isn't just about you, it's about her too," Moulton said. "And I do not want Emmy growing up in this world, and I think I'll regret it if I don't do everything I can to try to change it."