Politics
What sort of presidential campaign would Seth Moulton run?
The Massachusetts congressman has often talked about the need to take the country on a new course. But what would that actually mean?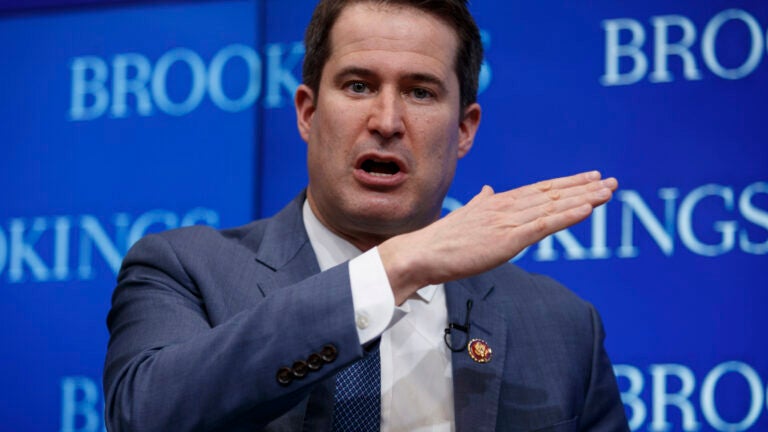 For the first time this week, Rep. Seth Moulton revealed that he is "seriously" thinking about running for president in 2020.
"I'm not definitely running, but I'm going to take a very hard look at it," Moulton told BuzzFeed News in an interview published Monday, adding that it is time for "a new generation of leadership"
The Harvard-educated Marine captain has garnered as much attention for his criticism of House Speaker Nancy Pelosi, a fellow Democrat, as he has for his criticism of President Donald Trump. And if he decides to run, the 6th District congressman would join Sen. Elizabeth Warren as the second Democratic presidential candidate from Massachusetts.
However, they would have very different campaigns.
Unlike Warren's progressive populist proposals for "structural change" to the economic and political systems, Moulton has highlighted his ability to work across the aisle in the Trump era and focused more on foreign policy.
In the wake of his BuzzFeed interview, Moulton made an appearance Tuesday at the Brookings Institution in Washington, D.C., to elaborate on his foreign policy vision. And while there hasn't been much detail about what the "new course" he wants to chart for the country consists of domestically, Moulton's record as a congressman provides plenty of details about where he stands on other critical issues like health care, the economy, and climate change.
Here's a look at some of his key positions:
Foreign policy:
Moulton has criticized both the Obama and Trump administrations for lacking clear goals in the ongoing military campaigns against ISIS. In his speech Tuesday, the 40-year-old Iraq War veteran said the United States' nearly two-decade-long war against terrorism in the Middle East has only made the region "more disrupted and disruptive than when we began." He noted that there are "nearly four times as many Sunni extremists in the world today as there were in 2001."
Moulton said it was "fundamental" that Congress makes decisions about war and its end goals. Since 2001, presidents have been able to use a war-powers authorization bill passed that year by Congress to commit troops to open-ended engagements across the Middle East and Africa against groups connected to terrorism.
"We can't simply abandon places like Syria without any plan because, as our experience in Iraq fatefully demonstrated, we'll just have to come back, and it will take more American lives to do so," he said. "But for all our wars — Afghanistan, Iraq, Syria, and the many small wars beyond — we need clear and achievable missions, approved by Congress and transparent to the American people, so that our troops can fight for peace, and know what they must achieve to come home for good."
Moulton also called for a larger shift in the country's long-standing foreign policy strategy Tuesday.
"When your old house gets damaged by a bad renter, or — in this case — a terrible president, you don't just restore it to look like it was built in 1950; you renovate," he said.
In his three-pronged speech, Moulton questioned why the country was spending disproportionately more on aircraft carriers than on cyber weapons, an area — along with autonomous weapons — where he said the United States lags behind China and Russia; he called for new arms control measures on cutting-edge weapons technology; and he called for a reassessment of American troop commitments in Germany and Japan, adding that leaders should consider a "Pacific NATO" to counter China.
Lastly, Moulton said the country should be boosting investment in diplomatic and foreign aid funding to "help us avoid the next wars."
Health care
Moulton says he welcomes improvements to the Affordable Care Act, but — unlike many 2020 Democratic presidential candidates — has stopped short of throwing his support behind a single-payer "Medicare for All"-style health care system.
That said, he does support reforms to make government-provided health care more accessible, including the "public option" that had been originally in — and then nixed from — the ACA. Matt Corridoni, a spokesman for Moulton, told the Boston Herald in 2017 that the congressman supports "making a public option available, allowing Americans to buy into Medicare early, among other policy solutions to expand access and bring down the cost of health care."
Moulton has also introduced legislation to make medical marijuana more accessible for veterans.
Economy
Moulton (and nearly every other member of the Massachusetts congressional delegation) signed on last month to sponsor a bill to incrementally raise the minimum wage to $15 an hour over five years, which has become a litmus test for Democratic candidates in recent years.
However, one of Moulton's biggest focuses is addressing the long-term impact of automation on the economy, which he says will disproportionately affect working-class communities. His answer to the expected crisis is re-education.
"We reformed our education system because of the industrial age," Moulton said during a forum last month. "We have not made those education reforms to our education system today."
As a member of the centrist New Democrat Coalition, Moulton backed a broad plan unveiled by the group of moderates last May to address technology's effects on the workforce. The framework included investments in teaching science, technology, engineering, math, and "soft skills"; expanding career training and technical schools; and providing financial aid to students.
Moulton — who often mentions that he's still paying back his own student loans — has not expressed support for the proposals to make all public universities tuition-free. But he has backed legislation that would offer two free years of community college and provide increased federal aid to low-income students seeking four-year degrees.
And while the amount of big-dollar campaign contributions Moulton has received from the finance industry has received attention, he did break with many of his fellow centrist Democrats to vote against a Republican-backed bill last year (which Warren vehemently opposed) that rolled back elements of the Dodd-Frank financial reform act.
"No law is ever perfect, including Dodd-Frank," he explained at the time. "While I have and will continue to be supportive of reforming this important legislation to encourage economic growth, it cannot come at the expense of consumers."
Climate change
Moulton says that "environmental protection and economic growth go hand in hand" and is a co-sponsor of the ambitious Green New Deal framework introduced earlier this month to address climate change. The plan includes a goal to reduce the United States' net carbon footprint to zero by 2030 and calls for a "World War II-scale mobilization" aimed at shifting the economy toward green jobs and renewable energy.
"It is a stake in the ground that climate change is an existential issue for our country," Moulton said at a town hall Monday night in Salem.
At the same time, the North Shore congressman also supports further investments in nuclear energy.
During his speech Tuesday morning, Moulton tied the need to address climate change on an international level into his larger foreign policy strategy, noting how Syria presented "a particularly compelling example" of how the pressures of global warming can exacerbate a conflict.
"Climate change won't wait, and neither should we," he said. "It's a threat to our national security. We obviously need to get back into the Paris Accord, but that alone isn't enough. The time to act is now, and new alliances to prevent it are a good place to start."