Politics
What exactly is Bill Weld up to? Here's what we know so far.
The former Massachusetts governor is planning to "make news" this Friday.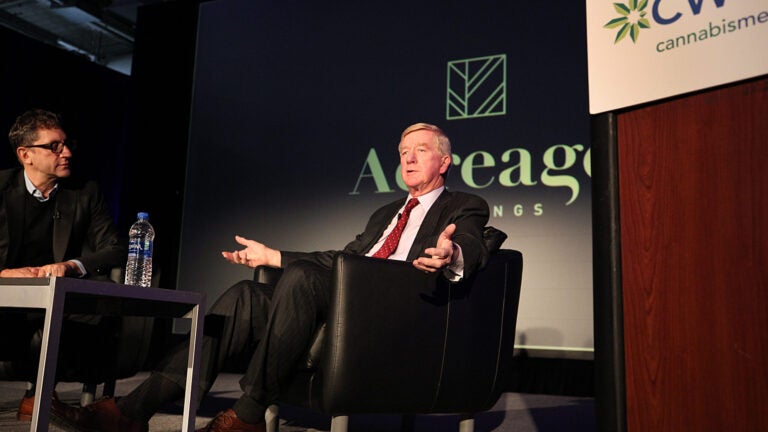 Bill Weld is back. Did he ever really go away?
For as much attention as Sen. Elizabeth Warren and Rep. Seth Moulton have gotten for their — in Moulton's case, potential — presidential bids, it's the former Massachusetts governor who will be the first Bay Stater to appear at New Hampshire's foremost campaign trail stop this cycle.
Weld is the scheduled speaker Friday morning at the Politics & Eggs series in Bedford, which has traditionally served as a backdrop for White House wannabes to introduce themselves to the first-in-the-nation primary state. California Sen. Kamala Harris and former Maryland Rep. John Delaney, both declared 2020 presidential candidates, also have scheduled Politics & Eggs appearances this month.
"It's a must-stop for the candidates," Jim Brett, the president and CEO of the New England Council, which sponsors the series, told Boston.com.
And recent reports suggest that Weld's appearance this week is no coincidence.
Brett, a former Massachusetts state representative who has stayed in touch with Weld since their time together at the State House in the 1990s, says he reached out to the 73-year-old former Republican governor to see if there was any interest in speaking at Politics & Eggs.
There was.
"We never talked about what he would say, other than I did say to him, 'Usually people who come to Politics & Eggs make news,'" Brett recalled. "They're running or they're about to run. They give some indication. He said, 'Oh no, we'll make news.'"
It wouldn't be the first time.
Weld has an eclectic electoral history
Weld, a former prosecutor who governed Massachusetts from 1991 to 1997, has cut himself a unique profile, as a libertarian-leaning New England Republican and a perennial candidate for higher office. As governor, he cut taxes and espoused a belief in fiscal conservative policy, but broke with his party's line in his support of liberal social issues like marijuana, abortion, and LGBT rights.
After winning his 1994 re-election in a landslide, Weld announced a bid in 1995 to unseat Democratic Sen. John Kerry in the following year's election — and actually came pretty close. Despite running in a disproportionately Democratic state in a presidential election year, the Weld-Kerry race was neck-and-neck through the summer, before the incumbent senator won with 52.7 percent to 41.2 percent of the vote.
Weld didn't go back to his old job for long. In 1997, he resigned as governor after being nominated by President Bill Clinton to be the U.S. ambassador to Mexico. However, his nomination was blocked by North Carolina Sen. Jesse Helms, an ardent conservative and then-chairman of the Senate Foreign Relations Committee, who refused to schedule a confirmation hearing over Weld's liberal social views. Weld ultimately — and bitterly —withdrew his candidacy and returned to Boston to enter private law and lobbying, before moving back to his birth state of New York in 2000.
In 2005, he launched a long-shot campaign for the Republican nomination (and also received the Libertarian Party's nomination) to be the governor of New York, but lost to John Faso (who lost to the Democratic nominee, Eliot Spitzer).
After switching his residency back once more to Massachusetts, the former Republican governor was picked to be the 2016 vice presidential running mate of Libertarian presidential nominee Gary Johnson. During the campaign, several high-profile Republicans, including Mitt Romney and Maine Sen. Susan Collins, said they would consider voting Libertarian if the ticket were flipped.
"We are planning a partnership as president and vice president; I think it's something unprecedented," Johnson, who referred to himself as the "lesser half" of the ticket, said at the time.
However, the pair's roller-coaster, third-party campaign never mustered enough support to qualify for a presidential debate. They ultimately received nearly 5 million votes, or about 3.3 percent of the national total.
What has he been up to lately?
After the 2016 election, Weld returned to his Boston law firm Mintz Levin and said he planned to be involved in Libertarian Party efforts — perhaps as a central figure.
During the campaign, Weld had responded to Libertarian Party members who were skeptical of his Republican record by pledging to remain "Libertarian for life." And the former governor was so active in the run-up to the 2018 midterm elections — touring Libertarian conventions, talking about how the party could grow, fundraising for the party, and endorsing its local candidates — that he stirred speculation that he was setting the groundwork for a 2020 presidential campaign on the Libertarian ticket.
Now it looks like that speculation could be half right.
As Commonwealth magazine first reported, Weld visited the town hall in his hometown of Canton on Jan. 17 and switched his political registration back to Republican. And later last month, several outlets reported that he was considering running against President Donald Trump in the 2020 GOP primary.
Weld has since stayed tight-lipped about his plans.
"I'm not going to have anything to say until my talk at Politics and Eggs," he told WMUR.
However, he was unafraid to take on Trump in the 2016 campaign, during which he compared the Republican candidate's immigration proposals to some of the darkest moments in world history and said that he would not be able to take the pressure of the presidency "without becoming unhinged and unable to perform competently the duties of his office."
"Most families would not allow their children to remain at the dinner table if they behaved as Mr. Trump does," Weld said at the time.
Then and now, Weld has hardly been the only anti-Trump Republican. But he could be the first to actually declare his intent to run against the president.
Weld told The Boston Globe earlier this month that his speech Friday will "deal comprehensively with my thoughts about the 2020 election."
So far, the reception from top New Hampshire Republicans hasn't exactly been warm.
Stephen Stepanek, the New Hampshire Republican Party chair, and Corey Lewandowski, shot down the "opportunist" idea of Weld's running as a Republican. And the path to beat Trump in a primary would be narrow, considering his consistently high approval ratings among Republicans — both nationally and in states like New Hampshire.
Brett thinks it's unlikely that Weld would be dissuaded by steep odds, noting that he won his first gubernatorial election in 1990 in a state where only 14 percent of voters were Republicans and appears to savor a challenge.
"I think he is probably at the point where he feels as though 'if nobody else does something, I'll do something,'" Tom Rath, a Republican strategist in New Hampshire who says Weld called him last fall to survey the state's political landscape, told WMUR.
While acknowledging the difficulties of running a primary campaign against a Republican president, Brett says he feels pretty sure that Weld will announce plans for a White House bid Friday.
"He is so unpredictable," Brett said. "Nothing would surprise me."