Politics
3 issues that Elizabeth Warren says are 'real' national emergencies
As opposed to Donald Trump's border wall, which she says is a "fake" emergency.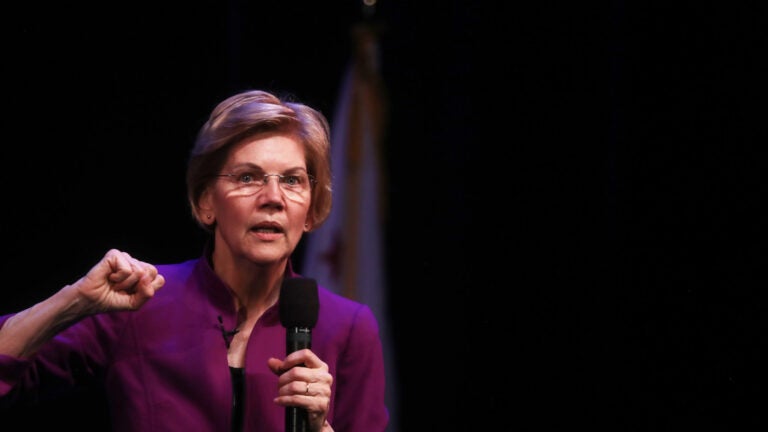 Sen. Elizabeth Warren has repeatedly derided President Donald Trump's declaration of a national emergency last week to seize funding for his proposed border wall as a "fake" emergency.
But Warren also sees it as an opportunity to talk about what the "real" emergencies are — even if she doesn't believe they should be addressed through executive action.
"I think the questions about the power of the president are very, very important," she said in a Pod Save America podcast interview released Thursday. "Come on, I believe in this. But we gotta be out there talking to the American people about the stuff that touches their lives."
The Massachusetts Democrat and 2020 presidential candidate was first asked about how — or if — she would use the executive power of the White House during an appearance on "The Late Late Show with James Corden."
"If you were in office, to you, what would constitute a national emergency?" Corden asked.
"Oh, let's do the list: climate change, gun violence, student loan debt — right off the top, " Warren replied.
However, she added that Congress and the president should be working on those issues "together," as opposed to using executive action.
Warren was pressed on her stance in her Pod Save America interview, during which host Tommy Vietor asked if Democrats should threaten to play by the "new rules." Legal experts say that Trump, who admitted he "didn't need to do this," is at least pushing the envelope of the norms, if not also the constitutional powers of the presidency with his emergency declaration.
"My question to you is, shouldn't Democrats say to Republicans, 'If you're not going to step up and enforce the institution of Congress, and enforce the old rules, then these are now the new rules, and we're going to play by these rules when a Democrat is elected, and we fully intend to use a national emergency to advance Democratic priorities or things that are actually emergencies, like climate change,'" Vietor, a former aide to President Barack Obama, asked the senator.
Warren reiterated her belief that Trump's emergency declaration for the border wall is an abuse of power, but said she expects the question to be resolved by the 16-state lawsuit that is seeking to block his action.
"Ultimately the courts will settle out what is the legal authority here of the President of the United States," she said. "So the threat here is not imminent."
Warren said it did, however, provide a moment to "talk about what you think a real emergency is" and what should be the responsibility of the government.
"Government's job is to look out there and see what's coming," she said, going on to list climate change, gun safety, and student debt, as well as child care, the minimum wage, and unions, as things Democrats should be highlighting in the wake of Trump's emergency.
Warren herself is one of 11 Senate co-sponsors of the resolution to create a Green New Deal to address climate change. She has also repeatedly called for tighter gun laws and for legislation reforming the student loan practices of both banks and the federal government.
Just this week, Warren also introduced legislation to address two other national crises: affordable child care and the opioid epidemic.
"Donald Trump's ridiculous wall isn't a 'national emergency,'" she tweeted Wednesday. "But our country's opioid crisis is."
Campaigning on proposals to address some of those everyday issues is a way to prove that Democrats are the party working for average Americans, according to Warren.
"That's our chance to bring back some of those Trump voters," she told Vietor "I want to use this period of time to build a grassroots movement. So when we win in 2020, we are ready to start making those changes."