Politics
Stephen Lynch goes off on Republicans during Michael Cohen hearing
"Your side ran away from the truth."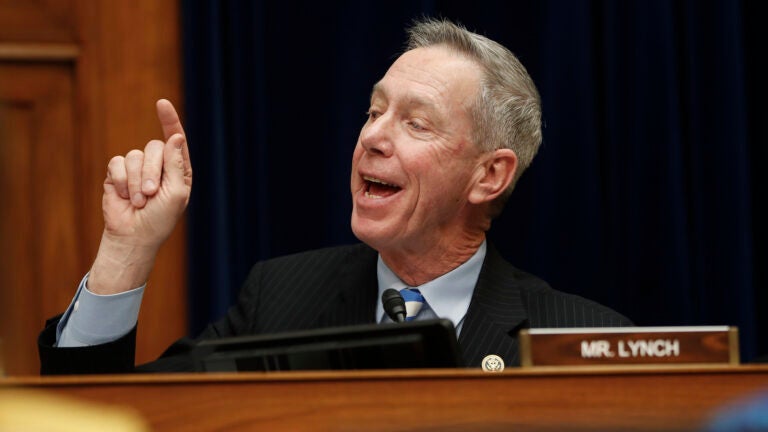 Rep. Stephen Lynch didn't hold back during the Michael Cohen hearing Wednesday. However, his ire wasn't aimed at Cohen, the former personal attorney of President Donald Trump, himself, but toward the Massachusetts congressman's Republican colleagues on the House oversight committee.
During the hearing, GOP congressmen repeatedly highlighted Cohen's previous lies to Congress in an attempt to undermine his credibility as a witness. Several also ripped the committee's Democratic leadership for allowing him back.
"We have brought this committee to its knees in terms of losing its credibility, and it's a shameful mockery of what our purpose is," Rep. Jody Hice, a Georgia Republican, said during his allotted time.
Lynch, who had taken a measured approach going into Wednesday's spectacle, wasn't having it.
"Wanna talk about a low point?" the South Boston Democrat asked rhetorically.
Lynch went on to read a list of names of former Trump associates who had either pleaded guilty to or been charged with crimes in the special counsel investigation into the Republican president's 2016 campaign. Raising his voice in his distinct Boston accent, he questioned why none of those individuals had been called to answer questions when Republicans had control of the oversight committee.
Rep. Jody Hice (R-GA): We have brought this committee to its knees in terms of losing its credibility.

Rep. Stephen Lynch (D-MA): Wanna talk about a low point? [reads list of Trump associates who pled guilty]

– Michael Cohen Hearing pic.twitter.com/pp1UO86uFJ

— Keith Boykin (@keithboykin) February 27, 2019
"For two years — want to talk about an agenda? My friends on the other side of the aisle refused to bring any of these people up before the committee, so today for the first day we have one witness who is voluntarily coming forward to testify," he said.
"Your side ran away from the truth, and we're trying to bring it to the American people," Lynch added.
Turning to Cohen, the 63-year-old congressman asked about his involvement in Trump's efforts to build a massive luxury hotel in Moscow, dating back to 1987, as the former real estate mogul wrote in The Art of the Deal. Lynch waved a hardcover copy of the book during the hearing Wednesday.
Cohen testified that he led negotiations on the proposed Moscow tower up into the 2016 presidential campaign, which he said Trump "never expected to win," and regularly briefed two of the president's children, Donald Trump Jr. and Ivanka Trump, on the project. Trump himself continued to personally direct the negotiations in 2016, according to Cohen.
"After each communication that I had, I would report back to him and our goal was to get this project," he told Lynch. "We were interested in building what would have been the largest building in all of Europe."
Cohen — who has been sentenced to three years in prison for a litany of crimes during the 2016 campaign — says he lied when he told Congress in 2017 that Trump's pursuit of the Moscow tower ended before the 2016 presidential primaries. In his testimony Wednesday, Cohen said that Trump never directly told him to lie, but "made clear" to him that was what he wanted.
"The lies that I told to Congress, in fairness, benefited Mr. Trump," he said Wednesday, addressing the Republican attempts to undermine his credibility. "And I am not protecting Mr. Trump anymore."
Cohen said he spent the past week digging through boxes to provide documents to back up his statements Wednesday.
"You don't have to take my word for it," he said. "I don't want you to. I want you to look at the documents, and I want you to make your own decision."
Before his time for questioning ran out, Lynch offered some support to Cohen, suggesting that Republicans weren't concerned about the accuracy of his statements, but about their potential political implications.
"I don't think my colleagues on the other side of the aisle are afraid you're going to lie," he said. "I think they're afraid you're going to tell the truth."
https://www.youtube.com/watch?v=Y46UUGaOoNQ&t=45s