Politics
The founder of the spa Robert Kraft visited watched the Super Bowl with Donald Trump
She even snagged a selfie with the president during the Mar-a-Lago party.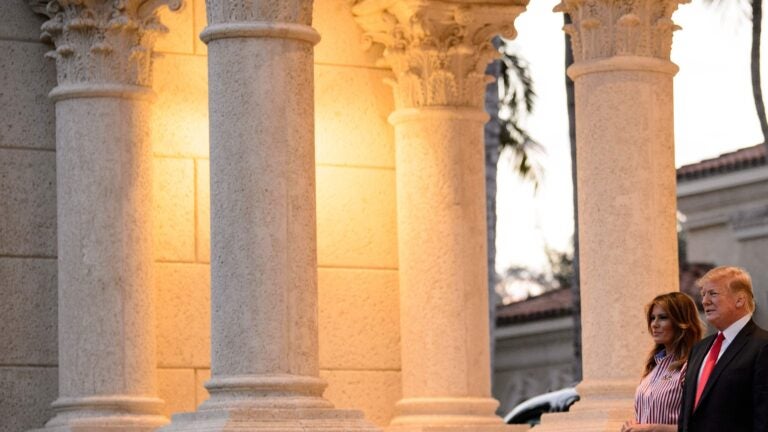 During last month's Super Bowl, President Donald Trump hosted a soon-to-be notable guest at his Palm Beach, Florida club.
As the president rooted for his friend Robert Kraft's New England Patriots to beat the Los Angeles Rams, he was in the company of Li "Cindy" Yang, the founder of the spa where Kraft allegedly paid for sex acts in January, the Miami Herald reported Friday. Trump even posed for a selfie with Yang, who sold the establishment in 2013.
"We love our president," she wrote on Facebook.
Yang also posted a number of images from the Mar-a-Lago Super Bowl party, including a video of Trump and first lady Melania Trump standing during the national anthem, a four-and-a-half-minute, slow-motion video of the couple greeting guests, and a few photos of the club's party snacks. She also captured the president testing out some new 2020 re-election slogans.
As the Herald reported, the Feb. 3 party was hardly the only time Yang has been spotted with Trump.
The 45-year-old entrepreneur, who founded a chain of Asian day spas in South Florida, has reportedly become a "fixture" in Republican politics. Her Facebook account, which could no longer be viewed Friday afternoon, was littered with photos and videos of Yang at Mar-a-Lago and other Trump clubs with the president and other Republican personalities, including the president's adult sons, Eric Trump and Donald Trump Jr., Florida Sen. Rick Scott, Gov. Ron DeSantis, Fox News host Jesse Waters, and Texas Rep. Louie Gohmert.
Yang has not been charged with any prostitution-related crimes, and she sold the Orchids of Asia Day Spa — the Jupiter establishment that Kraft allegedly visited — in 2013 to another businesswoman, Hua Zhang, who was charged with felony prostitution-related crimes in last month's sweep. None of the 10 spas that were shut down in the multi-county prostitution bust were registered to Yang or her family, according to the Herald.
However, the Herald also reported that the spas under Yang's ownership have "attracted the attention of at least two local police agencies over allegations of prostitution," following online comments and information provided to police by at least one massage therapist. Yang denied ever breaking the law in an interview with the paper, but reportedly "did not answer questions about whether she knew of the allegations that therapists in her spas were offering sex."
Kraft has been charged with two counts of soliciting prostitution stemming from his visits to the Orchids of Asia spa on Jan. 19 and 20. The 77-year-old Patriots owner has pleaded not guilty and denies engaging in any illegal activity — though police say they have video footage of him paying for and receiving sexual acts.