Politics
4 things to know about how — and if — Elizabeth Warren's plan to break up the tech giants would work
Experts are divided on the ambitious proposal, and so are Warren's fellow 2020 presidential candidates.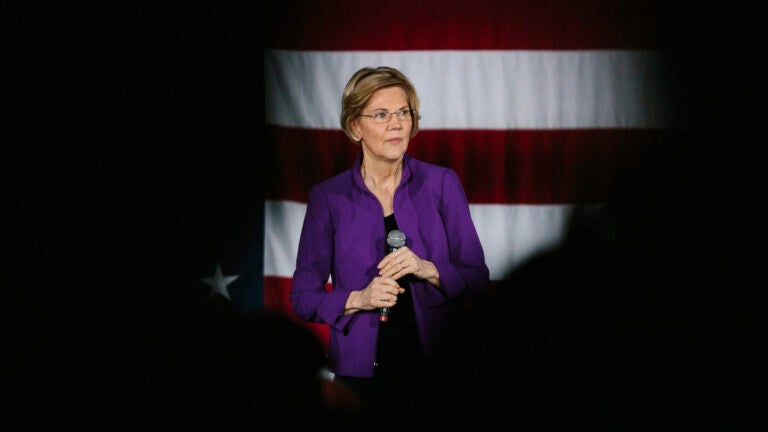 Sen. Elizabeth Warren has come out with another bold policy idea.
The Massachusetts senator and 2020 Democratic presidential candidate released a plan last Friday to break up "Big Tech" companies in order to "restore the balance of power in our democracy, to promote competition, and to ensure that the next generation of technology innovation is as vibrant as the last." In the days since she unveiled the proposal, the plan has made waves from South by Southwest to Facebook's platform itself — dividing experts along the way.
"We need to stop this generation of big tech companies from throwing around their political power to shape the rules in their favor and throwing around their economic power to snuff out or buy up every potential competitor," Warren wrote in a Medium post outlining her proposal.
But would her plan actually do that? And which companies would be affected? Here are four things to know about how it would work.
1. Why does Warren say breaking up Big Tech is necessary?
The first thing to understand is the reasoning for her proposal.
According to Warren, her main concerns about the size of Big Tech companies are their ability to limit competition and to influence politics in order to consolidate their dominance, which she says has downstream effects of consumers.
Her campaign notes that Facebook and Google now control 70 percent of internet traffic. But she credits their emergence to the 1998 government lawsuit to break up Microsoft's monopoly on computer operating systems. Remember Internet Explorer?
Warren refers to a New York Times opinion piece by Connecticut Sen. Richard Blumenthal and anti-trust law professor Tim Wu, which describes what happened after the government and Microsoft agreed to a settlement requiring the company to open up its practices.
Innovation surged in the newly opened markets and the United States continued to spearhead growth in the technological world. The enduring lesson of the Microsoft case was that keeping markets open can require a trustbuster's courage to take decisive action against even a very popular monopolist.

Imagine a world in which Microsoft had been allowed to monopolize the browser business. Holding a triple monopoly (operating system, major applications and the browser), Microsoft would have controlled the future of the web. Google, the tiny start-up, would have faced an unfair fight against Bing. Microsoft-Myspace might have become the default social network instead of Facebook. And who knows whether Netflix or any other online video service would have been started?
Experts generally agree that Microsoft had been engaging in anti-competitive practices at the time to secure its position, and Warren argues that the Big Tech companies of today are doing the same.
In a 2016 speech at the think tank New America's Open Markets Institute, the senator referred to the Federal Trade Commission's 2012 findings that Google was using its dominant search engine to promote its own content over that of its rivals. European officials also fined Google in 2017 for both illegally denying "other companies the chance to compete" and "consumers a genuine choice of services and the full benefits of innovation."
In her 2016 speech, Warren also pointed out that Apple and Amazon have faced accusations of using their power to harm competitors in the music-streaming and book-publishing industries, respectively. For example, Spotify filed a new complaint Wednesday against Apple for "deliberately" disadvantaging other apps in its App Store. Warren also says these giants are gobbling up potential competitors, such as Facebook's purchases of (and plans to integrate) Instagram and WhatsApp.
Warren points to evidence that innovation in the tech sector has recently slumped because of the tech giants, which she says has a negative impact on consumers. From her Medium post:
With fewer competitors entering the market, the big tech companies do not have to compete as aggressively in key areas like protecting our privacy. And some of these companies have grown so powerful that they can bully cities and states into showering them with massive taxpayer handouts in exchange for doing business, and can act — in the words of Mark Zuckerberg — "more like a government than a traditional company."
Warren's secondary concern is that these tech companies will use their power to influence government policy to reinforce their dominance in the market. Google, Amazon, Facebook, Microsoft, and Apple together spent more than $64 million on federal lobbying last year, yet another record in the ever-increasing sums the five companies have spent on making sure their interests are heard in Washington, D.C.
The Big Tech companies, however, deny that they're a monopoly and argue their size is simply a product of the fact that they've made life more convenient for consumers. As Facebook officials recently wrote, "Popularity is not dominance."
2. How exactly would she break up Big Tech?
Going further than the Microsoft settlement, Warren's plan aims to "restore competition to the tech sector" through two approaches.
The first would be through legislation to designate companies that have more than $25 billion in annual global revenue and offer "an online marketplace, an exchange, or a platform for connecting third parties" as "platform utilities."
These companies would be prohibited from both running a marketplace and acting as a participant in it. They would also be required to meet "a standard of fair, reasonable, and nondiscriminatory dealing with users."
"If you run a platform where others come to sell, then you don't get to sell your own items on the platform because you have two comparative advantages," Warren told The Verge over the weekend. "One, you've sucked up information about every buyer and every seller before you've made a decision about what you're going to sell. And second, you have the capacity — because you run the platform — to prefer your product over anyone else's product. It gives an enormous comparative advantage to the platform."
In her Medium post, Warren said that Amazon Marketplace, Google's ad exchange, and Google Search would be platform utilities under her proposed law.
That means Google Search would have to be spun off from its sprawling parent company, Alphabet. Google-owned ad providers would also have to be split off in order to participate on the company's ad exchange. Amazon Basics, which sells generic brand electronics and home accessories on Amazon's website, would have to be broken off into its own company. And in her interview with The Verge, Warren confirmed that Apple would have to be broken up in order to keep offering apps on its App Store.
"Apple, you've got to break it apart from their App Store," she said. "It's got to be one or the other. Either they run the platform or they play in the store. They don't get to do both at the same time."
Warren's team says the $25 billion threshold provides a clear line that only captures the most powerful companies.
And while there's a huge list of companies with revenue over that threshold, very few of them offer online marketplaces — which are different than an online store — in which they also compete.
Retail giants, like Walmart, or groceries store chains, would still be able to sell their own branded products alongside other brands on their online stores, since they process and fulfill the orders themselves  (as opposed to letting third-parties list and sell their products on the website).
Warren's proposed law would also designate companies with online marketplaces and annual global revenue between $90 million and $25 billion as platform utilities. But these smaller companies would only be required to meet the same aforementioned dealing standards; they could still participate in the marketplace.
Companies found to violate the new requirements could be sued and face a fine of 5 percent of their annual revenue.
In addition to the proposed legislation, Warren says she would appoint regulators "committed to reversing illegal and anti-competitive tech mergers." From the telecom industry to the railroad and oil barons, U.S. regulators have used the Sherman Antitrust Act to break up monopolies of the past.
Lamenting what she and other experts say have been "weak antitrust enforcement" in recent decades, Warren says her appointees would use "existing tools" to block and undo certain uncompetitive mergers. She specifically named Amazon's acquisitions of the grocery chain Whole Foods and the shoe retailer Zappos, Facebook's ownership of Instagram and WhatsApp, and Google's purchases of the travel app Waze, the home technology company Nest, and the ad provider DoubleClick.
Warren says that consumers will still have the same convenience of searching subjects on Google or choosing from a vast selection of products on Amazon. But she says the increased competition from her proposals would apply more pressure on the tech giants to improve their offerings and provide more opportunity for entrepreneurs.
"Healthy competition can solve a lot of problems," Warren wrote on Medium.
3. How has her plan been received?
Perhaps predictably, Warren's proposal was met with immediate pushback from tech trade groups. Ed Black, the president of the Computer and Communications Industry Association, told media outlets that the "unwarranted and extreme proposal … is misaligned with progressive values."
Rob Atkinson, the president of the Information Technology and Innovation Foundation, an industry-backed think tank, suggested that Warren's plan would reduce convenience for consumers, arguing that "big" isn't necessarily "bad."
"Consumers now benefit greatly from having one Amazon, one Google, and one Facebook," Atkinson said in a statement. "The goal of competition policy should be to enhance consumer welfare, not penalize companies for earning market share and operating at scale—yet that is exactly what the Warren proposal would do."
Facebook CEO Mark Zuckerberg has argued that breaking up Big Tech companies in the United States would pave the way for Chinese companies to dominate. Following the release of Warren's proposal, Instagram founder Kevin Systrom said that while he feels some of the anger currently directed at Big Tech is "well founded," breaking up companies may not address those problems.
"Breaking companies up is a very specific prescription to a very specific problem," Systrom said during a conference at the South by Southwest conference in Austin, Texas. "If you want to fix economic issues, there are ways of doing that. If you want to fix Russian meddling, there are ways of doing that. Breaking up a company doesn't fix those specific problems."
However, some policy experts say that breaking up companies is the correct and appropriate approach. Barry Lynn, the executive director of the Open Markets Institute (which itself split off from New America over a dispute about Google's influence), called the proposal "of fundamental importance to all Americans."
The Roosevelt Institute, a think tank that supports stronger anti-trust enforcement, said Warren's proposal is "critical" for addressing economic inequality —  and should be uncontroversial.
"Any policy intended to curb corporate power in the economy that does not specifically address the tech sector is like a climate change policy that does not address the fossil fuel industry," said Marshall Steinbaum, a fellow at the institute, and Stephanie Sterling, its policy director, in a statement.
"Much of this proposal is intended to encourage regulators to use the power they already have," they said. "That is why appointing regulators who will act in the public interest is so important. Antitrust enforcers need to enforce structural separations to take those business models off the table and better prioritize the interests of suppliers, creators, and workers."
Still, some independent tech experts aren't convinced by Warren's proposal.
Ben Thompson, the author of the influential tech newsletter Stratechery, wrote Tuesday that Warren is rightly concerned about Big Tech mergers and the conflicts of interest that comes with both owning and participating in a platform. However, Thompson says those issues mostly rose "post-dominance," which is to say that Big Tech got big in the first place for different reasons: "Google, Facebook, Amazon, and Apple dominate because consumers like them."
"Each of them leveraged technology to solve a unique user needs, acquired users, then leveraged those users to attract suppliers onto their platforms by choice, which attracted more users, creating a virtuous cycle that I have christened Aggregation Theory," he wrote in a lengthy post Tuesday.
Thompson argued that, for example, Facebook was already dominant before it bought Instagram and that unwinding mergers or splitting up core components of certain companies — like spinning off the App Store from Apple — would be incredibly complicated to the detriment of consumers. Similar to Systrom's argument, he said Warren's proposal does not precisely address some of the valid critiques she raises.
"'Tech' is not simply another category, like railroads or telecom. Tech is a means, not an end, but Senator Warren's approach presumes the latter," Thompson wrote.
"I appreciate Senator Warren raising these issues," he reiterated. "They are indeed critical not only for the world today, but also the world we wish to create in the future. That, though, only increases the importance of getting things right: the history, the fundamental problem, and the nature of tech. Only then can we start to grope for solutions that actually make the situation better rather than worse."
What have other 2020 candidates said about breaking up Big Tech?
While Warren's plan is certainly the most far-reaching, the power of Big Tech has become a growing concern for many of her fellow Democrats.
In an interview with the Washington Post last week, Sen. Amy Kloubuchar — a Minnesota Democrat who is also running for president in 2020 and has introduced past legislation to limit "mega-mergers" — said the country has a "major monopoly problem," starting with the tech industry.
Klobuchar has proposed raising fees on larger mergers to help fund government regulators and strengthening the legal standard under which prosecutors can bring anti-trust cases. However, she wouldn't go so far as to endorse breaking up the Big Tech companies.
"We need to change the laws so they're looking at other factors, like monopsony," Klobuchar told the Post. "It is [a] choice to follow this Robert Bork, University of Chicago school — where I went to law school, by the way — approach. … We need to get more funding into the agencies, and we need to change the standard. That would be an appropriate thing to do."
In a party that has traditionally been aligned with the tech industry, most other Democratic presidential candidates have similarly declined to call for breaking up Amazon, Apple, Facebook, or Google. According to CBS News, fellow contenders like Sens. Cory Booker and Kamala Harris have instead focused their attention on issues of privacy and discriminatory speech.
Sen. Bernie Sanders — a longtime critic of both Amazon, monopolies, and media consolidation — has expressed concern about the power of the likes of Facebook, Amazon, and Google. However, he hasn't yet voiced support for breaking them up. Likewise, fellow 2020 candidate Julian Castro says Warren's plan is "worth considering." So far, the only Democratic presidential candidate to back Warren's plan is Hawaii Rep. Tulsi Gabbard, who tweeted Tuesday that she plan's to introduce companion legislation in the House.
"Absolute power corrupts absolutely," Gabbard tweeted Tuesday. "I agree with Senator Warren on the need to break up Big Tech companies like Facebook, Google, Amazon."