Politics
The South Boston St. Patrick's Day Breakfast returned again with lots of jokes — some of them good
"There are so many Democrats running for president in 2020 that it's already costing Vladimir Putin a fortune in overtime."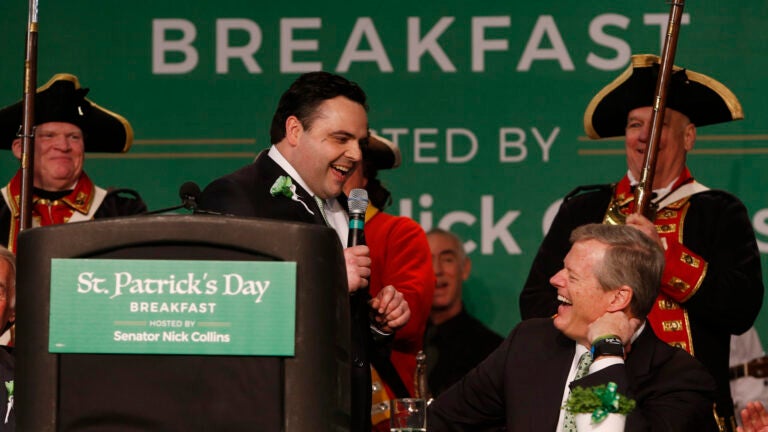 The South Boston St. Patrick's Day Breakfast returned Sunday with a new location and the same old — often groan-inducing — one-liners:
Gov. Charlie Baker is basically a Democrat. Sen. Ed Markey is old. And yes, Sen. Elizabeth Warren is seeking higher office.
Hosted for the first time by state Sen. Nick Collins, the South Boston Democrat began the breakfast by ribbing some of the elected officials not in attendance — perhaps most prominently Warren, who was campaigning in the South this week in her bid for president.
"Senator Warren is busy being one of the 732 Democrats running for president," Collins said Sunday. "She was going to call in, but she decided to mail it in."
There was, however, an appearance from one potential Democratic presidential candidate.
In a surprise appearance, former Vice President Joe Biden — who looks to be on the verge of announcing a 2020 campaign — addressed the crowd in a pre-recorded video and said he wished he could be at the breakfast to see old friends in attendance, like Markey, Rep. Stephen Lynch, and Boston Mayor Marty Walsh. Biden also said he looked forward to meeting freshman Rep. Ayanna Pressley, who he called an "exciting" new leader.
"I'd mention you, Charlie," Biden said to the Republican governor, "but the last time I said something nice about a Republican, it got them in trouble, and I don't want to get you in trouble." (It also landed Biden in a bit of hot water himself.)
Noting that St. Patrick's Day also coincided with the local holiday Evacuation Day, Collins also took the opportunity to rib Baker about his British ancestry — serenading the governor with a parody of the Hamilton song "You'll Be Back."
.@nickcollinsma crushing it, "serenading" @CharlieBakerMA #SPDbreakfast2019 #StPatricksDay pic.twitter.com/8jHJkVdsuP

— Senator Becca Rausch (@BeccaRauschMA) March 17, 2019
"So while we're on the subject, he wants us as his subjects, his Democratic subjects," Collins sang, flanked by dancing redcoats.
"I'm really glad that my mom passed away — so she didn't have to see that," Baker said, adding that Irish mother would have been "horrified" to see her son talked about as a descendant of the British crown.
On the topic of ancestry, Baker announced — to groans from the audience — during his monologue that he took a page out of Warren's playbook and had recently taken a DNA test.
"This is important," said the moderate GOP governor. "This is important. The official results of that DNA test: I am 1/1000th Republican."
Following Baker, Markey's speech was comprised of a barrage of one-liners at the expense of President Donald Trump, though the 72-year-old junior senator was also self-deprecating. He began by addressing the recent college admissions scandal.
It's basically a lot of white people illegally using their wealth and influence to advance their family's interests, or as we call it in Washington, the Trump administration," Markey said.
"I got into Boston College the old fashioned way: I was born Irish Catholic," he added.
Markey, who has endorsed Warren for 2020, also talked about all of the "inspiring" Democratic candidates running to replace Trump.
"There are so many Democrats running for president in 2020 that it's already costing Vladimir Putin a fortune in overtime," he said.
Markey went on plug his work to write and introduce the Green New Deal climate change resolution with New York Rep. Alexandria Ocasio-Cortez.
"The Green New Deal has two co-sponsors," he said. "One is an up and coming star in the Democratic party, beloved by the left and by millennials, and the other is Alexandria. Or as I like to call her on St. Patrick's Day: A-O-apostrophe-C."
Mocking Trump's approach to climate change, Markey said the president was unable to grasp the plan's goal to reach net-zero greenhouse gas emissions by 2050.
"Come on Mr. President, you know what net zero means: it's what you paid in taxes," he said. "It's what you earned at your casino. It's the value of a diploma at Trump University."
Following Markey was Rep. Stephen Lynch, the South Boston Democrat who represents the state's 8th congressional district. Lynch joked that he recently toured the White House and that First Lady Melania Trump had the building covered with St. Patrick's Day decor, from shamrocks to pots of gold.
"Of course, Mike Pence is ripping off the rainbows left and right," he said, alluding to the vice president's history of opposing of LGBT rights.
Lynch, who hosted last year's breakfast and has been known to break out in song during the event, also gifted the crowd with a Trump-bashing version of the Irish drinking song "The Liar."
In his speech, Boston Mayor Marty Walsh addressed the federal lawsuit announced Friday against the city of Quincy for allegedly dumping sewage and untreated wastewater in the Boston Harbor.
"If that's true, that's terrible," Walsh said. "But I have to say I wouldn't be surprised. With all the crap they've been throwing at us about the Long Island Bridge, some of it was bound to go in the ocean."
The neighboring cities have been at odds over Boston's plan to rebuild the bridge and create a long-term drug addiction recovery center on Long Island.
"You can clap, Congressman," Walsh told Lynch, whose district includes Quincy. "Oh, we're all serious now. It's alright. We'll see about that."
Walsh, who is close with Biden, also took a jab at the crowded Democratic primary field and the subject of his endorsement.
"I have an old friend who hasn't announced yet," he said. "And I just want to wait and see to see the full field. People say that my friend is potentially too old, too moderate, talks too much. But I think Stephen Lynch deserves a chance."
With regards to the other side of the 2020 ticket, Walsh said he wanted to see Baker team up with his old boss and former Massachusetts Gov. Bill Weld, who is currently the only Republican who has announced a campaign against Trump. The Democratic mayor said it was time to introduce "old-fashioned" Massachusetts Republicanism to the national stage.
"We're used to them here," Walsh said. "They're fiscally conservative, socially liberal, and they're totally unelectable."
Introducing one of the newest members of the state's federal delegation, Collins took issue with Rep. Ayanna Pressley's proposal to lower the federal voting age to 16.
I look around the room and think to myself, 'What were some of the people up here doing when they were 16?'" Collins said. "Governor Baker was busy photoshopping his face on NBA players to get into Harvard. Senator Markey was helping General Knox drag the cannons from Fort Ticonderoga to Dorchester Heights. And I'm not even going to get into what Marty Walsh and Stephen Lynch were up to back then."
When the 7th District congresswoman, who unseated longtime incumbent Rep. Michael Capuano in last year's Democratic primary, took to the podium, she acknowledged that she may have appeared nervous at the head table before her speech.
"I was just eager to get up here, because I'm not used to waiting my turn," Pressley said.
The Dorchester Democrat also addressed Lynch's tirade against Republicans during last month's Michael Cohen hearing — which she likened to "a rabid hybrid of a Red Sox fan and an Irish grandmother — before recalling her own "bruising" primary campaign.
"Some folks said I was advancing radical policies, but then winter rolls around, we have one 10-inch snowstorm, and everybody is saying we should abolish ICE," Pressley said.
"Buh-dum-bump," she added amid tepid laughter. "Come on!"
Like many of the event's speakers, Pressley closed on a more serious note, reminding attendees of the history of the holiday and of the Boston area.
"It's hard to think that it was just a handful of decades ago that the country could not wrap their minds around the idea of an Irish Catholic president or that there were signs throughout Boston that said 'Irish need not apply,'" she said.
"Although the origin story of immigrants might be different, there is one fundamental truth and connective thread, whether you are Haitian, El Salvadorian, or Irish," Pressley added. "Whether you are a Dreamer, an asylum seeker, or a TPS holder, you deserve to be treated with dignity, for people to see the humanity in you, and to have your full civil rights and a better world for your children."