Politics
Elizabeth Warren (sort of) explains what reparations would mean if she were president
"I believe it's time to start the national, full-blown conversation about reparations in this country."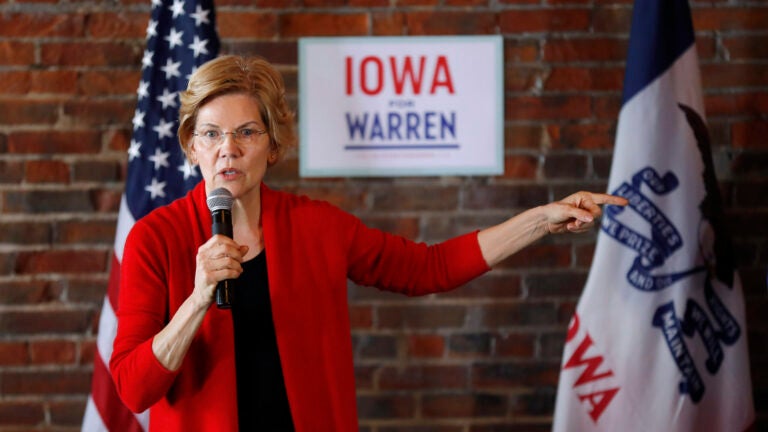 Sen. Elizabeth Warren says it's time for a "full-blown" talk about reparations to redress the lasting impacts of slavery and decades of discrimination against black Americans. However, Warren says she would defer to others on what exactly that looks like.
During a CNN town hall Monday night in Jackson, Mississippi, the Massachusetts Democrat and 2020 presidential candidate was asked by an audience member to describe what a "public apology for 400 years of free labor in the South" would look like in her administration.
Warren called slavery "a stain on America," adding that the dramatic racial wealth gap has since been perpetuated through generations of discrimination, including in the housing and employment sectors.
"I believe it's time to start the national, full-blown conversation about reparations in this country," she said to applause from the mostly black audience at Jackson State University.
Warren also announced for the first time her support for a House bill that would establish a commission of experts to "study and consider a national apology and proposal for reparations."
Elizabeth Warren says there needs to be a national conversation about reparations and calls for a congressional commission to study the issue, but does not commit to direct payments, explaining there are a lot of ways to do it. #WarrenTownHall https://t.co/pPFMVywETf pic.twitter.com/omtAk2JaNR

— CNN (@CNN) March 19, 2019
Following her answer, CNN host Jake Tapper pressed Warren to elaborate on her support for reparations, which she has suggested could also apply to Native Americans. The once-fringe concept has been embraced by Democrats running in the 2020 primary to differing degrees, from simple payments to the descendants of slaves to targeted, racially conscious programs to universal policies that would disproportionately affect black Americans.
"There are a lot of ways to think about how reparations should be formed," Warren said, noting that the original question started around the frame of a public apology recognizing the racist economic structure on which the country was originally built.
"We have a lot of experts around the country, a lot of activists, who have a whole lot of different approaches to it," she said. "And I think the best we can do right now — I love the idea of this congressional commission. Let's bring people together, and let's open that conversation as Americans. Let's see what ideas people want to put on the table, and let's talk them though, because I gotta tell you, ignoring the problem is not working."
Warren first voiced support for reparations for black Americans last month.
"We must confront the dark history of slavery and government-sanctioned discrimination in this country that has had many consequences, including undermining the ability of black families to build wealth in America for generations," she told The New York Times. "We need systemic, structural changes to address that."
Later during Monday's town hall, Warren plugged her recently reintroduced housing bill, which (among other things) would offer down payment assistance to first-time homebuyers in formerly redlined communities, as another measure to redress the explicit discrimination against black people.
"This bill tackles that head-on," she said.