Politics
Elizabeth Warren tells Stephen Colbert there are more important things than the Mueller report
But she still wants it to be made public.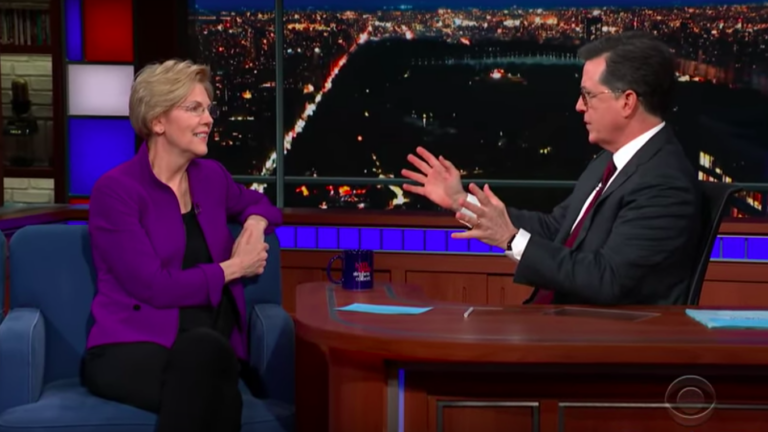 Sen. Elizabeth Warren says voters have more pressing concerns than Special Counsel Robert Mueller's report on his investigation into Russian efforts to influence the 2016 presidential campaign.
But like her fellow Democrats, Warren still wants the report to be made public.
"If we don't see it, then millions of people around this country are going to keep asking, 'What's in it that nobody wants us to see?"' the Massachusetts senator and Democratic presidential candidate said Monday night on "The Late Show with Stephen Colbert."
"Everybody can read — well…" she added in what appeared to be a not-so-veiled jab at President Donald Trump, whose aversion to reading has been well-documented.
"We'll do something with pictures," Colbert replied.
The Late Show host went on to ask if Warren was surprised by the results of Mueller's investigation. A four-page summary of the special counsel's report released Sunday by Attorney General William Barr said that Mueller found no evidence of collusion between the Trump campaign and Russian actors and was inconclusive on the question of whether the president obstructed justice. Last month, Warren suggested that Trump "may not even be a free person" by the 2020 election.
"Did you think you were going to run against someone who was indicted?" Colbert asked Monday.
However, Warren said that was never the point of her campaign.
"It's really about running against somebody who is making the government run better and better and better for a thinner and thinner and thinner slice at the top," she said, referring the wealthiest Americans, "and leaving everybody else behind."
Warren gave the Republican-backed 2017 tax break bill and government inaction to lower the price of prescription drugs as examples. In contrast, the Bay State senator said her proposed tax on individual wealth over $50 million could be used to fund initiatives like providing universal child care, reducing the student debt burden, building more affordable housing, and addressing climate change.
"We got to put the ideas out there about how to do that," she said.
In a clip of the interview posted on social media by The Late Show's accounts before the episode aired Monday night, Warren said she didn't trust Barr's judgment on not charging Trump with obstruction of justice. And while she said that was another reason for the full report to be made public, Warren reiterated that she believed voters cared more about kitchen-table issues.
Of the 100 questions Warren estimated she took while campaigning in New Hampshire over the weekend, she said "zero" were about the Mueller report.
"It's important — and as you say, there are a lot of other investigations going on," Warren said, referring to Colbert's opening monologue Monday night.
But she said voters are focused on "what's happening in their lives."
"Are we going to be a country that just continues to work better and better for people who are richer and richer — and not anybody else?" Warren asked, rhetorically. "Or are we actually going to be a country that pulls that back and says, 'No, we believe that our government and our country can be made to work for all of us.' That's the fundamental question."