Politics
Here's what Elizabeth Warren had to say about the inappropriate touching allegations against Joe Biden
"I believe Lucy Flores."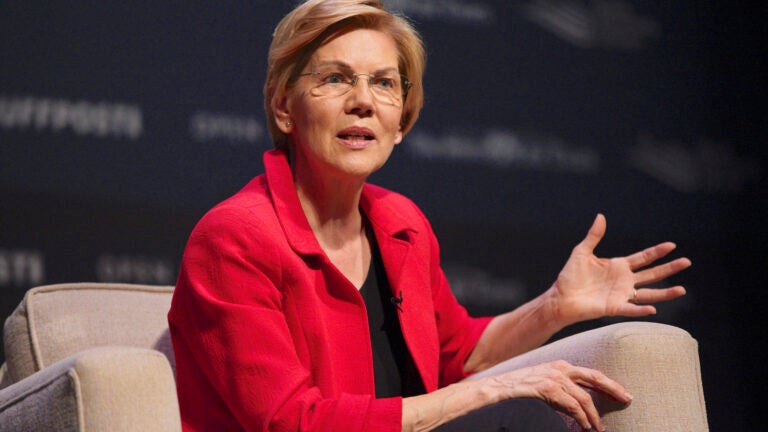 Sen. Elizabeth Warren says Joe Biden needs to explain himself after a fellow Democrat shared a story of an uncomfortable encounter with the then-vice president in 2014.
Lucy Flores, who was the Democratic nominee for lieutenant governor of Nevada in 2014, said Friday that Biden put his hands on the then-35 year old's shoulders and kissed the back of her head during a campaign event that November.
"He made me feel uneasy, gross, and confused," Flores wrote in The Cut, a blog published by New York magazine. "The vice-president of the United States of America had just touched me in an intimate way reserved for close friends, family, or romantic partners — and I felt powerless to do anything about it."
Warren says she believes Flores, but deferred when asked if the story should have any bearing on Biden's decision to join the field of Democrats running for president in 2020 (which he is widely expected to do later this month).
"I read the op-ed last night," Warren said Saturday at a candidates forum in Iowa. "I believe Lucy Flores. And Joe Biden needs to give an answer."
Asked if Biden should not run as a result of the allegations, the Massachusetts senator said "that's for Joe Biden to decide."
Elizabeth Warren says she read the Biden story: "I believe Lucy Flores." pic.twitter.com/iBr1dbuW3r

— Iowa Starting Line (@IAStartingLine) March 30, 2019
For his part, Biden has provided several responses to Flores's story — which isn't the only instance in which his "affectionate and sometimes intimate physical style," as the Washington Post described it Sunday, has come under scrutiny in the #MeToo era.
After the former Nevada state lawmaker's story was published Friday evening, Biden said in a statement he was pleased to support Flores in 2014, but that "neither then, nor in the years since, did he or the staff with him at the time have an inkling that Ms. Flores had been at any time uncomfortable, nor do they recall what she describes."
In a new statement Sunday morning, the 76-year-old Delaware Democrat addressed his more general history of "handshakes, hugs, expressions of affection, support and comfort" on the campaign trail, which several allies and former staffers have defended in light of the allegations by Flores.
"Not once — never — did I believe I acted inappropriately," he said. "If it is suggested I did so, I will listen respectfully. But it was never my intention."
The statement, shared by Biden's spokesman Bill Russo, continued: "I may not recall these moments the same way, and I may be surprised at what I hear. But we have arrived at an important time when women feel they can and should relate their experiences, and men should pay attention. And I will."
Statement from @JoeBiden this morning. pic.twitter.com/EbCchX2npU

— Bill Russo (@BillR) March 31, 2019
In an appearance Sunday on CNN, Flores said Biden's second statement was "certainly better" and that she was "glad that he is clarifying his intentions," even if that wasn't the heart of the issue.
"My point was never about his intentions, and they shouldn't be about his intentions," she said. "It should be about the women on the receiving end of that behavior."