Politics
An 18-year-old Pete Buttigieg won a JFK Library essay contest. His subject was Bernie Sanders.
"I absolutely would not have pictured then that I'd wind up potentially competing with him."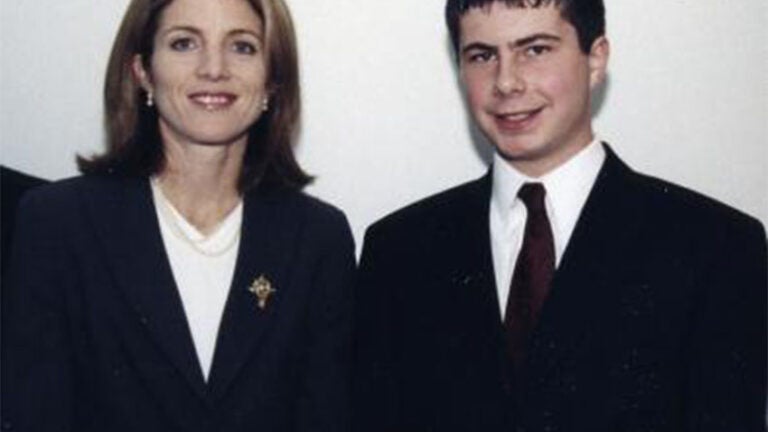 Nearly two decades ago, an Indiana high school student won a national award from the John F. Kennedy Library for his essay about a little-known Vermont congressman.
Out of more than 600 submissions, the Boston institution picked 18-year-old Pete Buttigieg as the winner of its 2000 Profile in Courage Essay Contest for his piece on then-Rep. Bernie Sanders, which praised the House's sole Independent member for "giving me an answer to those who say American young people see politics as a cesspool of corruption, beyond redemption."
"I have heard that no sensible young person today would want to give his or her life to public service," Buttigieg wrote. "I can personally assure you this is untrue."
That said, even Buttigieg admits he couldn't have imagined how true those words would be.
"There's no way I would have guessed that I'd be in this situation," he said in a recent interview on the podcast "Pod Save America."
After attending Harvard and Oxford, working in consulting, becoming mayor of his home city of South Bend, and serving in the Navy Reserves, Buttigieg's name has become a hot commodity in Democratic politics. The 37-year-old is officially exploring a 2020 bid for the White House, amid a crowded field of Democratic candidates that includes Sanders, who is hoping to recapture the energy of his surprisingly successful 2016 campaign.
And now, at least in the early stages of the 2020 primary race, Buttigieg is the one riding a wave of unexpected national attention. A recent Iowa poll had the millennial mayor in third place among likely Democratic caucusgoers, trailing only former Vice President Joe Biden and Sanders. On Monday, his campaign announced a formidable first-quarter fundraising haul for any presidential candidate, let alone a small-city mayor.
"I absolutely would not have pictured then that I'd wind up potentially competing with him," he told "Pod Save America," when asked about running against his 77-year-old political idol.
In his essay, Buttigieg praised Sanders's "courage" for describing himself as a "socialist," at a time when most Democrats shied away from even the word "liberal" like "a horrid accusation."
"Even though he has lived through a time in which an admitted socialist could not act in a film, let alone hold a Congressional seat, Sanders is not afraid to be candid about his political persuasion," he wrote.
But it wasn't only Sanders's honesty that impressed the St. Joseph's High School student, who is now vying to be the country's first openly gay major-party presidential nominee. Buttigieg also praised Sanders — who passed more roll call amendments than any other House member during his time in the Republican-controlled chamber — for being "a powerful force for conciliation and bi-partisanship on Capitol Hill."
"It may seem strange that someone so steadfast in his principles has a reputation as a peacemaker between divided forces in Washington, but this is what makes Sanders truly remarkable," wrote the Indiana native. "He represents President Kennedy's ideal of 'compromises of issues, not of principles.'"
Buttigieg's essay was chosen as the contest winner by a committee that included Massachusetts Sen. Ted Kennedy, Maine Sen. Olympia Snowe, and former Wyoming Sen. Alan Simpson. The high schooler and his family traveled to Boston that May to accept the award, which included a $3,000 prize and was named after President John F. Kennedy's 1957 Pulitzer Prize-winning book, Profiles in Courage. At the Columbia Point library and museum, Buttigieg met with members of Kennedy's family, including his daughter Caroline Kennedy and grandson Jack Schlossberg.
In a statement to Boston.com, Schlossberg commended the "intellect, patriotism and optimistic embrace of political courage" Buttigieg showed in his essay and noted that their "paths would cross" again in 2015 when the young mayor's achievements in South Bend were honored with one of the JFK Library Foundation's New Frontier awards.
"I'm glad Americans across the country are getting to know Mayor Pete, and that the Foundation's deliberation process seems to be working," Schlossberg said.
Looking back on his essay as a presidential candidate, Buttigieg told "Pod Save America" he was fascinated how Sanders "owned" the socialist label and "didn't seem to care as much about the politics of it." But he himself doesn't identify as a socialist — or a democratic socialist, as Sanders does — but as a "progressive" who believes in "democratic capitalism."
"I've grown up in a time when you can pretty much tell that there's tension between capitalism and democracy, and negotiating that tension is probably the biggest challenge for America right now," Buttigieg, who is expected to officially launch his campaign later this month, told Vox in an interview published last week.
If elected, he thinks Democrats should prioritize political reforms that address the "dysfunction in our system," such as eliminating the Electoral College, restructuring the Supreme Court, and possibly getting rid of the Senate filibuster.
Despite coming from a Republican-leaning state, Buttigieg also generally supports many of the same big policy proposals as Sanders, such as the framework of the Green New Deal and single-payer health care (though he's advocated for a more gradual approach on health care, such as offering a Medicare-type public option). As he told "Pod Save America," Buttigieg also points to Sanders as evidence that "there's more to working with Republicans than ideological centrism."
However, Buttigieg says his experience as a rural-city mayor (Sanders also served as mayor of Burlington in the 1980s) and profile as a gay, millennial, church-going veteran from the Midwest may help him speak to a broader swath of voters.
"I'm glad he's in the picture," he said of Sanders in his podcast interview last month. "I think it represents a real important way to establish kind of what the terms of the debate are. But I also think in the end I have a somewhat different message, and I'm obviously a very, very different messenger."