Politics
Elizabeth Warren and Joe Biden have a history. It's complicated.
"You gave me hell."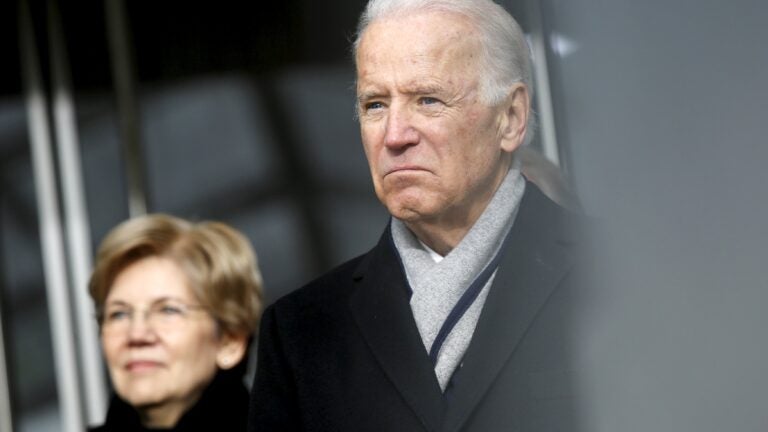 Sen. Elizabeth Warren and Joe Biden could find themselves sharing a Democratic presidential primary debate stage this summer. It wouldn't be the first time they've sparred.
Warren was one of a number of Democrats running for president who recently said Biden, who is expected to also launch a 2020 campaign later this month, would have to answer for his history of physical behavior toward women. However, the Massachusetts senator has shared a uniquely contentious history with the former vice president, dating back to her days in Cambridge.
The years-long feud — in which Warren relentlessly called out Biden over his ties to the financial industry — was illustrative of the "foundational" differences between the two typically united Democrats, according to her supporters. And while their relationship has apparently warmed to the degree that Biden considered Warren as a potential running mate in 2016, her critiques reportedly still nagged him more than a decade later.
Here's how it all started:
Bankruptcy bill saga, part 1: Warren on the offensive
The conflict between Warren and Biden began with a bankruptcy reform bill first introduced in the late-1990s to address the then-record number of personal bankruptcy filings. Biden, then a U.S. senator from Delaware, was a sponsor of the bill.
"An awful lot of people are discharging debt who shouldn't," he said during a 2001 Senate hearing. "Something is up, and that happened when the economy was booming, absolutely booming. Now, I am not a real smart fellow maybe, but there is something wrong."
Warren, a Harvard law professor at the time recognized as one the country's top bankruptcy experts, was firmly opposed to the bill. She argued that making it harder to file for bankruptcy would hurt those in financial distress, instead of addressing the root causes of rising claims — such as health care expenses or credit card debt.
"Those who want to say [that] the way to solve rising consumer bankruptcy is by changing the law are the same people who would have said during a malaria epidemic that the way to cut down on hospital admissions is to lock the door," she told the Washington Post in 1998.
Warren's perspective was that bankruptcy provides a form of social insurance for people who are unlucky or take risks that don't work out. While she allowed that some people abused the system, Warren said that the rising rates at the time were mainly due to increasingly aggressive marketing by credit card lenders.
"The bankruptcy filing rate is a symptom," she argued in a 2005 letter to Congress with more than 100 other law professors. "It is not the disease. Some people do abuse the bankruptcy system, but the overwhelming majority of people in bankruptcy are in financial distress as a result of job loss, medical expense, divorce, or a combination of those causes."
In 1998, Warren was even able to successfully convince then-first lady Hillary Clinton to oppose the bill and encourage her husband, President Bill Clinton, to veto it — which he did in 2000.
However, a similar proposal returned under President George W. Bush's administration. And as the legislation picked up momentum, Warren began increasing the volume of her criticism — singling out Biden, a member and former chair of the powerful Senate Judiciary Committee, who she suggested was doing the bidding of the cluster of financial companies incorporated in his state.
"Banking and credit lobbyists have been trying to change the bankruptcy laws for years," she wrote in a New York Times op-ed in May 2002. "The current bill was stuck in conference between the Senate and House until Senator Joseph Biden of Delaware — where many banks and credit-card issuers are incorporated — agreed to vote with Republicans on almost all the issues that were holding up the bill."
Noting that more than 90 percent of women who file for bankruptcy cite a combination of unemployment, medical bills, and divorce and that women "are more likely than men to seek bankruptcy in the aftermath of a divorce or a medical problem," Warren said the bill would disproportionately hurt women.
In a Harvard Women's Law Journal titled "What is a Women's Issue?" in June 2002, she again repeatedly called out Biden.
Referring to the senator's inclusion in a recent National Organization for Women report commending his work on the Violence Against Women Act, Warren sardonically wrote that Biden "must be delighted with his starring role … and with the halo effect that suggests that he is one public official politically active women can trust" — before proceeding to ruthlessly rip the senator's "energetic work on behalf of the credit card companies." From her paper:
Of course, not all of Senator Biden's legislative agenda is reflected in the Annual Report. Missing, for example, is a picture of Senator Biden standing shoulder to shoulder with the CEOs of the credit industry, cosponsoring legislation to increase restrictions on consumer and small business bankruptcy. His energetic work on behalf of the credit card companies has earned him the affection of the banking industry and protected him from any well-funded challengers for his Senate seat. This important part of Senator Biden's legislative work also appears to be missing from his Web site and publicity releases.
Warren suggested that economic issues that affect women and their children the hardest should also be considered "women's issues." She also said Biden's work on clearly labeled "women's issues" — from abortion to child care to equal pay — allowed him to remain "a zealous advocate" for the financial industry.
There is an unavoidable suspicion, however, that he supports the financial industry's legislation because there is no political disadvantage to supporting it. Bankruptcy is sufficiently arcane, sufficiently obscure that it is possible for an otherwise respected legislator to support legislation that, over the next decade, will make it more difficult for millions of women to keep their homes, feed their children, and deal with bill collectors. Senator Biden can publicly support one very visible piece of legislation on behalf of women, satisfying his duty and assuring the loyal support of millions of women. He is then free to be a zealous advocate on behalf of one of his biggest contributors, the financial services industry, and still position himself as a champion for women
Biden defended himself against the line of criticism in a 2001 Senate floor speech, arguing that the bankruptcy bill would actually improve the situation for women and children, citing its "overwhelming support" from the law enforcement field. For example, the senator said the bill included a requirement that "deadbeat dads" who file for bankruptcy would continue making child support payments above nearly all other creditors.
"This bill empowers women," he said. "It gives them a say in the bankruptcy proceedings relating to her absent spouse."
Bankruptcy bill saga, part 2: The 2005 face-off
The public sparring culminated with a 2005 Senate hearing in which Warren testified and debated Biden in person.
Mother Jones recently dug up and posted the full 14-minute exchange on YouTube, in which the Delaware senator — raising his voice at times — challenged Warren's criticism of the bankruptcy bill as well as her particular issues with his home state. Warren said the rules of Delaware's bankruptcy courts allowed large companies to cherry-pick venues for filing and effectively freeze out lower-level employees from the process (as a senator, she has continued to try to change the rules allowing such venue-shopping).
"I find it outrageous, such a statement," Biden said of Warren's suggestion that Delaware's laws were, in his words, "unfair."
Warren maintained that Delaware's bankruptcy courts "are not open to employees of companies like Enron," who she said couldn't afford to travel to the state and hire local counsel.
On the bankruptcy bill, Biden conceded that Warren made "a very compelling and mildly demagogic argument." While acknowledging that circumstances outside of individuals' control — such as the high cost of health care — were bankrupting families, he questioned why creditors should be left on the hook — or if the government or other actors should step in.
"Do we say that people who, in good faith, provide a service for an individual, that the individual is later unable to meet because of a legitimately horrific and extraordinary dilemma that was an act of God, who should be responsible for taking them out from under that crushing burden?" Biden asked.
Warren argued it should be the creditors — if other issues, like the country's "broken" health care system, are left unaddressed.
"They turn, as a last ditch effort, to the bankruptcy court," she said.
"That means they turn to asking the people that they borrowed money from to pay for their health care costs," Biden replied. "Isn't that literally correct?"
Biden suggested that the federal government — or those owed money, like gas and car companies — could perhaps subsidize the costs. However, Warren argued other companies are limited in their capacity to take losses, compared to credit card companies, which she said charge extremely high interest rates.
"There are many in the credit industry right now who are getting their bankruptcies prepaid," she said. "That is, they have squeezed enough out of these families in interest and fees and payments that never paid down principal,"
Biden countered that "maybe we should talk about usury rates," rather than bankruptcy.
"Senator, I will be the first," Warren said. "Invite me."
"I know you will, but let's call a spade a spade," Biden said. "Your problem with credit card companies is usury rates from your position. It is not about the bankruptcy bill."
But again, Warren argued that if Congress wasn't going to first fix that problem, "you can't take away the last shred of protection from these families."
"I got it, OK. You are very good, professor," Biden relented, smiling, to laughs in the room.
Ultimately, the bill passed, with Biden and 17 other Democratic senators defecting to vote "yes" with Republicans — even if Warren won on the merits on her argument. Over the past decade, studies have found little evidence that the law cracked down on abuse of the bankruptcy system, while making it more difficult for people in financial distress to file, according to Politico.
Bill Russo, a spokesman for Biden (who had reportedly threatened to filibuster a creditor-backed version of the bill in 1998), told the outlet earlier this year that the then-senator "knowing that the bill was likely to make it through the Republican-led Congress, worked to moderate the bankruptcy bill and protect middle class families."
Warren's presidential campaign did not respond to requests for comment on this article. But she did get in one last shot on the subject in a 2006 blog post, accusing Biden of vying to be "head cheerleader" of the bill and "twisting arms" to push it through Congress.
Adam Green, the co-founder of the Progressive Change Campaign Committee, which has endorsed Warren's 2020 campaign, says the debate over the 2005 bill represented a "foundational moment" for the two figures' world views.
"Biden was literally the representative of corporate America, and is the consummate political insider during a clear outside moment with economic populism running through the American electorate," Green told Boston.com.
Together in Washington, D.C.
In 2013, Warren joined Biden, the then-vice president of President Barack Obama, in the nation's capital, after winning her Senate race in Massachusetts. In fact, she was sworn into office by the man with whom she had battled. Unassuming viewers of the jovial encounter between Biden, Warren, and Warren's husband, Bruce Mann, would have no idea that they were heated rivals just eight years earlier.
"Look forward to working with you," Biden said toward the end of the ceremony.
During a brief, muffled conversation, Biden can also be heard saying "This is the first time I've been happy to…" before his words on the CSPAN footage become inaudible. Warren appears to ask if he remembers their first encounter.
"You gave me hell," Biden replied, sending Warren into giggles.
While the two Democrats would go on to be allied on the vast majority of causes, Warren didn't hesitate to criticize the Obama administration on the financial issues on which she built both her career and her progressive populist reputation.
Warren effectively blocked a Wall Street executive from being appointed to a high-level Treasury Department position in January 2015, following a contentious debate that put her publicly at odds with the White House, which argued her opposition "was not justified." That spring, Obama himself criticized Warren by name over her criticism of a proposed Pacific trade deal. And in June, Warren wrote a letter to the administration's top Wall Street regulator, in which the Bay State senator said she was "disappointed that you have not been the strong leader that many hoped for."
In a 2015 interview, Biden used Warren's views as a vehicle against which to juxtapose his own ideology, as he considered a 2016 presidential bid.
"It's not about punishing the rich, which is the fundamental premise of Elizabeth — who's smart as hell and a good person," he told Yahoo. "It's about, What do we do about the fact that the middle class has lost an incredible amount of wealth and has not seen a pay raise?"
But privately, it appears Biden recognized the value — or at least the popular appeal — of Warren's approach.
In May 2016, Politico reported that the vice president had wanted Warren as his running mate, broaching the idea to advisers and the senator herself. The two reportedly met during the previous summer at Biden's home in Washington, D.C.
According to Politico, Warren was "noncommittal" but "not displeased" by the idea — though she warned that he could face a progressive backlash similar to the one that met eventual Democratic presidential nominee Hillary Clinton during the party's primaries.
Ted Kaufman, a former Delaware senator and Biden aide who was a part of the strategy sessions with Biden, confirmed to Politico that Warren was considered as a potential running mate as the vice president considering launching a campaign.
"She's someone that was discussed," Kaufman said. "She's clearly someone anyone would consider."
Green thinks Biden's reported consideration of Warren projects his own lack of economic populist bonafides.
"Joe Biden toying with Elizabeth Warren or [more recently] Stacey Abrams as his vice president exposes what he knows are his real weaknesses," he said.
Of course, both Biden and Warren — who also considered running in 2016 — ended up sitting out the race and watching from home as Clinton was defeated by Donald Trump.
This time, before Biden has even announced a campaign, cracks have again begun to form between the two candidates.
Underlining the divide between Biden's apparent strategy to appeal to moderates and Warren's more adversarial approach to politics, the Massachusetts senator recently disagreed with the former vice president's comments that his Republican successor, Mike Pence, was a "decent guy."
"I'm sorry, I followed Pence's history on LBGTQ Americans and I don't think that is a decent position," Warren told reporters in Iowa last month, adding "no," when asked if she thought Pence was a "decent guy" (Biden also walked back his comments when confronted about Pence's record on LGBTQ rights).
However, the coming clash between Warren and Biden likely won't be over social issues, but the financial ones over which they fought in the early-2000s.
Yahoo reporter Jon Ward, who interviewed Biden for his recently released book, told an ABC News podcast in January that the former vice president was still "sensitive to the critiques" from Warren, particularly her framing of him "attacking women at the behest of large corporations." According to Ward, Biden brought up Warren "frequently, unprompted" during their conversations.
"That was obviously still sticking in his craw," he said.