Politics
Elizabeth Warren wants to blow up the Senate filibuster
"In recent years, it's been used by the far right as a tool to block progress on everything."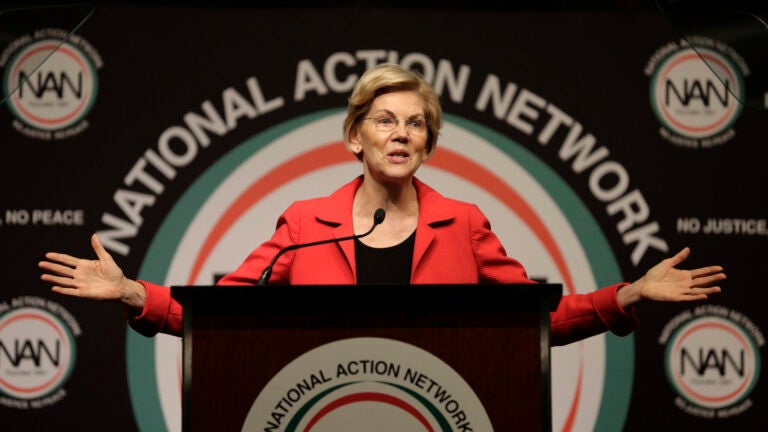 The Senate filibuster isn't enshrined in the Constitution, and, in recent years, party leaders have chipped away at the use of the chamber's 60-vote-majority threshold to overcome it to advance most legislation and executive appointments.
Sen. Elizabeth Warren wants to take the final step.
"We should get rid of the filibuster," the Massachusetts Democrat and 2020 presidential candidate said in a speech Friday at the National Action Network Convention in New York, a three-day civil rights-focused conference hosted by Rev. Al Sharpton.
Warren joins Washington Gov. Jay Inslee as the only 2020 candidates that have called for eliminating the legislative filibuster and its supermajority requirement, though others have indicated they're open to the idea (President Donald Trump has also repeatedly called for getting rid of the 60-vote threshold).
Warren argued Friday that the filibuster has been "used as a tool to block progress on racial justice" for generations. She pointed to the fact that it took the Senate until just last year to pass a bill making lynching a federal crime.
"Do you know when the first bill to make lynching a federal crime was introduced? 1918," she said. "One hundred years ago. And it nearly became the law back then. It passed the House in 1922. But it got killed in the Senate — by a filibuster. And then it got killed again. And again. And again."
Warren noted that the the anti-lynching legislation failed in Congress more than 200 times between 1882 to 1986. In 2005, the Senate formally apologized for failing to act.
"An entire century of obstruction because a small group of racists stopped the entire nation from doing what was right," she said. "And in recent years, it's been used by the far right as a tool to block progress on everything."
The use of the filibuster rose exponentially over the past several decades, particularly during President Barack Obama's time in office. In 2013, Senate Democrats voted to end the 60-vote requirement for presidential nominees, with the exception of Supreme Court appointments. In 2017, Senate Republicans ended it for Supreme Court nominees, too. Sen. Mitch McConnell, the Republican majority leader, changed the chamber's rules this week so that executive appointments could also be fast-tracked with a simple majority.
"When Democrats next have power, we should be bold and clear: We're done with two sets of rules," Warren said Friday.
The Senate can currently pass a narrow category of bills with a simple majority through a process called reconciliation. But the Bay State senator would have that threshold apply to all legislation. She's says it may be necessary if Democrats want to enact their agenda.
In an email to supporters Friday morning, Warren name-checked a number of her policy proposals: anti-corruption legislation, universal child care, a wealth tax on the ultra-rich, single-payer health care, a Green New Deal, and her affordable housing bill.
"I'm not running for president just to talk about making real, structural change," she said in her speech Friday. "I'm serious about getting it done. And part of getting it done means waking up to the reality of the United States Senate."