Politics
So Richard Neal has requested Donald Trump's tax returns. What happens next?
Even if House Democrats do receive the returns, it's unclear if the public will see them — or even find out.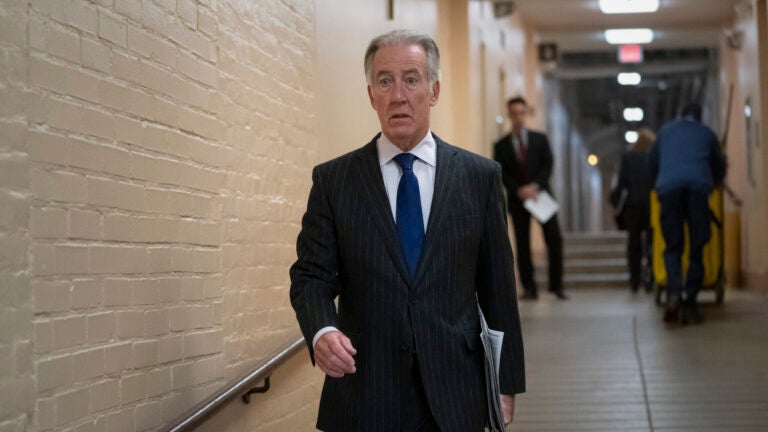 Following months of pressure from both grassroots activists and one particularly vocal billionaire, Rep. Richard Neal officially did it.
The Springfield Democrat, who recently became the chairman of the House Ways and Means Committee, requested six years of President Donald Trump's individual and business tax returns from the Internal Revenue Service. And he says he did it on his own terms.
"This request is about policy, not politics," Neal said in a statement Wednesday. "My preparations were made on my own track and timeline."
The longtime Western Massachusetts congressman says the request is not about impeachment, the Mueller report, or any other activity in the House. The IRS has a mandatory policy of auditing the taxes of all sitting presidents, he noted in his letter to the agency's commissioner, Charles Rettig. However, not much is known about that policy due to taxpayer confidentiality laws. Neal wrote Wednesday that his committee is "considering legislative proposals" and, as part of their oversight duties, must determine if the policy is being fully followed.
"My actions reflect an abiding reverence for our democracy and our institutions, and are in no way based on emotion of the moment or partisanship," he said.
Neal is making the request under a 1924 law, 26 U.S. Code Section 6103, which explicitly authorizes the chairs of the two congressional tax-writing committees — House Ways and Means and Senate Finance Committee — to receive the tax returns of anyone, including the president,  as part of an investigation.
Neal's office says the 1924 law is "clear." Congress gave itself the right to review executive officials' tax returns following the early-1920s Teapot Dome scandal and concerns at the time about certain cabinet members' conflicts of interest. And as NBC reported last December, legal experts agree.
Neal says he expects the IRS to comply with the request by next Wednesday, April 10. But with Trump, they may be in for a fight.
How did Trump respond?
After being notified of Neal's letter Wednesday night, Trump told reporters in the Oval Office that he "would not be inclined" to provide his tax returns to the committee. The Republican president and international real estate mogul broke with four decades of tradition during the 2016 campaign by refusing to release his returns, claiming — questionably — that an ongoing audit prevented him from doing so.
White House spokeswoman Sarah Sanders accused Democrats of playing "political games" Thursday morning.
"They'll speak to my lawyers, and they'll speak to the attorney general," Trump said, twice, when asked about it later in the day.
"They'll speak to my lawyers and they'll speak to the attorney general," President Trump says, responding to a question about Democratic efforts to obtain his tax returns https://t.co/viJkvfny1m pic.twitter.com/H3OZTF3oDm

— CNN Politics (@CNNPolitics) April 4, 2019
Texas Rep. Kevin Brady, the ranking Republican member on Way and Means, said Wednesday that the move "sets a dangerous precedent" with regards to individual privacy rights. However, despite sparse public knowledge about the usage of the 1924 statute authorizing the request, Neal's office says the committee has utilized the provision before to receive tax returns for previous investigations.
"No request by this Committee has ever been denied," says a fact sheet distributed by his office.
So what happens if they don't comply?
If the IRS doesn't send Neal the president's tax returns by the April 10 deadline, the congressman plans to "send additional follow up letters asking the IRS to comply," according to a spokesman for the congressman.
"Beyond that would be speculating at this point," the spokesman told Boston.com. "The Chairman will talk with House Counsel at that point and let him advise on what the best course of action would be, including necessary legal action."
While the letter this week is not a subpoena, Neal is prepared to issue one — likely not until later this spring — if the IRS doesn't comply with his follow-up letters, according to Politico. As far back as November, Neal predicted that requesting the returns would likely result in a "a long and grinding court case."
"It's an arcane law from 1924," the 70-year-old congressman said Thursday in an interview with his local Springfield paper, The Republican. "Whether or not in the end it will work will be determined I think by the courts."
Some legal experts say that, due to the complexities of "constitutional law and political power," Democrats may not have the legitimate legislative reason needed to obtain Trump's tax returns — unless they invoke impeachment. Neal and Rep. Nancy Pelosi, the House speaker, have explicitly said the request is not for the purposes of impeachment.
"It is about legitimate legislative and oversight issues," says his office. "The Chairman is not going to presuppose anything about what the Committee will find or where the Committee will go."
Projecting confidence in the strength of their argument, Neal emphasized Thursday that the law clearly compels the federal government to "furnish such committee with any return or return information specified in [their] request."
"The law says 'shall,'" he told the Washington Post.
What happens if Neal does get Trump's tax returns?
Perhaps a more interesting question is what happens if Democrats do get Trump's tax returns, which could shed significant light on the president's history of taxpaying, charitable giving, and business dealings.
It's unclear if the public would ever see the returns — or even know if Neal got them.
Neal's office says that, having transmitted his request, the Ways and Means Committee will not provide any press updates on its status, in accordance with the law.
"The simple fact of whether or not the Chairman has received tax returns from the IRS is protected under section 6103," Neal's spokesman said. "Therefore, he will not be able to acknowledge or announce that he has or has not received anything, or discuss communications he may be having with the IRS or Treasury regarding this matter."
Since taxpayer privacy laws protect individuals' returns from being publicly released, the Ways and Means Committee (and potentially the Senate Finance Committee) would review Trump's returns under strict confidentiality.
But there is a precedent for their release to the public, if a report is first filed with Congress. In 1974, the Democrat-controlled House made public President Richard Nixon's tax returns through this process. And in 2014, the Republican-led House voted to use the same provision to release the returns of 51 taxpayers during their investigation into the IRS's treatment of certain political groups.
Asked if the public will ever see Trump's returns, Neal told The Republican that it was a "good question," noting that there have to be special safeguards and votes.
"The idea they would be turned over and arbitrarily released without review and consideration wouldn't happen," he said.