Politics
How a policy dispute between Charlie Baker and Rachael Rollins suddenly turned personal
"We are allowed to disagree with each other, but what you are not going to do is disrespect this office."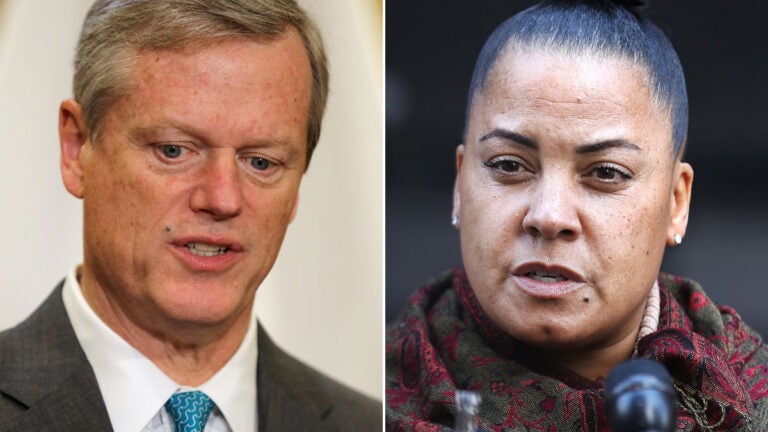 Gov. Charlie Baker and Rachael Rollins have purportedly hit the "reset button," but the Suffolk Country district attorney still thinks there's something "funny" about the way she — the first woman to hold the Boston-area prosecutor job — has been treated.
The two elected officials clashed over the weekend, after Baker's top public safety official sent Rollins a letter last week asking her to revise some of her new policies — including not prosecuting certain misdemeanor crimes. In a press conference Friday, the Democratic district attorney shot back at the Republican administration, suggesting that "not everyone gets the benefit of the Baker family," alluding to groping allegations against the governor's son last year.
And while both sides say they had a productive phone call Saturday, Rollins has remained critical of what she suggests is sexist treatment from Baker's office.
"Isn't it so funny that when all of the male DAs before me had this discretion and were moving towards mass incarceration, the governor did not give a s[***] about that," she said at an event Sunday.
Here's what the dispute is about, and why it got so personal this weekend:
The decline-to-prosecute list
Rollins was elected last November on a progressive criminal justice reform platform aimed at reducing racial inequality and mass incarceration. She also received national attention for her campaign pledge to instruct prosecutors not to bring charges, with certain exceptions, for a list of 15 nonviolent offenses. The crimes on the list included trespassing, shoplifting, larceny under $250, underage possession of alcohol, drug possession, drug possession with intent to distribute, and some cases of resisting arrest.
"The voters knew exactly what the list was," Rollins told Boston.com in November.
Last month, she made that pledge, among others, official in a 65-page public memo. Rollins, a former federal prosecutor and MBTA legal counsel, wrote that "declination and diversion policy" is a "part of a strategy to achieve two important goals."
"First, to reduce the footprint of the criminal justice system where it served no public safety interest, and second, to allocate more of our prosecution resources to the serious offenses that harm people, families, and the community as a whole," she wrote.
Baker administration pushback
In a rare rebuke from the Baker administration, Public Safety Secretary Thomas Turco wrote a two-page letter to Rollins last Thursday, expressing concern that her policies "put at risk the commonwealth's ongoing efforts to combat the ongoing crisis of the opioid epidemic and substantially restrict the government's ability to protect victims threatened with serious crimes."
The State House News Service first reported the letter Thursday night.
Protesting Rollins's policy of not prosecuting the aforementioned drug crimes, Turco said prosecutors should not be prohibited from bringing charges against suspected dealers, if they have sufficient evidence, "simply because the police made an arrest before the sale was fully consummated." He also objected to a policy of not prosecuting the unlicensed possession of "20, 30, or even 40 pounds of marijuana as a crime," as Massachusetts rolls out its regulated cannabis market.
Turco also said the Rollins memo's stances on petty crimes and driving with a suspended license would, respectively, victimize shopkeepers in "economically challenged neighborhoods" and "undermine" the state's drunk driving laws, "making our roads more dangerous."
In addition to the list of crimes not to be prosecuted, Turco also took issue with Rollins's instructions for prosecutors to get supervisor approval before counting defendants' criminal history beyond the last 36 months, as well as a rule discouraging requests for courts to set certain pre-trial release conditions.
"I appreciate your efforts to think differently about criminal justice, accountability, and public safety," Turco wrote Thursday, noting that Rollins's memo was in many ways aligned with the Baker administration's reform efforts.
"I urge you, however, to review the concerns I have outlined above and to consider appropriate revisions to the memorandum," he added.
Rollins hits back — hard
The local district attorney did not take lightly to Turco's intervention in a press conference Friday afternoon, in which she suggested the state official should concentrate on "the things he's responsible for," according to The Boston Globe. Rollins reportedly singled out the ever-growing list of scandals embroiling Massachusetts State Police and "terrible water conditions at MCI Norfolk," the state's largest prison.
She also defended the list of crimes she was instructing her office not to prosecute, which she said was putting into writing what had been the common practice of her predecessors. Low-level drug charges, driving offenses, and property crimes were 12 percent more likely to be dismissed or diverted than more serious cases in Suffolk County, Rollins wrote in her memo last month.
"They didn't write it down because it was working really well for certain communities and not for other communities," she argued Friday, according to the Globe.
Seeking to make a point about how the criminal justice system treats defendants of differing socioeconomic means disparately, Rollins pointedly used Baker's own family as an example. The Republican governor's 27-year-old son, A.J., was escorted by police off a flight last June — but not arrested — after a woman accused him of groping her during the trip.
"Candidly, you know, not everyone gets the benefit of the Baker family when they have interacted with the criminal justice system, they don't get to not get arrested," Rollins reportedly said Friday. "Most moms that are living in Suffolk County don't have a one-thousand-dollar lawyer to handle a charge when it's brought against their son or daughter or loved one."
When asked to clarify those comments, she added the people who benefit from the current system are "overwhelmingly wealthy."
"It is really important that you guys understand that there are significant racial disparities in our criminal justice system," she said.
In response, Lizzy Guyton, a spokeswoman for Baker, told the Globe in an email that the administration "does not engage in personal attacks" and was raising "legitimate public safety concerns."
"We hope for an ongoing, productive dialogue on the important issues raised by Secretary Turco," Guyton said.
Reaching a truce?
Rollins's press conference Friday afternoon resulted in a phone call from Baker the following morning — which both sides described as generally positive.
"I don't want to damage the partnership," Baker told reporters later Saturday, calling the conversation "constructive and helpful," as the Boston Herald reported.
"I want that partnership to be there, and I want it to work," the governor said. "The good thing about having a 66-page document is it gives everybody a chance to see where somebody is coming from, and I think all of us share the same goal here, which is to recognize and appreciate the fact that the criminal justice system has flaws that need to be dealt with and fixed."
While Baker said his concerns with Rollins's policies hadn't changed, he hoped for a "dialogue" with the district attorney's office.
"I think we're going to try and hit the reset button and start again on Monday," Baker said, noting that he and Rollins have a shared goal of keeping people safe and that state and local law enforcement efforts can sometimes be intertwined.
According to the Globe, Baker was also asked about Rollins's allusion to the allegations against his son, which were being investigated by federal law enforcement officials.
"I said when the whole thing started that it was a serious allegation and it needed to be independently investigated," Baker said Saturday. "And I expect that the US attorney, which was the appropriate authority to do that investigation, was the right place for that to get done, and I believe they did what they were supposed to do."
In turn, Rollins told Globe columnist Adrian Walker that she respected Baker for initiating the "productive" conversation, but also wouldn't go into detail about what they discussed.
"I have deep respect for him for being the leader he is, and calling me, and I have nothing further to say about the matter," she said Saturday. "We had a incredibly productive conversation and now it's time to get to work."
Rollins did have more to say — about respect
Despite having "deep respect" for the governor, Rollins suggested Sunday that the feeling may not be mutual from Baker's administration.
"Isn't it so funny that when all of the male DAs before me had this discretion and were moving towards mass incarceration, the governor did not give a s[***] about that," Rollins told about 200 supporters at a rally in Dorchester, according to the Globe.
"But miraculously now that this DA wants to end mass incarceration, you want to question the discretion that we have?" she added.
Rollins indicated that she was less upset by the policy disagreement than by Turco's decision to send to her — and the press — the letter without any prior notice.
"I love criticism," she said. "We need to start talking with people who don't agree with us. In fact, I don't mind the letter that was sent. I don't like what happened before the letter. … Had the secretary or the governor picked up the phone and spoken to me, sat down and said 'We disagree with everything you're saying,' and then written this letter, you wouldn't have heard a word from me. We are allowed to disagree with each other, but what you are not going to do is disrespect this office."
Rollins said there was "no way in hell" that Baker didn't have knowledge beforehand of Turco's letter and questioned why anyone was surprised that she was implementing the policies on which she campaigned. She voiced a similar sentiment during her original press conference Friday.
"As your new DA, and the first woman to ever have this job, it has been very apparent to me that the men that were in this position before me were treated with quite a bit more respect," Rollins reportedly said at the time. "But I didn't get into this job to make friends, I got into this job to make change."
According to MassLive, she added that "if people would like to speak to me before they issue a letter, I'm always willing and able to speak to them."
While she again praised Baker's leadership Sunday, Rollins gave Turco a reminder.
"Secretary Turco got his job because he knows one person: The governor," she said, contrasting that number with the more than 185,000 Suffolk County voters who gave her a "mandate" last November.
"I got my job because a majority — to the tune of 80 percent — voted for me to have this job," Rollins said.