Politics
'The climate crisis is here now': The Green New Deal gets Boston City Council support
"At some point the federal government has to wake up, and I want to make sure that we're doing our part," Councilor Michelle Wu said.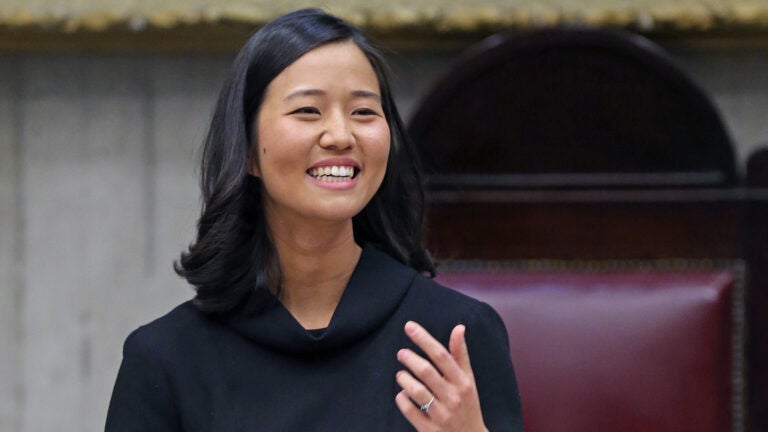 The Boston City Council offered its support for the federal Green New Deal Wednesday, passing a resolution echoing the call from Washington lawmakers to generate new jobs while combating the effects of climate change in the coming years.
"The climate crisis is here now. We see it in Boston every single year," said lead sponsor, Councilor Michelle Wu. "We are working on it as much as we can at the city level, but we know this window is shrinking."
The resolution, adopted by a 9-3 vote, comes amid the national, partisan-driven debate over what's required to undertake the proposals outlined in the Green New Deal, a House and Senate resolution introduced by Democrats Rep. Alexandria Ocasio-Cortez, of New York, and Sen. Edward Markey, of Massachusetts.
The measure calls for eliminating carbon emissions, investing in sustainable infrastructure, and creating millions of jobs through doing so, particularly in the renewable energy sector. Other aspects push for providing Americans with health care and affordable housing.
On Wednesday, Wu pointed specifically to a United Nations report last year indicating that nations across the globe had — at that point — roughly 12 years to put in place policies that would cut emissions to keep global warming at a moderate impact.
The Intergovernmental Panel on Climate Change, under the Paris climate agreement, was tasked with determining what the effects would be if the earth warmed 1.5 degrees Celsius above pre-industrial levels.
The report, released last fall, noted that "there is no documented historic precedent" for the action the world needs to take on to curb the rise.
While Boston leaders are constantly considering solutions to the local issues connected with climate change — from carbon emissions to food systems — Wu said they will eventually need support from Washington, D.C.
"At some point the federal government has to wake up, and I want to make sure that we're doing our part to lend our voices to their current push and also to be getting ready," she said.
Still, Wu was met with some opposition, with Councilors Althea Garrison, Frank Baker, and Mark Ciommo voting against the resolution.
During the meeting, Garrison, the sole councilor to speak out, said only a phrase she said she heard on the radio that morning: "Stop the green. Cut the prescription drugs for elderly."
"We should mind our own business and take care of Boston affairs," she told Boston.com in an interview after the meeting. "That's in Washington. We can't tell the federal government what to do anyway, so why get involved in something you can't do anything about?"
Councilor Lydia Edwards, however, said that while the Green New Deal may be a decision for the council's federal counterparts, Boston will be on the receiving end of whatever action is — or isn't — made.
"If we do not push locally … then at the very minimum we're not making ourselves aware and we're completely hiding our head in the sand," she said.