Politics
'Are you serious?': John Kerry responds in disbelief to questions about his college major, climate change
"This is just not a serious conversation."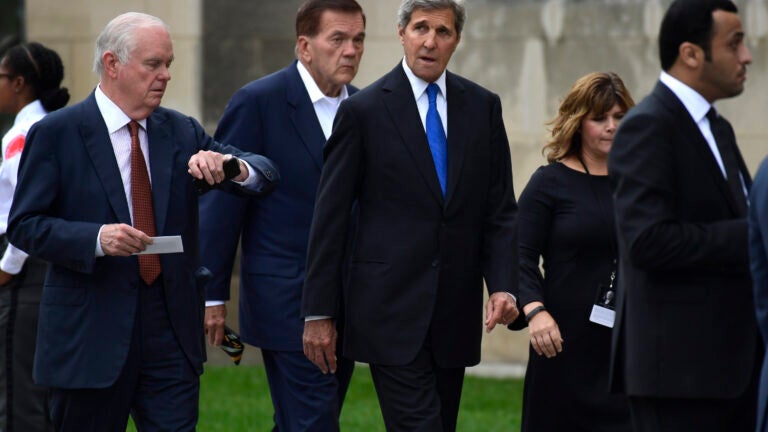 John Kerry apparently could not believe the questions he was getting Tuesday.
The former U.S. secretary of state and Massachusetts senator was back on Capitol Hill for a House Oversight Committee hearing on combatting climate change, but found himself at times being questioned about his college major.
"Isn't it true you have a science degree from Yale?" asked Rep. Thomas Massie, a Kentucky Republican, who studied engineering at MIT and doubts the science of human-caused climate change.
Massie took issue with Kerry's recent criticism of a panel formed by President Donald Trump, reportedly intended to downplay the threat of climate change. The committee follows the Republican president's dismissal of a report last fall by 13 federal agencies detailing the "intensifying" damage of global warming in the United States.
In a Washington Post opinion piece in February, Kerry called Trump's climate change panel a "council of doubters and deniers" and a "kangaroo court."
"It sounds like you're questioning the credentials of the president's advisers," Massie said Tuesday.
So, the 48-year-old congressman instead turned the subject to Kerry's credentials.  The 75-year-old former Democratic presidential candidate corrected Massie's question about his "science degree," noting that he actually received a bachelor of arts degree in political science from Yale.
"How do you get a bachelor of arts in a science?" Massie asked.
"Well, it's liberal arts education," Kerry replied, before Massie interjected to say, "OK, so it's not really science."
"I think it's somewhat appropriate that someone with a pseudoscience degree is here pushing pseudoscience in front of our committee today," he said.
Kerry was incredulous.
"Are you serious?" he asked. "I mean, this is really a serious happening here?"
"You know what? It is serious — you calling the president's cabinet a kangaroo court," Massie replied.
Kerry noted that he wasn't calling Trump's cabinet a kangaroo court. He was calling the president's climate change committee a "kangaroo committee."
"It's not science," Kerry told Massie. "You're not quoting science."
"Well, you're the science expert." Massie responded, sarcastically. "You've got the political science degree."
The two then proceeded to argue about atmospheric carbon dioxide. Kerry noted that current CO2 levels have exceeded more than 400 parts per million, with 350 parts per million "being the level that scientists have said is dangerous."
"Are you aware that since mammals have walked the planet, the average has been over 1,000 parts per million," Massie asked.
"Yeah, but we weren't walking the planet," Kerry replied, citing research that said the current levels of atmospheric CO2 are the highest they've been in at least 800,000 years.
The reason for the average CO2 levels that Massie cited, according to Kerry, were the thousands of years of massive volcanic eruptions that occurred in what is now the Atlantic Ocean roughly 200 million years ago, which increased CO2 levels to more than 4,000 parts per million at the time.
"There weren't human beings," Kerry reiterated Tuesday. "It was a different world, folks. We didn't have 7 billion people. … There were all kinds of geologic events happening on Earth, which spewed up…"
"Did geology stop when we got on the planet?" Massie asked.
"Mr. Chairman…" Kerry said, with an exasperated chuckle. "This is just not a serious conversation."
"Your testimony is not serious," Massie shot back.
Earlier in the hearing, Kerry praised House Democrats' leadership for their proposed climate change plans — including Sen. Ed Markey (who holds Kerry's old seat) and Rep. Alexandria Ocasio-Cortez's Green New Deal resolution — and questioned why Republicans hadn't put forth any ideas to address the issue.
ICYMI: @JohnKerry praises Rep @AOC efforts to combat #climatechange as opposed to #PresidentTrump who refuses to lead on this issue. "Congresswoman Ocasio-Cortez has in fact offered more leadership in one day or in one week than #PresidentTrump has in his lifetime on this. " pic.twitter.com/iQEtLpHZWA

— Oversight Committee (@OversightDems) April 9, 2019
Massie questioned how Kerry would propose paying for the proposals to reduce greenhouse gas emissions. Kerry suggested carbon pricing or repealing the recent Republican tax cuts.
"There are all kinds of other things we could do," he said. "One would be to not give a trillion dollars-worth of tax benefits to the top 1 percent of Americans. I'm one of them. I didn't deserve to get that tax cut — nobody did in this country — at the expense of average folks who can't made ends meet."
"So that would be a fair way to start," Kerry added.
"You don't want to politicize this, but you just played the '1 percent card,"' Massie replied.
"No, I actually played a moral judgment about what is appropriate in building a civil society," Kerry said.