Politics
Seth Moulton was spotted taping an apparent 2020 announcement video in Marblehead
The Massachusetts congressman has reportedly come to a decision.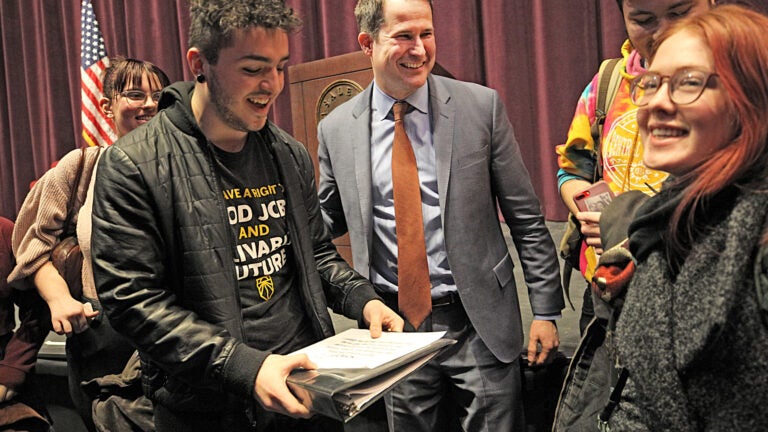 Massachusetts could soon have three local candidates running for president in 2020.
Rep. Seth Moulton, who has been thinking about running for president for several months, has taped a presidential campaign launch video in his hometown of Marblehead, Axios reported Wednesday morning. The outlet even obtained a photo of Moulton with a small film crew on a scenic seaside walkway in the North Shore town.
SCOOP: Massachusetts Rep. Seth Moulton was spotted taping a 2020 launch video. https://t.co/8snvpRCCuR

— Axios (@axios) April 17, 2019
"Seth has said he's seriously considering running for President and will announce his decision by the end of the month," Moulton spokesman Matt Corridoni told Boston.com.
According to Axios, the Salem Democrat's announcement is expected "within a week."
Corridoni said he couldn't comment on the Marblehead photo.
Former Vice President Joe Biden, who is also expected to announce a presidential bid in the near future, was similarly spotted in his respective hometown — Scranton, Pennsylvania — earlier this month with a camera crew.
Moulton would join Sen. Elizabeth Warren, a fellow Democrat, and former Gov. Bill Weld, who's running against President Donald Trump in the Republican primary, as the third Bay Stater to enter the 2020 presidential race.
The 40-year-old third-term congressman, who has called for a "new generation" of Democratic leadership, recently ran ads on social media asking voters if he should run for higher office. He has also recently traveled to early-voting primary states, including Iowa, New Hampshire, South Carolina, and Nevada, and is scheduled to return to the Granite State next Wednesday to speak at the New England Council's "Politics & Eggs" series in Bedford.