Politics
Seth Moulton says Joe Biden still needs to apologize to Anita Hill
"I think she was treated terribly."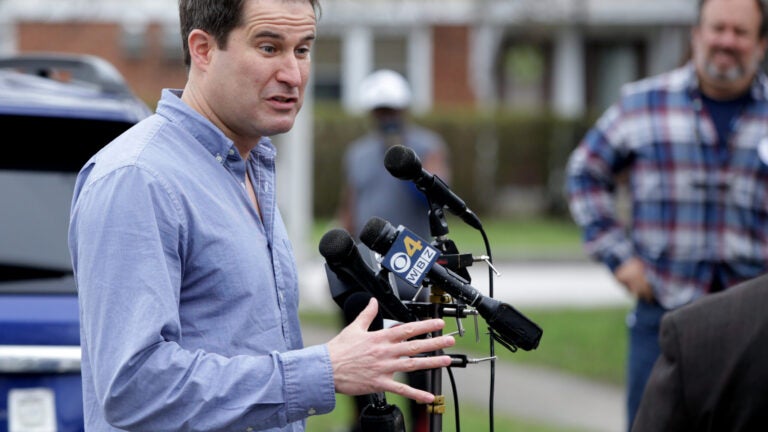 Joe Biden doesn't think he treated Anita Hill badly during Supreme Court Justice Clarence Thomas's confirmation hearing in 1991. Rep. Seth Moulton apparently disagrees.
In an interview Sunday on CNN's "State of the Union," the Massachusetts congressman said the former vice president and fellow Democratic presidential candidate needs to apologize for the way he handled the hearing.
"I do," Moulton told host Jake Tapper, who asked the Salem Democrat if Biden owed an apology to Hill or "the American people."
2020 candidate Rep. Seth Moulton on former Vice President Joe Biden's handling of the Anita Hill hearing: "Everybody makes mistakes. I do think that was a mistake though and I think he should apologize." #CNNSOTU pic.twitter.com/bJyCLn3kyf

— CNN (@CNN) April 28, 2019
"I think she was treated terribly," Moulton said. "Joe Biden is a mentor and a friend of mine. He's a great American. Everybody makes mistakes. I do think that was a mistake, though. And I think he should apologize."
After officially announcing his own presidential candidacy last week, Biden said he was "sorry the way [Hill] was treated," but did not think he "treated her badly." The former Delaware senator and Senate Judiciary Committee chairman, who was in charge of the 1991 hearing, has faced renewed criticism over his personal handling of Hill's claims of sexual harassment against Thomas, as he embarks on his third White House run. According to The Washington Post, many people involved in the hearing say Biden didn't do enough to give fair consideration to Hill's testimony or protect her from partisan attacks.
"I wish we could have figured out a better way to get this thing done," Biden said Friday on ABC's "The View." "I did everything in my power to do what I thought was in the rules to be able to stop things."
According to The New York Times, the now-76-year-old Democratic candidate recently called Hill, a professor at Brandeis University in Waltham, to share "his regret for what she endured." However, according to Hill, he did not personally apologize.
"I cannot be satisfied by simply saying, 'I'm sorry for what happened to you,'" Hill told the Times, later adding that she wanted to hear how Biden will hold himself and others "accountable" going forward.
"I will be satisfied when I know that there is real change and real accountability and real purpose to correct the issues that are still there," Hill said.