Elizabeth Warren
Why isn't Elizabeth Warren doing better in New Hampshire? Voters have a number of reasons.
Most Democrats in the state favor her policy proposals, but that isn't their most important issue.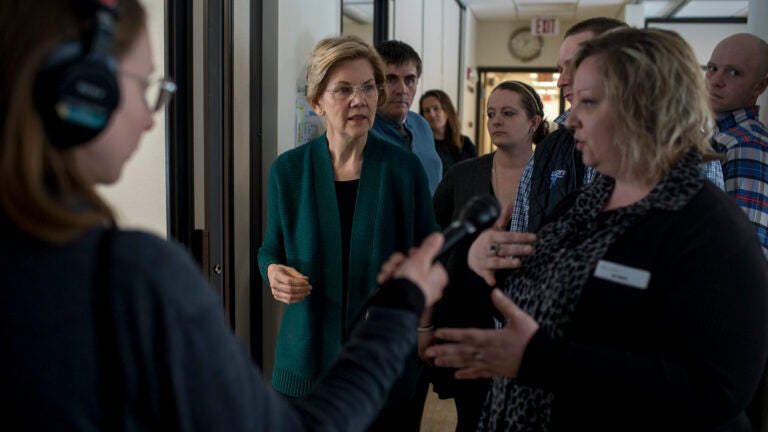 There's a recent history of presidential candidates from Massachusetts winning the New Hampshire primary: John F. Kennedy in 1960, Michael Dukakis in 1988, Paul Tsongas in 1992, John Kerry in 2004, Mitt Romney in 2012.
Roughly eight months out from the nation's first 2020 primary, Sen. Elizabeth Warren's path to following suit doesn't look great.
Early 2020 polls on the Democratic primary race have consistently shown Warren trailing in New Hampshire. A Suffolk University/Boston Globe poll released Tuesday had the Massachusetts senator in fourth place in the crowded field of candidates, though a plurality of voters were still undecided. Warren's support has remained virtually unchanged dating back to her Dec. 31 exploratory committee announcement, with poll after poll in the Granite State showing her hovering in the high single digits.
Ironically, most voters support Warren's platform.
Suffolk found majority support for higher taxes on the wealthy (82 percent), Medicare for All (76 percent), free higher education (60 percent), and a Green New Deal (53 percent). A plurality (42 percent) also said they supported breaking up big tech companies, an idea that Warren has recently championed. The only proposal voters opposed in the poll was reparation payments to the descendants of slaves (Warren supports legislation to study the concept).
So why aren't most New Hampshire Democrats on board with Warren's campaign if they like her ideas?
Unlike the previous polls, Suffolk also surveyed the specific question of why Granite State voters weren't for Warren. And while they gave a number of different reasons, David Paleologos, the director of the Suffolk University Political Research Center, says they boil down to two issues: perceptions about Warren's "electability" and personality.
Nearly 18 percent of voters who did not pick Warren said their primary reason was that she "can't beat Donald Trump," according to the poll. Less than 5 percent said the reason was that the issue of her Native American heritage claims made her too "vulnerable" — even if most Democratic voters have reportedly dismissed the controversy.
Less than 9 percent said they weren't voting for Warren because "her policies are too liberal."
"Most Democratic primary voters are so focused on replacing Trump, politically, that they're willing to compromise for someone whose feet will be held to the progressive fire," Paleologos told Boston.com.
Cue Joe Biden.
Despite the laundry list of progressive liabilities in Biden's record, the former vice president is perceived to be best-equipped to tackle the issue that matters most to Democrats in 2020: Defeating Trump in the general election.
More than 35 percent of respondents in Suffolk's poll said that Biden was the Democratic candidate that had the best chance of beating Trump. Only one other candidate — Sanders, with 13 percent — registered above 5 percent on the question. Less than 3 percent said Warren had the best shot of winning in November.
A Quinnipiac poll that was also released Tuesday further confirmed that view on the national level; 56 percent of Democrats and Democratic-leaning voters said Biden had the best chance to beat Trump. Again, just 3 percent said the same for Warren.
The other issue cutting against Warren, at least in New Hampshire, is the view that she is the "wrong messenger, personally," according to Paleologos.
Suffolk's poll found that nearly 11 percent of voters said the primary reason they weren't supporting the Bay State senator was that "she doesn't excite me," while just less than 10 percent said Warren "comes off as angry." While the Boston-based group didn't ask about voters' non-support of other candidates for comparison, the narrative of likability, like electability, is one that critics say carries overtones of sexism in American politics. Some male candidates — from Sen. Bernie Sanders to President Donald Trump — have wielded anger to benefit their political brand.
Paleologos says there is one way gender dynamics could play to Warren's benefit in the Democratic primary. Recent polls, including Suffolk's, have frequently shown her as the leading female presidential candidate in the race — which he says is especially important with a Democratic electorate that is roughly 60 percent women.
Paleologos also noted that, while Warren hasn't risen much in the polls, she also hasn't fallen at all either, as candidates like California Sen. Kamala Harris and former Texas Rep. Beto O'Rourke saw their poll numbers drop amid the rise of South Bend Mayor Pete Buttigieg.
As The Washington Post recently reported, Warren campaign's strategy is to use her ever-expanding list of detailed policy proposals to establish her as the candidate with the clearest presidential platform. Paleologos says that she could be well positioned if she hangs around as the 20-candidate field narrows down and "exceeds expectations" in Iowa ahead of the New Hampshire primary.
"It is early. There are a lot of undecided voters," Paleologos said (nearly 27 percent in Suffolk's New Hampshire poll).
After all, in 2004, Kerry trailed by double-digits in New Hampshire through the second half of 2003, before coming back to win the state's 2004 Democratic primary. Of course, the then-Massachusetts senator also went on to lose against the Republican incumbent in the general election, which is what Democratic voters fear above all else in 2020.