Politics
How much would Elizabeth Warren's student debt plan save you? She's got a calculator for that.
"The change we're fighting for isn't abstract."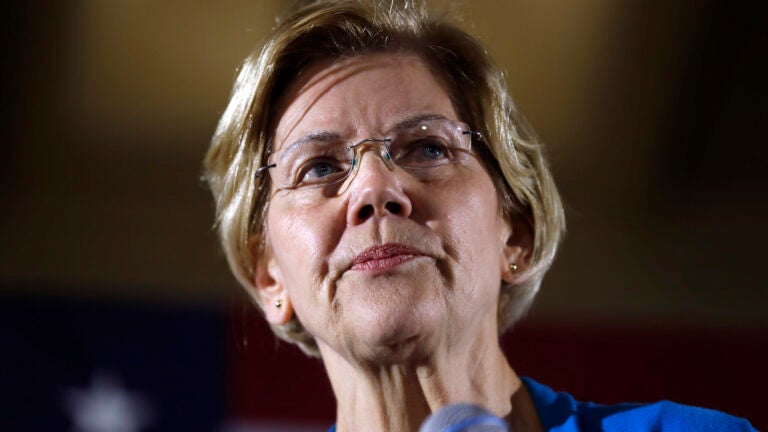 Sen. Elizabeth Warren has a plan to take on college affordability, and she's trying to put it in real terms for voters.
Last month, the Massachusetts Democrat unveiled her proposal to wipe out up to $50,000 in student loan debt and make tuition free at public colleges and universities. And while the majority of voters may be past the age at which they are likely to take advantage of tuition-less college, the 2020 presidential candidate has a tool highlighting the potential "tangible impact" of the loan forgiveness part of her plan.
Warren's campaign released an online calculator Friday that tells users how much of their student debt would be canceled if her proposal becomes law.
I've got a plan to cancel student loan debt for over 95% of Americans with student loans—and a calculator to help you figure out how much of your debt would be cancelled. Try it out and let me know how it goes! https://t.co/qe0aayQtcg pic.twitter.com/SUzQJpomrm

— Elizabeth Warren (@ewarren) May 4, 2019
The interactive tool prompts individuals to provide basic information about their situation: Do you have student loan debt? What type of school did you go to? How much debt do you still have? How much did you earn in income last year?
According Warren's campaign, approximately 75 percent of those who answer "yes" to the first question will be greeted with the news, "YOU'LL BE DEBT-FREE!"
Under her plan, up to $50,000 in student loan debt would be completely erased for Americans with a household income under $100,000. Above that income level, the loan relief phases out by $1 for every $3 in income above $100,000. So, as Warren's team recently outlined on Medium, someone with a household income of $130,000 would be eligible for up to $40,000 in canceled debt, while a person with a household income of $160,000 could get up to $30,000 in relief.
Overall, the plan would cancel some amount of student debt for 42 million Americans, or more than 95 percent of those still paying off their college loans.
"The change we're fighting for isn't abstract," Warren's campaign wrote in an email to supporters Saturday. "It's about real changes in our daily lives."
However, the proposal would provide no relief to people with a household income over $250,000. The calculator lets those high-earners down easy.
"Elizabeth's debt cancellation plan provides debt relief to people who make less than $250K, so you don't qualify, but there are many reasons to support it anyway," it says.
Instead, the calculator sells those making more than $250,000 on the economic benefits of increased investment in higher education. An independent analysis of Warren's plan, released by her campaign, found that it would "likely entail consumer-driven economic stimulus, improved credit scores, greater home-buying rates and housing stability, higher college completion rates, and greater business formation."
Warren's team says the total cost of her higher education plan would be roughly $1.25 trillion over 10 years and would be paid for with revenue from her proposed wealth tax on individual fortunes over $50 million, which would bring in an estimated $2.75 trillion over that same time period.
The Bay State senator joins Vermont Sen. Bernie Sanders, who made free public college a hallmark of his 2016 presidential campaign, Hawaii Rep. Tulsi Gabbard, and author Marianne Williamson as the only 2020 presidential candidates who support eliminating tuition at four-year public schools.
And while support for canceling student debt has grown in recent years among left-leaning economists, the idea still has its skeptics. Most of the Democrats in the crowded 2020 race have backed more limited forms of student loan forgiveness or refinancing.