Politics
In op-ed, RFK Jr. is called out for his anti-vaccine advocacy — by his own family
"I love my brother. Please do what he did, not what he says. Vaccinate your children."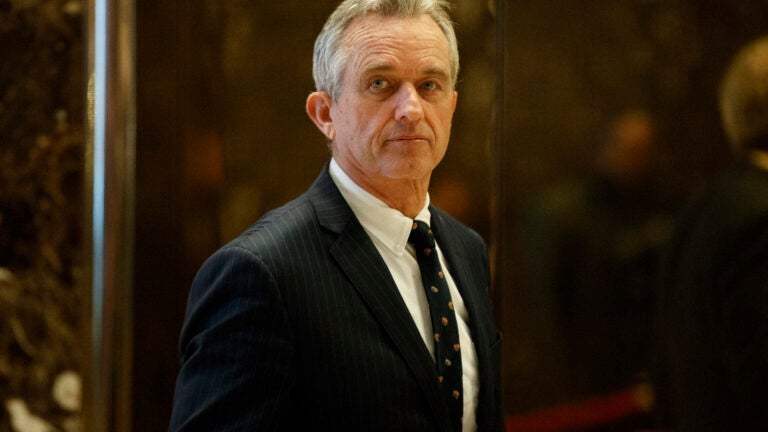 As the number of reported measles cases soars to its highest point in decades, members of the Kennedy family are pushing back on a prominent anti-vaccination advocate: Robert F. Kennedy Jr.
In a Politico op-ed published Wednesday, former Maryland Lt. Gov. Kathleen Kennedy Townsend, former Massachusetts U.S. Rep. Joseph P. Kennedy II, and Maeve Kennedy McKean, of Georgetown University's Global Health Initiatives, argue that while they love "Bobby," he's part of a misinformation campaign that's having a deadly impact.
According to the Centers for Disease Control and Prevention, there have been 764 cases of measles confirmed across 23 states as of May 3, surpassing 372 cases reported last year.
One case in Massachusetts has been confirmed in 2019. The state Department of Health has investigated over 60 suspected cases.
And across the globe in 2017, 110,000 measles-related deaths — mostly children under the age of 5 — were recorded, according to the World Health Organization (WHO).
"These tragic numbers are caused by the growing fear and mistrust of vaccines—amplified by internet doomsayers," the op-ed writers say. "Robert F. Kennedy Jr.—Joe and Kathleen's brother and Maeve's uncle—is part of this campaign to attack the institutions committed to reducing the tragedy of preventable infectious diseases. He has helped to spread dangerous misinformation over social media and is complicit in sowing distrust of the science behind vaccines."
Since at least 2005, Robert Kennedy Jr., the son and namesake of the late U.S. Attorney General and the nephew of former President John F. Kennedy, has advocated the idea that vaccines cause autism, a debunked theory.
In 2017, he said he would chair a panel on "vaccine safety and scientific integrity" at the request of President Donald Trump, although the group never came together.
Trump, who has expressed similar views regarding vaccines, urged parents to get their children vaccinated last month amid the measles resurgence.
In their opinion piece, the other Kennedys make clear that they've long admired Robert Kennedy Jr. and his work as "one of the great champions of the environment," but, when it comes to vaccines, his advocacy and others' "is having heartbreaking consequences," they said.
"We stand behind him in his ongoing fight to protect our environment," the authors wrote. "However, on vaccines he is wrong."
The measles vaccine was introduced in 1963, according to WHO. Between 2000 and 2017, the vaccine prevented an estimated 21.1 million deaths "making the measles vaccine one of the best buys in public health," the organization says.
This year, WHO listed "vaccine hesitancy," which it defines as "the reluctance or refusal to vaccinate despite the availability of vaccines," as one of its 10 threats to global health.
The piece notes that it's understandable parents have their concerns and questions about vaccines and that those conversations "to address skepticism about the safety and efficacy of vaccines without demonizing doubters" are needed.
But the benefits of vaccines "far outweigh any potential side effects," which are often very minor, the authors say.
"We are proud of the history of our family as advocates of public health and promoters of immunization campaigns to bring life-saving vaccines to the poorest and most remote corners of America and the world, where children are the least likely to receive their full course of vaccinations," the op-ed says. "On this issue, Bobby is an outlier in the Kennedy family."
On Twitter, Kerry Kennedy, another sibling of Robert F. Kennedy Jr. and the president of the Robert F. Kennedy Human Rights nonprofit, added her voice to the call.
"I love my brother," she wrote. "Please do what he did, not what he says. Vaccinate your children."
https://twitter.com/KerryKennedyRFK/status/1126128419102756872