Politics
Here's why Seth Moulton opposes Medicare-for-All
The Massachusetts congressman and 2020 presidential candidate has some sketchy stories about the V.A. He fears they could be a "parable for a broader single-payer system."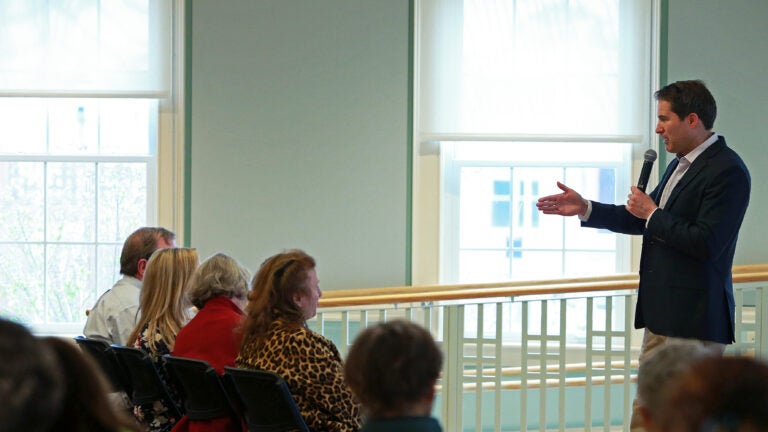 Rep. Seth Moulton likes to say that he's the only candidate running for president who actually has single-payer health care — and that's why he opposes it.
Despite being eligible for a "gold-level" insurance plan as a member of Congress, the Massachusetts Democrat and former Marine decided to keep getting his health care through the Department of Veterans Affairs after his election in 2014.
And while many of his rivals in the 2020 race have embraced moving toward a national "Medicare-for-All" single-payer system, Moulton says his own experience with government-run health care doesn't give him confidence in the general concept — even if it has proven more successful in other countries compared to the expensive American system.
"I can tell you plenty of stories about how my health care at the V.A., with this socialized government system, is not great," he recently told CNN.
The term single-payer describes a health care system in which the government covers the costs of medical coverage. Whether or not the government also runs the system or contracts with health care providers can vary by country. In the United States, both Medicare and the V.A. are examples of single-payer health care, but only in the V.A.'s case does the government own, operate, and fund the entire system, including hospitals.
For Moulton, it hasn't been great.
During the early stages of his presidential bid, the 40-year-old North Shore native has highlighted stories of his worst interactions with the V.A. In an interview last month on the podcast "Pod Save America," Moulton described a visit to a center in Washington, D.C., for hernia surgery shortly after his first election, which he said illustrates his skepticism about single-payer health care.
"I usually go to the V.A. up in Boston, but I went to the D.C. V.A. — gave them my name, social security number to check in — and after 20 minutes they said, 'Well, we don't have any record of you. We can't prove that you're a veteran. So we'll consider taking you as a humanitarian case,'" Moulton told Tommy Vieter, a "Pod Save America" host and former Obama administration official
"I mean, I wanted to say, 'Well, I mean I just won this election, like maybe you can Google me,' but I was not playing the congressman's card," he said. "That's not why I was there."
In addition to the record-keeping snafu, Moulton said he met a fellow veteran who said he'd been waiting "for five hours just to see someone" and a volunteer surgeon who was "great," but less than confident in her colleagues.
"As she was there putting me under anesthesia, she said, 'Yeah, I don't trust half the people who work here.' And I was like, 'Whoa, time out. Maybe we should stop here,"' Moulton recalled.
Moulton said his surgery went well, but her comments didn't help his own confidence in the system, nor did what happened next. According to the congressman, he was sent home with the wrong pain relievers.
"I took a pill, and, like a half hour later, I'm in this meeting, 'I'm like jeez, this is killing me,'" Moulton said. "So I went back to take a second pill and I looked more carefully at the bottle, and they sent me home with the wrong medication, sent me home with Advil."
In his interview with CNN, Moulton said one of his former Marine platoon members died from a heart attack at the age of 30 due to "the drugs he was prescribed by the V.A., because he didn't get the mental health care that he asked for."
Moulton told Vietor that he's afraid the challenges facing the V.A. "might be a parable for a broader single-payer system."
"It's the only single-payer system that we that we really have in America, and, despite constant pledges to fix it, it hasn't been fixed," he said.
Despite these anecdotes, single-payer systems in other high-income countries have been found to perform better in terms of efficiency, equity, and overall health outcomes compared to the United States health care system.
However, the V.A. is a mixed bag compared to the rest of the American health care system.
An analysis by USA Today earlier this year found that the majority of V.A. medical centers reported lower death rates than other facilities in the country and resulted in fewer post-surgical complications. Moulton also noted that the department negotiates down the price of prescription drugs.
"Medicare doesn't do that," he said. "That's actually one of the big problems with Medicare."
At the same time, the V.A. still lags behind in other aspects. According to USA Today, 70 percent of the agency's facilities had longer median emergency room wait times than the average non-V.A. hospitals, sometimes by hours. And "nearly every" performed worse than other providers on patient satisfaction surveys.
Veterans advocates say the mismanaged agency has made significant improvements since its headline-grabbing scandals in 2014, but continues to grapple with consistency, modernization, and wait times (wait times have also been a key concern for  single-payer health care systems in some other countries, though most have been able to make "large reductions in waiting times" over the last decade).
Whether or not the V.A. is a predictive model of what single-payer in the United States would look like, transitioning the entire population to a Medicare-like system "could be complicated, challenging, and potentially disruptive," according to a Congressional Budget Office report released last week.
Even if Medicare-for-All wouldn't mean completely eliminating private insurance, Moulton thinks Americans should have the option of keeping their private providers.
"We need to make sure that everybody in America has access to quality affordable health care," he told Vietor. "And I don't think we do that by forcing everyone onto a government one-size-fits-all program designed in 1963."
Moulton's alternative is to give people the choice to buy into some version of Medicare.
"Medicare is great," he said. "Medicare can be better. And it should be an option that Americans have. But it shouldn't be the only way to go."
Otherwise know as a public option, the concept had originally been included in the Affordable Care Act, but was stripped from the bill in 2009 amid opposition from moderate Senate Democrats. Now, as many of the top Democratic presidential candidates, including Sens. Bernie Sanders, Elizabeth Warren, and Kamala Harris, back Medicare-for-All, the public option has become the more moderate position in the 2020 primary race.
Moulton says that letting a government-run insurance agency compete in the general health care market would drive down costs and improve outcomes for all consumers.
"You're not going to kick people off their private health care if they like it," he told Vietor. "But it also means that those private health care plans are going to have to compete with the public option, and that makes everybody better."
Noting how voters' support for Medicare-for-All can decline as polling questions on the subject become more detailed, Moulton told CNN last week he thinks "forcing everybody onto a government system" would be "too far left" for the electorate. On the other hand, he described the public option as a part of "an American system that makes sense."
Rep. Seth Moulton: "Obamacare with a public option that competes against private plans would probably be better for everyone." pic.twitter.com/dYzqHK4Irr

— The Hill (@thehill) May 3, 2019
"We've got to have some competition in the system," Moulton said. "Obamacare with a public option that competes against private plans would probably be better for everyone. So I just think it makes more sense. And I think that's what voters want at the end of the day."