Politics
Elizabeth Warren pledges to appoint a former public school teacher as education secretary
"Let's get a person with real teaching experience."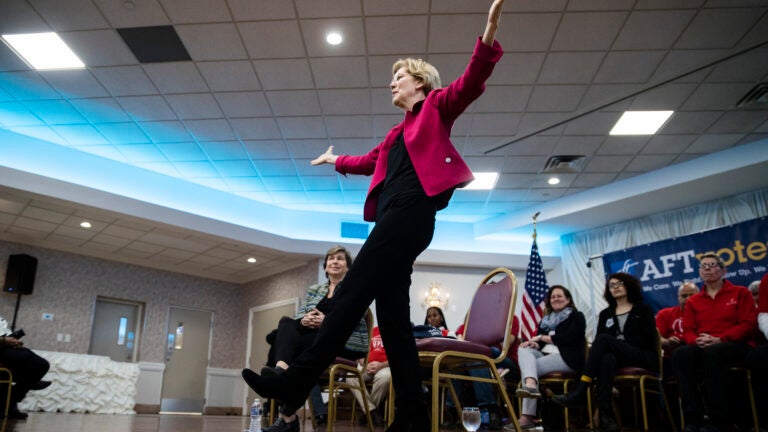 Sen. Elizabeth Warren says that, if she's elected president, there won't just be a former public school teacher in the White House. There'll also be one running the Department of Education.
In an email to supporters Monday, the Massachusetts senator and Democratic presidential candidate pledged to appoint "a former public school teacher who is committed to public education" as her secretary of education if she wins the 2020 election.
"Let's get a person with real teaching experience," she wrote.
Warren has been a close observer and consistent critic of the current education secretary, Betsy DeVos, a former Republican Party leader who has advocated for expanded charter schools and school voucher programs. The Bay State Democrat says DeVos has weakened the public education system and civil rights protections for students, while favoring for-profit institutions.
However, Warren says the problem is "bigger than Betsy DeVos," evoking a line she's used in the past about the political system and President Donald Trump.
"She's the symptom of a badly broken system," Warren wrote Monday.
A former Harvard Law School professor, Warren began her career in education teaching children with special needs at a public elementary school in New Jersey. To lead her hypothetical future Education Department, she wants someone who understands and "is committed to actually doing something" about  "how low pay, tattered textbooks, and crumbling classrooms hurt students and educators" and "the crushing burden of student debt on students and young professionals."
"Our teachers are being crushed right now," Warren wrote.
"Too many have to work another job to make ends meet, are weighed down by student debt, and struggle to teach on shoestring budgets and insulting salaries," she continued. "When we fail our teachers, we fail our students — and we fail our future."
Of course, Warren also says she has a plan for the problem.
Using some of the revenue from her proposed wealth tax on "ultra-millionaires," her plan for universal child care would provide funding to raise the salaries for child care and preschool workers so they will be "paid like comparable public school teachers." Warren also has a higher education plan that includes completely erasing student debt for 75 percent of people still paying off college loans. She also wants to "make it easier to join a union."
"It's that straightforward: Get the right leadership, invest in our kids, and invest in our teachers," Warren wrote.
In the Democratic primary field, Warren is hardly alone in pledging support for teachers, nor is she alone in outlining what she would do to boost their standing. In March, California Sen. Kamala Harris proposed raising the estate tax to give the average American teacher a $13,500 raise over the course of her first term. And on Monday, Julian Castro released a sweeping education plan that includes a federal tax credit to raise teachers' salaries by up to $10,000 a year.