Politics
Michelle Wu talks transit, Elizabeth Warren, and Boston's role in the Green New Deal
"There's a lot of work to be done."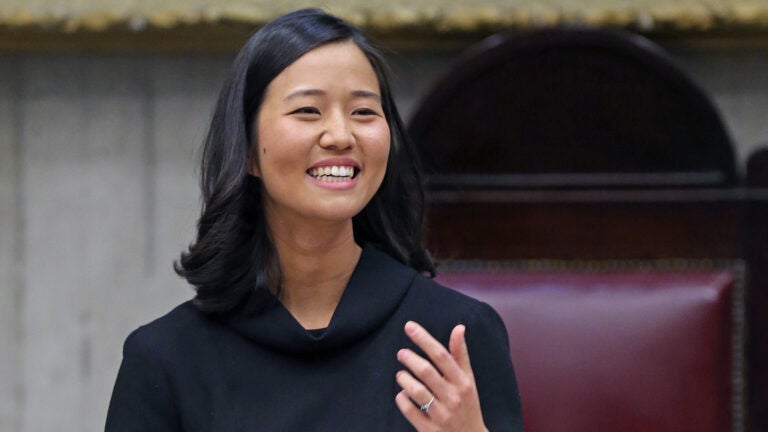 Michelle Wu has been busy.
In the last five months alone, the three-term city councilor at-large has offered up three game-changing, conversation-starting ideas aimed at dislodging Boston's longstanding transit woes, with a particular eye on how the region's larger, looming issues come into play.
In January, Wu started a grassroots campaign calling for a fare-free MBTA amid the agency's plans to hike rates (it ultimately approved a roughly 6 percent increase). Making the T free of charge would be a revolutionary step in fixing many of the city's most pressing problems, including inequality, climate change, and traffic congestion, she contended (and still does).
As the MBTA moved forward with the cost boost, Wu offered up another proposal: make the Route 28 bus, one of Boston's busiest, free.
Alongside fellow Councilor Kim Janey, Wu in March called for a hearing to talk over the possibility. Not long after, they jumped on the bus themselves, taking in ideas from passengers.
The route, which travels from Mattapan Square through Dudley Square and into Ruggles, is a key corridor connecting many of the city's neighborhoods left out of the prosperity other parts of Boston have seen to jobs around the Longwood Medical Area, they say.
Again, removing fares is a key way to take down financial and mobility barriers that stifle residents, Wu said.
And just last month, she offered a new ordinance, one that would assess the resident parking permit system and create fees for permits, starting at $25, as a means to ease headaches for motorists left circling their streets searching for spots after work.
Her tenacity and appetite for change has also set in motion questions about her political future.
A profile in The Atlantic last month calling Wu one of Boston's "most effective politicians" offered up the big question directly in its bold-faced headline: "The Next Mayor of Boston?"
The piece fueled the conversation locally, too.
But Wu, the first Asian American woman to serve on the City Council, its first woman of color president, and a Roslindale mother of two, shies away when the prospect is mentioned with a polite, humble smile, eager to talk shop — the problems and the solutions — instead.
"I've learned I can't really affect or control what journalists write, so I just try my best to be transparent and answer the questions that are asked of me," says Wu, who is seeking a fourth term this fall. "There's a lot of work to be done, so whatever attention we can put on that I'm thrilled with."
On a recent, sunny spring day, Boston.com sat down with Wu in her City Hall office to catch up:
Note: This interview has been edited for length and clarity.
Boston.com: The resident parking permit ordinance got a mixed reception from the council when you introduced it last month. A few of your colleagues said they weren't quite ready to stand behind charging for a permit but that the idea was a good way to segue into this conversation on parking reform. And I know two of your colleagues have called for a hearing looking at everything on the table.
I was curious, why did you decide to start right off with this written ordinance ready to go rather than going the hearing route?
Wu: We did the hearing route. I've actually been working on this issue for a number of years, since at least 2015, I've been talking every year during budget hearings and other opportunities to know what the actual gap is neighborhood by neighborhood of the number of permits given out versus the number of spots available in resident parking on the streets. … Year after year we've asked for it, and it's always about to be completed and hasn't been completed.
So in the meantime, traffic has gotten worse and worse and worse. … What I heard (at hearings) was that one, the system isn't working right now. It is a nightmare for residents to come home and have to circle (their blocks) for over an hour sometimes just to be with their family. That's really valuable time as people are working longer hours, and they need that time. It's incredibly stressful that it's being taken away just looking for parking.
And second, people really wanted to have a visitor parking pass program, … and there's no way to accommodate that because we're not managing our parking system as it is, we're just kind of pretending that it's an unlimited resource when it's not …
The last thing I want to say is that we also have had the studies done about what the big picture is on parking. So in (2016), A Better City released a 70-plus page report called, "The Future of Parking in Boston," and they gave recommendations bit by bit by bit: what should we do on commercial parking, what should we do on residential parking.
So that analysis, that conversation, has already been done, we just have to have the courage to take action now.
We just have to have the courage to take action now.
Boston.com: Mayor Marty Walsh has said he doesn't feel it's fair to charge for parking permits. What's your response to that?
Wu: We are already charging everyone to live in a city where traffic is out of control and getting worse by the day. … We are already paying for the congestion, and there is a tremendous cost of taking no action, and the question is: Do we want to pay now to make some policy changes or do we want to keep waiting until the traffic issues are really choking Boston to the point where people are moving out of the city, are not wanting to bring new jobs here?
Boston.com: You talked a little about this when you introduced the proposal to make the 28 bus free to riders, but why the 28 bus, as a starting point at least, with this idea, versus some of the other busy bus routes, like the 66 bus, which comes to mind?
Wu: So this bus runs along one of the most important economic corridors in the city. … It connects some of the communities that have been the most left out of the growth and prosperity of our city with a major jobs center. They're not even able to fill the jobs that are becoming available in Longwood, and, if we can get this right, by removing barriers financially for residents to have mobility along that route … we will see incredible gains in attacking income inequality and connecting people to opportunity that is already here.
Boston has jobs. … And we have plenty of talent in our communities, who either physically can't get there because the transportation system isn't working well or need a little bit of a boost in terms of training and access.
There's no greater issue in the city than inequality, and climate change kind of layers right on top of that because you see communities of color and low-income residents hit hardest with the vulnerability in our city from climate change and changing weather patterns, and so this route, removing barriers to access mobility along that route, would affect all three buckets: economic mobility, racial equity, and climate justice.
Boston.com: This idea was born out of your campaign against the MBTA fare hike and for eliminating fares to the MBTA. You said this was a good follow-up to that discussion. Do you see that this is something that if it works on the 28 bus, would it work on other bus lines too? Is this kind of a starting point or is it specifically this corridor?
Wu: I think if we're going to be serious as a city, as a country, about addressing climate change, addressing inequality and racial disparities, we have to start taking action at the scale that matches the urgency of the problems. … I think there is a huge calling and appetite in the community for people to say the real goal should not be minimum service and functionality for the T. The real goal should be fare-free transit that truly meets people's needs and provides that economic mobility through physical mobility.
And when we frame it that way, there are many steps that we can be taking today. It might not be possible to find all of the revenue to zero out fares tomorrow or next week, but we can make it such that there is a fare-capping mechanism in place for when the new system rolls out. Instead of paying your monthly pass out front, not knowing if you're going to take the T enough to justify that, you pay ride by ride until it hits a certain threshold and then you're free for the rest of the month. That actually incentivizes people to ride more.
We can commit now to a low-income fare that we currently don't offer. We can commit to having seniors and youth ride for free or at least ride for free during off-peak times. There's so much that we can do if we have the right goal in mind, but we get stuck at this point of how do we break even when the larger question is how do we ensure that we're passing on a livable world to the next generation?
Boston.com: Often on social media you highlight taking the T, often with your own children. I was curious how approaching this through the experience you have with the MBTA with your own family, as a mother, how that's informed your thinking on the policies?
Wu: We love the T. As much as I point out places for improvement and the need to change policies, my kids just love being on the train, seeing everyone, looking out the window. It's really a pretty special community space in some ways. You kind of see the same faces, and we're so locked into our own devices and smart phones and our own worlds that it's one of the rare spaces where you're just interacting with people who might not look like you, think like you, have the same party affiliation as you, so that's important to recognize that as a civic space.
Good morning! On our way to meet @Kim_Janey to ride the 28 Bus along its whole route from Mattapan Sq to Ruggles. This is one of the most important economic corridors in the city & we're pushing for it to be affordable to all https://t.co/AwviM0pPzt #bospoli pic.twitter.com/9kNEiptPrf

— Michelle Wu 吳弭 (@wutrain) March 20, 2019
But I also know that we are making decisions today that will affect what kind of world they are going to grow up in and all of their peers are going to grow up in. And this report that the United Nations Intergovernmental Panel on Climate Change released last October said that we have until the year 2030 to fix things in a never before seen way of transformation or else the world will be unlivable, the effects will spiral out of control. I mean, my kids won't even be out of high school by 2030. I see how fast they're growing up now, and I know how urgent it is for us to take action. 
Boston.com: Well, last month you kind of led the charge on the council for the resolution supporting the federal Green New Deal. … At the time you also mentioned that Boston is working toward some of those ideals outlined in the Green New Deal, but what do you think the city could be doing better?
Wu: We need to be getting ready for a little Green New Deal now. So when the New Deal happened several decades ago, the federal policy was set, the funding became available, and the states that were ready for it — that had shovel-ready projects already outlined — were the first in line to receive that funding and benefited the most from that federal program.
In a same way, cities have incredible power right now because of this vacuum of leadership at the federal level. We have the ability to set the example and standard of what progressive action should look like, and Boston in particular has so many resources — expertise and talent and civic engagement — that we should be setting the standard for what a little Green New Deal is like. What could we be doing right now totally within city jurisdiction and with city funds? Things like committing to making all municipal buildings 100 percent renewable sourcing of energy or 100 percent renewable from the electricity, or we've now moved forward on the ban of single-use plastic bags. I have an ordinance on the table co-sponsored by Councilor Matt O'Malley … it's called the Local Wetlands Ordinance. … It would be the biggest step we could take as a city to require resiliency in all future development …
So we should be doing everything within city control that we can do, and we should be getting ready for the point at which federal funds become available because, at some point, they will be available. People will recognize the scope of the crisis. It's not in the future, it's here. And at some point, the federal government will realize that if Boston is ready now, say that however many millions of dollars become available, what are the projects that we would want to prioritize, and how do we organize and involve the public now to help with that prioritization?
Boston.com: Looking at the 2020 presidential race, I was curious … if you feel at all, your former professor's (Sen. Elizabeth Warren's) message isn't catching on on the national stage right now.
Some of the early polls … have her behind … but do you feel her message is catching on, and if not, why so?
Wu: I think the interesting thing about elections, as someone who has run through a couple of them, is that people are so busy in their lives that there are kind of waves of when people tune in and do the research and really dive in to decide who they're supporting. People take it at different paces, but there is this roaring focus at the end … 
So I think her message is going great and what I look up to most about the senator is that she has been the same person for her entire career. It's not that she has now all of a sudden adopted, or done polling and picked, the message that she thought would work best. You go back to video of her when she was a professor, she was saying the same thing. You go back to her writings when she really became the academic scholar that brought the issue of bankruptcy and how the middle class was being crippled by our laws, she's been doing this for decades now, even before she ever thought about being in politics. So it's been really nice to see that as someone who knew her before politics and then kind of during her first campaign and into this larger forum.
And I think every time you see people at her events, you see people interact with her, it's the same as the feeling that we had when we were sitting in her classroom, just listening to this brilliant woman lay out exactly what had to be done. I think that's what people want right now. … There's no one with more expertise.
You see people interact with her, it's the same as the feeling that we had when we were sitting in her classroom, just listening to this brilliant woman lay out exactly what had to be done.
Boston.com: You've gotten a little bit of buzz, people throwing your name around for mayor of Boston … Maybe not this election, maybe not the next election, but can you see yourself being mayor of Boston someday? Is that something somewhere in the back of your mind, at the very least?
Wu: I'm not someone who ever thought about politics when I was growing up. I never expected I would be sitting in this seat right now and ever running for office, so I take it a day at a time and I'm really excited about the issues we're talking about this election cycle and making sure we can plug as many people into government in 2019.
Boston.com: You're very busy councilor, but when you do have some time to yourself, what's your favorite thing to do or place to go out to eat with your family in Roslindale?
Wu: I think if we had a free weekend day, we like to just go outside, anywhere we can be outside. Sometimes we'll go hiking, you know, the Blue Hills Reservation. Over the summer if we can sneak a weekend, an afternoon out of the city, the boys love to go strawberry picking or apple picking, things like that.
In the neighborhood, there are some great new spots opening up. The Square Root Rozzie is the newest coffee shop right by the train station — it's incredible. We'll usually do a swing through because the boys love stopping in the cheese shop also, the Boston Cheese Cellar. … This last weekend they did a pop-up pedestrian plaza on Birch Street. … The local shop owners lobbied the city to get rid of the on-street parking to make it fully pedestrianized like Downtown Crossing, which will happen in the fall, but they did just a pop-up test of it. And it's going to be amazing. I think that's where we'll probably be every moment.