Politics
Elizabeth Warren explains why she turned down a Fox News town hall
"A Fox News town hall adds money to the hate-for-profit machine. To which I say: hard pass."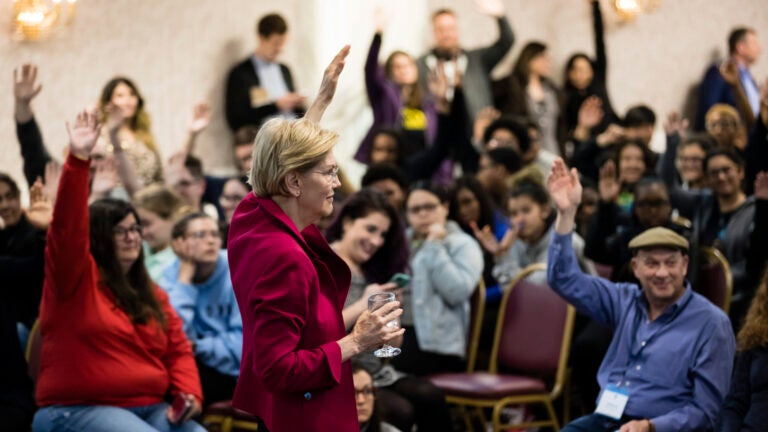 Last month, Sen. Bernie Sanders earned a spate of favorable headlines for participating in a televised town hall hosted by Fox News. Since then, several other Democratic presidential primary candidates have booked similar events on the Republican Party-aligned cable network.
Sen. Elizabeth Warren, however, is taking a "hard pass."
The Massachusetts senator revealed Tuesday that she turned down an invitation from Fox News to do a town hall on the network, which she called a "hate-for-profit racket that gives a megaphone to racists and conspiracists."
"It's designed to turn us against each other, risking life and death consequences, to provide cover for the corruption that's rotting our government and hollowing out our middle class," she wrote.
In an email to supporters, which Warren subsequently posted on Twitter, the Democratic presidential candidate explained that she didn't want to help Fox News "make even more money" adding Democratic primary voters to their ratings.
Hate-for-profit works only if there's profit, so Fox News balances a mix of bigotry, racism, and outright lies with enough legit journalism to make the claim to advertisers that it's a reputable news outlet.

It's all about dragging in ad money — big ad money.

But Fox News is struggling as more and more advertisers are pulling out of its hate-filled space. A Democratic town hall gives the Fox News sales team a way to tell potential sponsors it's safe to buy ads on Fox — no harm to their brand or reputation (spoiler: it's not).

There's one place we can fight back: I won't ask millions of Democratic primary voters to tune in to an outlet that profits from racism and hate in order to see our candidates — especially when Fox will make even more money adding our valuable audience to their ratings numbers.
Fox News did not immediately respond to requests for comment Tuesday.
Several of the network's shows, as Warren noted, have also lost advertisers following various on-air controversies.
The Democratic National Committee similarly decided to exclude Fox News from its 2019-2020 primary debate lineup, citing a New Yorker report about the Rupert Murdoch-owned network's close, symbiotic relationship with President Donald Trump and his administration.
Bill Shine, a former Fox New president, served as Trump's communications director for eight months, and the network has given the Republican president a friendly platform to express his views.
However, Sanders's Fox News town hall was the most-watched candidate event of the 2020 presidential campaign. And some Democratic candidates say such appearances are a unique opportunity to reach the millions of voters who watch Fox News (which consistently draws more total viewers than CNN and MSNBC).
"To me, it is important to distinguish Fox News from the many millions of people who watch Fox News," Sanders recently told The Daily Show's Trevor Noah. "I think it is important to say to those people, 'You know what? I know that many of you voted for Donald Trump, but he lied to you.'"
For Warren, that opportunity apparently isn't worth what it would mean.
Since launching her campaign earlier this year, the Bay State Democrat has held town halls in 17 states — including less-traditional primary campaign destinations like West Virginia, Ohio, Georgia, Utah, Tennessee, Texas, Colorado, Mississippi, and Alabama — and Puerto Rico. And while she says Fox News is welcome to attend and cover her campaign events like any other outlet, Warren isn't going to bring her campaign to them.
"A Fox News town hall adds money to the hate-for-profit machine. To which I say: hard pass," she said Tuesday.
"Instead, I'll keep talking with people around the country," Warren said. "Meeting them in living rooms, school gyms, theaters, breweries, concert halls, anywhere we can all squeeze in."