Politics
Why Cambridge might remove the Massachusetts flag from its City Council chamber
The violence waged against native peoples by European settlers is abundant in the flag's symbolism, Cambridge officials say.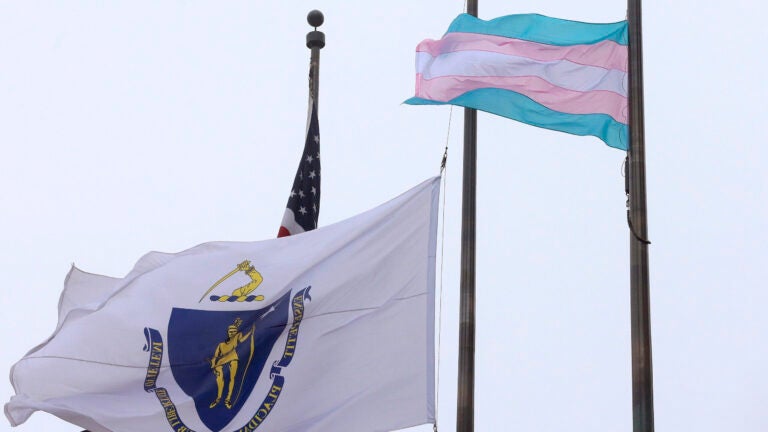 Cambridge leaders are joining a call to dismantle what they consider an offensive, lasting symbol of oppression and racism against Massachusetts' indigenous people: the Commonwealth's flag and seal.
And that could mean removing the banner from the City Council chamber altogether.
Council members this week unanimously pledged their support for a resolution pending in the state Legislature that, if passed, would create a special commission to study the official seal and motto and offer recommendations for a new design.
The city is now among a growing number of municipalities aligning behind the proposal, calling for what they say is needed change to a racist, outdated emblem.
The symbol, stitched into the heart of the state flag, depicts Wampanoag Chief Ousamequin, also known as Massasoit, holding a bow. Above him, an arm brandishes the sword of Myles Standish, a Mayflower passenger who served as the Plymouth Colony's first commander and led attacks against local tribes.
There's also the Latin phrase that's turned heads: "Ense Petit Placidam, Sub Libertate Quietem," often interpreted as "By the sword we seek peace, but peace only under liberty."
Cambridge Mayor Marc McGovern said Monday city leaders are joining the call of indigenous people to tear down symbols of "oppression and supremacy."
"We really need to start dismantling all of this in our community … and grappling with our history, particularly with racism and genocide in this country, and this is one way to do that," he said.
'Can we just take it out?'
Amid Monday's discussion, officials pondered whether they could — legally — take action by removing the state flag from public view in the council's chamber.
McGovern plans to take up the question with the city solicitor.
"It's kind of just there," said Vice Mayor Jan Devereux. "Can we just take it out?"
Under state law, the flag must be displayed "on the main or administration building of each public institution of the Commonwealth," weather permitting.
"People can file complaints with our office about improper display of the flag, but there is nothing regarding lack of display of the flag," a spokesperson for the Massachusetts Secretary of State's office, the state flag's custodian, told Boston in an email Wednesday.
'Rewriting the previous wrongs'
The violence waged against native peoples by European settlers is abundant in the flag's symbolism, Cambridge officials say.
Aside from Standish's sword, the seal also contains a belt modeled after one worn by Metacomet — a Wampanoag leader the British called "King Phillip" — who fought colonists while defending tribal lands in a one-year war, known as the Great Narragansett War or King Philip's War, which started in 1675, according to officials in the council's policy order.
The legislation adds that "the proportions of the body of (Ousamequin) in the Flag and Seal were taken from a Native skeleton kept in Winthrop, the bow modeled after a bow taken from a Native man shot and killed by a colonist in Sudbury in 1665, and his features taken from a photograph of an Ojibwe chief from Great Falls, Montana, considered by the illustrator to be a 'fine specimen of an Indian,' though not from Massachusetts."
Cambridge officials see the 400th anniversary of the Mayflower next year as an opportunity to reflect on centuries of mistreatment toward indigenous people and forge a new awareness and relationship between the state and the native nations.
Councilor Denise Simmons sees the work as "rewriting the previous wrongs," she said. She pointed to similar efforts the council has recently undertaken, including renaming any streets, schools, and buildings named after people with ties to the slave trade.
In April, officials also opted to put in motions a plan to help close a glaring gender gap in public art through creating a local women's suffrage monument.
"I believe in taking ahold of history in the current times and altering the course so that none of us — be as women or people of color or indigenous native people — are reminded of the atrocities that we still have to deal with on a regular basis," Simmons said. "And so it's hopeful to know that we as a city will stand up and say, 'We will not let this continue in our name.'"
McGovern said the conversations among city officials may be difficult, but they raise important questions about what symbols of "genocide and racism" are in Cambridge.
"To address the emails I know are coming to my mailbox, for folks who are going to say, 'well I wasn't around in 1665, so why are we doing this?': well, maybe we can't be held responsible for what happened in 1665, but we can be held responsible for what happens now," he said. "And we're either going to take a stand to undo this or we're not, and history will now judge us."
'We have to face this every single day'
Shelly Lowe, executive director of the Harvard University Native American Program, made an emotional plea.
An enrolled member of the Navajo Nation, Lowe said she's lived in Cambridge with her five children for 10 years. Her daughter visited the council chamber while enrolled in the city's Girls Only Leadership Development, or GOLD, program, she said.
"She had to be in this room. She had to look at that flag. Her value was taken down because of that flag, in this room," she said, fighting tears. "And I don't want to see that anymore. I don't want to see us devalued because of an image."
Lowe was among several residents who spoke in favor of the council's support at Monday's meeting. Many said the flag perpetuates the racism harbored and violence taken against indigenous people for centuries.
"We no longer live in those archaic times," said Tom King, who identified himself as a Hopi Indian. "We are now trying to be peaceful and liberate ourselves from all the other atrocities that we have in this world. It would be great if by 2020 there is a discussion and an open forum and a vote on changing it."
Lowe said the flag's presence is a daily reminder of a painful history.
"We get asked constantly, every day, by individuals in this state and in this city, 'Oh, I didn't know natives existed anymore. I thought you guys were all gone,'" she said. "And it's not that they're thinking that we're all gone. They're thinking, 'Oh I thought you guys were all killed off.' And it's because of a symbol like this. It's because we have to face this every single day."