Politics
Lawrence Mayor Dan Rivera goes off on Seth Moulton and the crowded 2020 primary race
"He's got no biz in this race."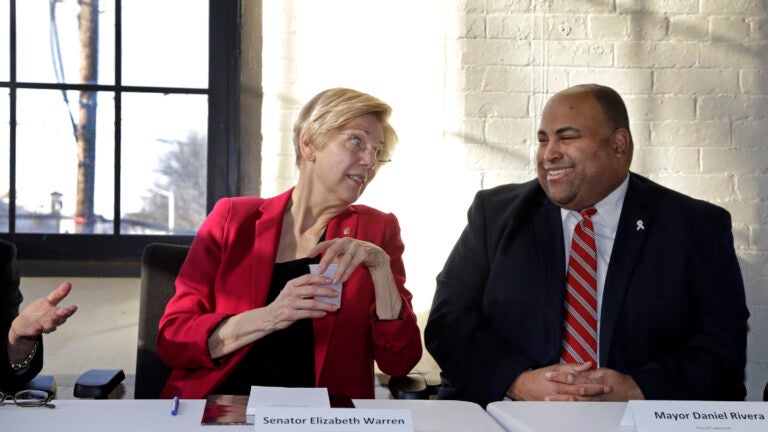 Lawrence Mayor Dan Rivera is losing count of the Democrats running for president in 2020. And he's particularly incensed about some of the more recent entrants in the race — including in his home state.
Rivera, a Democrat, tweeted Thursday that there is "no reason" Massachusetts Rep. Seth Moulton, who announced his 2020 candidacy in April, should be running when Sen. Elizabeth Warren has "been in for months."
"To voters, this is chaos," he said.
The 48-year-old mayor said the point, which he reiterated Friday morning, also stood for New York City Mayor Bill de Blasio, who joined Sen. Kirsten Gillibrand as the second New York Democrat in the primary field this week.
Adults in the party need to say: no reason a Jr. US Rep from Salem, MA (@sethmoulton) should be running, when the Sr. Sen. from MA (@ewarren) has been in for months! Same with @SenGillibrand & @BilldeBlasio #2020Elections #mapoli https://t.co/khHTSvi4wI

— Dan Rivera (@danrivera01843) May 17, 2019
Rivera endorsed Warren for president when she officially launched her campaign in February. However, with de Blasio's entrance, the number of Democratic candidates has grown to 24. Rivera says he's worried that the size of the field could end up in the re-election of President Donald Trump.
"Hey @TomPerez," he tweeted Thursday at the Democratic National Committee chairman. "[At] what point does the party say something. Looking more like a circus [than] a primary! No way this is a good thing! Maybe call @SpeakerPelosi get some direction… this will end poorly!"
In response to a political commentator who argued the large size of the primary field was a good thing, Rivera said the campaign is "a battle of ideas & wills."
"Harm will [be] done," he tweeted. "The electorate will be confused & turned off assuring a 2nd trump term."
Sounds nice. But a presidential campaign is a battle of ideas & wills. Harm will done. The electorate will be confused & turned off assuring a 2nd trump term #rosecoloredglasses #wherearethegrownups a significant % Bernie voters voted for Trump….

— Dan Rivera (@danrivera01843) May 16, 2019
"This is a case of the political establishment telling Seth not to participate in the democracy he risked his life to defend," Matt Corridoni, a spokesman for Moulton's campaign, told Boston.com Friday in response to Rivera's comments, referencing the congressman's military service in Iraq.
"We're more focused on what Democratic voters in early states are saying, not what campaign surrogates for the Republican governor are saying," Corridoni added.
Rivera was one of several Democratic mayors in Massachusetts who crossed party lines last year to endorse Republican Gov. Charlie Baker's re-election campaign.
Responding on Twitter, he noted that Moulton wasn't the only who served overseas; Rivera, an Army veteran, was deployed to Iraq and Kuwait in the 1990s.
"I also risked my life to defend this democracy," he said, adding that Lawrence, which is nicknamed "The Immigrant City" has "much more [at] risk [with] a 2nd Trump term."
The 80,000-person city is nearly 80 percent Hispanic and borders Moulton's 6th congressional district, which encompasses most of the North Shore and has a median household income ($81,711) more than double that of the former mill city ($39,627), according to census data. Lawrence has also been singled out by Trump for its status as a so-called sanctuary city.
"I don't find any of this funny," Rivera said. "He's got no biz in this race, sorry a [small] city mayor is the only one that has told him that publicly. This is the problem."
In an interview Thursday with the Salem News, Rivera added Pete Buttigieg, the 37-year-old mayor of South Bend, Indiana, to the list of candidates he thought shouldn't be running.
"Is it 23 or 24 (Democratic candidates)?" he said. "It's confusing for voters. It just appears like partisan disarray. Or that the people who run our party are selfish. There's nobody really in charge of our party. Anybody who tells you this is good for the party is lying."