Politics
Seth Moulton is taking on college affordability and climate change in one plan. Here's how.
The Massachusetts Democrat said his proposal is the "biggest call to national service since World War II."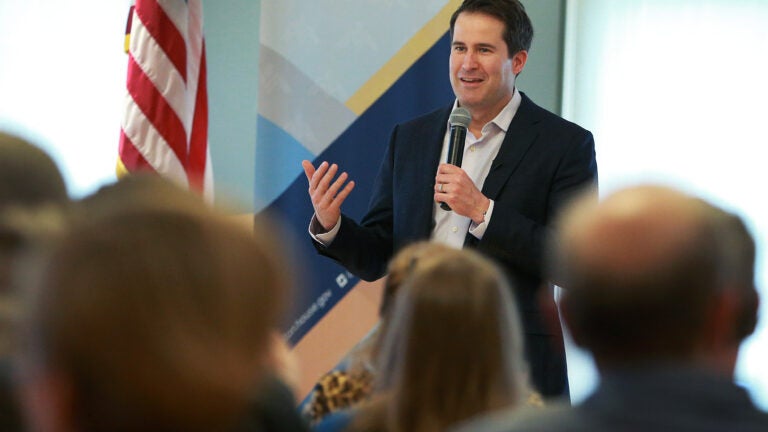 A recent Harvard poll found that young voters disproportionately support more government action to address climate change and college affordability.
Rep. Seth Moulton is hoping do both with a single plan.
In the first major policy rollout of his Democratic presidential campaign, the Massachusetts congressman proposed the creation of a new civil service program aimed at combatting climate change and expanding several current programs, such as AmeriCorps. In exchange, the federal government would cover some (or even all) of the costs of college tuition or job training for participants, depending on how long they serve.
"I'm calling today for the biggest call to national service since World War II," Moulton said Sunday in an interview of ABC's This Week. "A way to take us forward, meet the challenges of this new economy and a changing world."
Today I'm making the biggest call to national service since World War II. I'm asking all 33 million young Americans to consider serving. And if you invest in your country, we'll invest in you. https://t.co/fhfwURkwL8 pic.twitter.com/JWoka5PNRX

— Seth Moulton (@sethmoulton) May 19, 2019
A distinguished Marine combat veteran, the 40-year-old Salem Democrat said the concept is informed by his own service as well as U.S. history — from the civil service programs created by President Franklin Delano Roosevelt to the GI Bill benefit created for military veterans after World War II.
Here's a quick breakdown of how Moulton's "National Service Education Guarantee" would work:
Recruit every young American
The plan begins with a "large-scale" effort to recruit the 33.4 million Americans aged 17 to 24 to sign up for some type of national service, whether it be military or civilian programs.
That wouldn't mean a return of the draft under his plan. Moulton told This Week that he doesn't want to make national service a requirement, "but an expectation that Americans will take a part in our future, take a part in serving our country."
Make the country's civil service programs bigger and greener
Moulton said he would expand the Corporation for National and Community Service, the federal agency that oversees AmeriCorps, and rename it the National and Community Service Administration.
One aspect of the agency's expansion would be the newly created Federal Green Corps, which would be tasked with public works projects that address climate change. Moulton's campaign likens the service organization to Civilian Conservation Corps created by Roosevelt's New Deal, which employed 3 million young men through the 1930s with conservation-minded projects.
Moulton's campaign said the Federal Green Corps "will take on projects to make our communities more resilient from rising oceans and floodwaters, ensure clean air and water for all Americans, and retrofit public buildings to make them more energy-efficient." The program will also train natural disaster responders, which he said "will grow more critical as climate-related disasters increase in number and severity."
Additionally, the plan would expand AmeriCorps, FEMA Corps, or AmeriCorps VISTA to work on projects like infrastructure, lead abatement, disaster planning and relief, and poverty.
Moulton would also make the administrator of the newly restructured National and Community Service Administration a cabinet-level position.
Provide a GI Bill-style benefit in return
Moulton isn't the first Democratic candidate to call for expanding the country's national service programs.
Former Maryland Rep. John Delaney proposed a similar plan, which even included establishing a "Climate Corps," in April. South Bend, Indiana Mayor Pete Buttigieg also recently floated the idea.
Where Moulton's proposal departs from the others, however, is the benefit it would provide to those who sign up.
"If you invest in America then America will invest in you," the congressman said Sunday.
Modeled after the GI Bill benefits received by veterans, Moulton's plan would would cover an increasing percentage of the cost of college or job training for those who serve under the program, based on the length of their commitment.
For one year of service, the plan would provide 60 percent of the cost of an individual's in-state college tuition or a job-training benefit of up to $14,000. For two years, the benefit would be 80 percent of tuition or up to $19,000 for job training. And for three years, it would cover 100 percent of in-state tuition or up to $24,000 in training.
"If you serve your country, you'll get to go to college or to vocational school. We'll make that investment in you," Moulton said on This Week.
"That's the kind of forward-looking policy that I think we need to meet the challenges of a changing world, to address climate change, to bring broadband to rural communities and to say to America we need a common mission, we need to be united going forward as a country," he added.