Politics
Here's the backstory behind Ayanna Pressley's contentious exchange with Ben Carson
"Would you let your grandmother live in public housing, under these conditions?"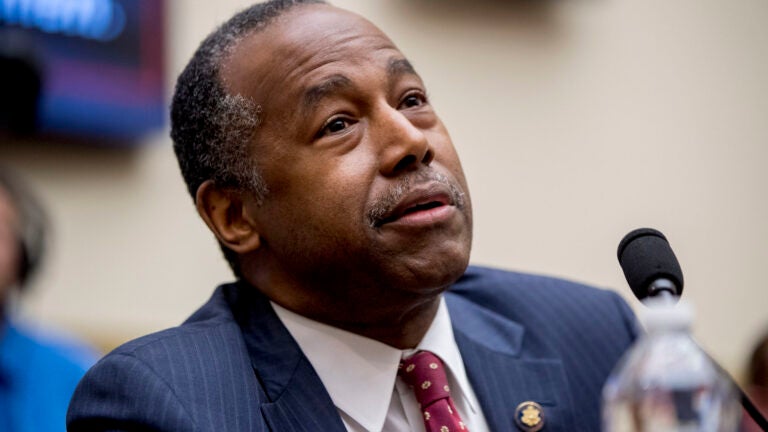 Ben Carson's now-infamous "Oreo" slip-up wasn't the only tense moment from his appearance before the House Financial Services Committee.
Rep. Ayanna Pressley grilled the Housing and Urban Development secretary about the deteriorating state of federally subsidized housing in the United States, leading to a contentious exchange in which Carson flatly refused to entertain the Massachusetts congresswoman's questions.
"Let me be clear," Pressley said. "Housing is a fundamental human right, and the displacement of families should be regarded as the public health crisis that it is."
The Boston Democrat asked if Carson, given his background as a neurosurgeon, could "weigh in on the health consequences of failing to invest in safe housing."
"Yes or no: Is stable and safe housing a social determinant of health?" she asked.
"Sounds like you have not been here and heard most of my testimony," Carson replied.
"Please just answer the question, reclaiming my time," Pressley said, repeating her question. "Yes or no: Is stable and safe housing a social determinant of health?"
'There is no question that housing is an important part of health," Carson replied.
"Yes or no?" Pressley insisted.
"No question that it's a part of health," he said.
Pressley went on to say that health problems resulting from lead poisoning, asthma, and trips and falls, "especially among our senior population, can be linked to substandard housing conditions" and contribute to "billions" a year in health care costs. She said this was particularly a problem for public housing residents.
As NPR reported last week, the aging stock of federally subsidized housing has increasingly fallen into disrepair, subjecting many of the country's 2 million public housing residents to hazards from lead paint to mold to rodent infestation. Despite the increasing backlog of needed repairs, Carson's HUD has proposed further cuts to its fund for public housing repairs in favor of trying to attract private investment to fix it up.
"Yes or no: If left unaddressed, do you believe the substandard public housing conditions pose a risk to tenants' physical, mental, and emotional health?" Pressley asked, reading from her notes.
"Yes or no, can you ask me some questions yourself and stop reading this line of stuff," Carson retorted.
"You don't get to dictate what my line of questioning is — reclaiming my time," Pressley shot back. "You're a very smart man, so you understand the question. Please answer it."
"You already know the answer," Carson said.
"Yes or no?," Pressley said.
"You know the answer," Carson repeated.
"Yes or no?" she said. "I know the answer. Do you know the answer? Yes or no?"
"Reclaiming my time," Carson said.
"You don't get to do that," Pressley said.
"Oh," Carson said, chuckling to himself.
Rep. Maxine Waters, the committee's Democratic chair interjected, hitting the gavel, to remind the HUD secretary that the time for questions belonged to members of Congress.
"The evidence is clear that if we do not invest the necessary funds today, we will pay the price in people's health tomorrow," Pressley continued." And what is this administration's response? Cuts."
Like previous years, HUD's proposed budget for the 2020 fiscal year would include steep cuts in the agency's funding — a 16.4 percent decrease compared to this year's funding levels.
According to the National Low Income Housing Coalition, the cuts would entirely eliminate the department's Public Housing Capital Fund, which is used to maintain and improve public housing buildings. It would also cut the Public Housing Operating Fund, which subsidizes the operational expenses of local housing authorities, by 38 percent. The proposed budget also includes tens of millions of dollars-worth in cuts to federal housing programs for the elderly and disabled.
Congressional leaders — both Democrats and Republicans — told Carson last month that his proposed cuts had little chance of being passed.
"These policies are devoid of empathy and humanity," Pressley said Tuesday. "You've been talking the abstract, but I want to get specific."
The 7th District congresswoman told Carson of a grandmother in Boston's Brighton neighborhood, whose property had "thick mold on the walls" and whose son was recently hospitalized due to bone tumors.
"He needs surgery to save and improve his quality of life, but he won't get it because the family must have sanitary, stable housing conditions first," she said. "Their actual home literally poses a risk of post-op injury and infection. Her question to you, Mr. Carson: 'What do they become?'"
Pressley pressed Carson on whether they "deserve to live in these conditions because they are poor?" When he began to sidestep the rhetorical question, Pressley repeatedly asked for a simple "yes or no" response.
"If you've listened to anything that I have to say then you know very well my views on this," Carson said.
Earlier in the hearing, the secretary testified that HUD was stepping up housing inspections so that property owners couldn't "game" the system with cosmetic repairs. He also highlighted federal tax incentives for private investment in affordable housing in low-income neighborhoods.
"Would you let your grandmother live in public housing?" Pressley repeatedly asked. "Under your watch and your helm, would you let your grandmother live in public housing, under these conditions?"
"It would be very nice if you would stop acting like this," Carson said, as Pressley's time expired.
Following the exchange, Carson tweeted that the "American people deserve better than a 'yes' or 'no' answer."
The American people deserve better than a "yes" or "no" answer. #ReclaimingMyTime

— Ben Carson (@SecretaryCarson) May 21, 2019
Pressley shot back, blasting the current condition of public housing, as well as a separate HUD proposal this month to prevent families in which at least one member is an undocumented immigrant from receiving federal housing assistance. While the current rules prohibit undocumented immigrants from receiving such subsidies, households with at least one legal resident are allowed to live in public housing. According to HUD's estimates, the new proposal would displace more than 108,000 legal residents and citizens, including 55,000 children.
"Tell me how tearing apart immigrant families and subjecting our seniors & babies to mold infested walls, raw sewage & crumbling buildings is acceptable," Pressley tweeted. "I'll wait."
https://twitter.com/RepPressley/status/1130936815094042624