Politics
Elizabeth Warren proposes $2 trillion clean energy plan as part of a Green New Deal
The plan is the first policy released under Warren's new campaign theme of "economic patriotism."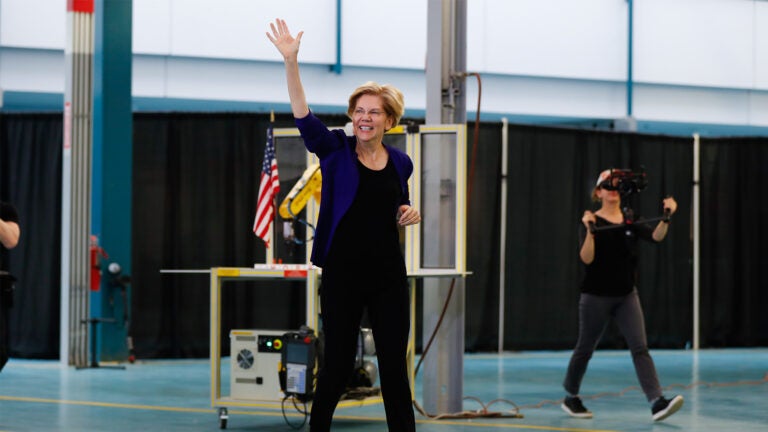 Sen. Elizabeth Warren, D-Mass., on Tuesday unveiled a proposal to invest $2 trillion in federal funding in clean energy programs as part of a Green New Deal aimed at confronting global climate change, according to her campaign.
Warren is pitching the massive investment in clean energy technology and programs as part of the Green New Deal she and other Democrats embraced earlier this year. Warren's plan includes a $400 billion investment over a decade for clean energy research and development through a new "National Institute of Clean Energy," modeled after the National Institutes of Health.
"With big and bold investments in American research, American industry, and American workers, we can lead the global effort to combat climate change – and create more than a million good jobs here at home," Warren said in a Medium post released Tuesday.
The plan comes amid fierce competition among the 2020 presidential candidates about how best to confront climate change, with a number of leading contenders in the race embracing the idea of a Green New Deal to decarbonize the economy with massive new federal investments in clean energy technologies.
On Tuesday, former Vice President Joe Biden pitched a $1.7 trillion federal investment in an embrace of the "framework" of the Green New Deal. Washington Gov. Jay Inslee, D, and former congressman Beto O'Rourke, D-Texas, two other presidential contenders, have also released their own ambitious plans for a Green New Deal program.
Still, these plans face significant fiscal and political obstacles, with a number of unions and labor groups typically in the Democratic camp expressing concern about the Green New Deal's impact on jobs that depend on the fossil fuel industry.
Warren has proposed paying for the plan in part with a 7 percent corporate tax on profits of U.S. companies exceeding $100 million, which would generate about $1.05 trillion over a decade, according to an analysis by left-leaning economists Emmanuel Saez and Gabriel Zucman at the University of California at Berkeley. The Tax Foundation, a conservative-leaning think tank, said the plan would only generate between $476 billion and $872 billion in new revenue.
Warren on Tuesday proposed the plan as part of her broader economic vision. Warren also said she would aim to replace the Commerce Department with a "Department of Economic Development" as part of a new "economic patriotism" that includes bolstering federal American-made requirements, subsidies for export industries and a tenfold increase in federal spending on apprenticeship programs, among other policy changes.
Warren argues that many of the 58 programs in 11 federal agencies designed to support American manufacturing are either ineffective or "captured by the interests of corporate executives," and proposes the Department of Economic Development also subsume the Small Business Administration, the Office of the U.S. Trade Representative and the Patent and Trademark Office.
"Government programs that affect job creation are an afterthought, uncoordinated and scattered across the government," Warren says in a policy summary. "We should put all of these offices and programs in the same place, get rid of the ones that are redundant or don't work, and bring the rogue ones to heel."
None of these plans, including Warren's, have a shot of being passed by a Republican-controlled Congress or White House, but they are also unlikely to pass even with complete Democratic control of the two branches of government.
But in the Democratic presidential race for ideas, Warren's plan suggests a renewed interest in reviving federal industrial policy in addition to climate policy, said Bob Hockett, a Cornell University professor who has advised Democratic candidates on economic policy.
"We don't make a coherent national project of looking out for new industries or technologies that look likely to be important in the future, and other countries do," Hockett said. "They have to be nurtured before they can take off and proceed on their own."
Warren's plan would also task the new department with releasing a "National Jobs Strategy" every four years, as well as with examining trends in the U.S. job market and economy before recommending investment goals, similar to the national plans regularly released by China, Japan and Germany. All federal trade-related programs would also fall within the new department.
Simon Johnson, an MIT economist who worked at the International Monetary Fund, said China and other countries have failed to follow international rules intended to limit the extent of government support for domestic industries. Warren's plan is partly a recognition of the belief the United States should have its own government economic development programs as long as China ignores these international agreements, Johnson said.
"There is a tinge of economic nationalism, but it's mostly driven by other countries' strategies," said Johnson, whose work is cited in Warren's policy announcement. "We have historically resisted that through [World Trade Organization] mechanisms and the IMF [International Monetary Fund], but that hasn't been super effective."