Politics
Elizabeth Warren received unlikely support from Fox News host Tucker Carlson
"Many of Warren's policy prescriptions make obvious sense."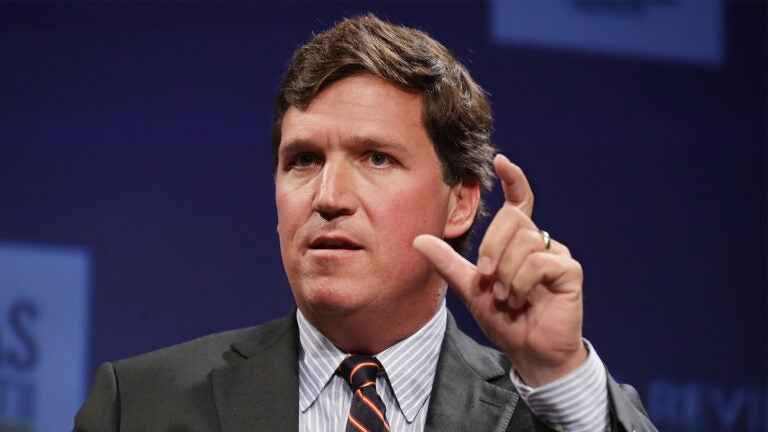 Sen. Elizabeth Warren may not be a fan of Fox News — a "hate-for-profit racket," as she calls it — or Tucker Carlson. After all, the conservative cable news host has called Warren "nasty" and parroted President Donald Trump's derogatory nickname for the Massachusetts senator.
All of which makes what happened Wednesday night more than a bit surprising.
In the opening monologue of his primetime Fox News show, Carlson began by reading verbatim from Warren's recently released "economic patriotism" plan — which blasts "Washington politics" for prioritizing the interests of corporations over American workers — without naming the Democratic presidential candidate by name, as a "thought experiment" for his mainly Republican audience.
"The truth is that Washington policies, not unstoppable market forces, are a key driver of the problems American workers face," Carlson said, reading line-by-line from Warren's post Tuesday on Medium:
From our trade agreements to our tax Code, we have encouraged companies to invest abroad, ship jobs overseas, and keep wages low — all in the interest of serving multinational companies and international capital, with no particular loyalty to the United States.

…

It's becoming easier and easier to shift capital and jobs from one country to another. That's why our government has to care more about defending and creating American jobs than ever before, not less. We can navigate the changes ahead if we embrace economic patriotism, and make American workers our highest priority, rather than continuing to cater to the interests of companies and people with no allegiance to America.
"End quote," Carlson said. "Now, let's say you regularly vote Republican. Ask yourself, what part of the statement you just heard did you disagree with? Was there a single word that seemed wrong to you? Probably not."
Then came the reveal.
"No, a Republican did not say that, sadly," he said. "Instead, the words you just heard are from — and brace yourself here — Sen. Elizabeth Warren of Massachusetts. It's true."
Carlson went on to offer an unqualified endorsement of Warren's economic plan — and its absence of "identity politics" and other Democratic "hysterics" about gun control or climate change (though the first policy rollout of Warren's economic patriotism plan was a proposal to invest $2 trillion in federal funding in clean energy, aimed at confronting climate change and reviving American manufacturing).
"Many of Warren's policy prescriptions make obvious sense," Carlson said.
"She says the U.S. government should buy American products when it can, and of course it should," he said. "She says we need more workplace apprenticeship programs because four-year college degrees aren't right for everyone. Well, that's true. She says that taxpayers ought to benefit from the research and development that they pay for."
Carlson added Wednesday that Warren "sounds like Donald Trump at his best," if not for her positions on social issues.
"Who is this Elizabeth Warren, you ask?," he said. "Well, not the race hustling, gun-grabbing, abortion extremist you thought you knew. Unfortunately, Elizabeth Warren is still all of those things, too. And that's exactly the problem, not just with Elizabeth Warren, but with American politics.'
The Fox News host went on to lament about the ideological dimensions of mainstream politics, claiming a that no party represents where "most Americans actually are — nationalist on economics, fairly traditional on the social issues" and singling out Sen. Mitch McConnell, the Republican majority leader (and Warren nemesis), for opposing tariffs.
"That's the Republican Party 2019," he said. "No wonder they keep losing. They deserve it."
Indeed, Carlson has been calling for Republican leaders to reexamine the party's traditional economic views since the beginning of the year. And his monologue Wednesday actually wasn't the first time the longtime conservative has commended Warren, who is otherwise a pariah of Fox News commentators.
In a January interview with Salon, Carlson praised Warren's 2004 book "The Two-Income Trap" for making the case that "when society changed in such a way that it took two incomes to support a family, everybody got poorer and less happy." He even suggested he might vote for Warren if she ran solely on the idea of creating an economy where a family could be supported by a single income (on the campaign trail, Warren often promotes the idea that a minimum wage job should keep a single mother out of poverty), so that parents can stay home to raise their kids.
"If she ran on that, I would vote for Elizabeth Warren, and I would say so in public," he said. "That's what I'm calling for, and I don't care who provides it. Why would I?"