Politics
Here's what Seth Moulton said about failing to make the first Democratic debate
"Sometimes this takes persistence."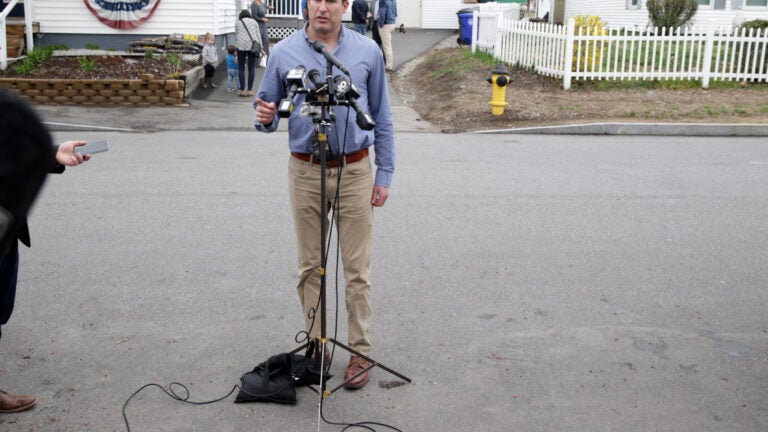 Twenty candidates for the Democratic presidential nomination will debate on stage in Miami later this month. Rep. Seth Moulton won't be one of them — and he says he won't be losing any sleep over it.
The absence of the Massachusetts congressman's name on the list of White House aspirants that qualified for the two 10-candidate primary debates on June 26 and 27, announced Thursday evening by the Democratic National Committee, didn't exactly comes as a surprise.
Moulton, who officially announced his 2020 candidacy in late April, said during a radio appearance last week that he didn't expect to meet either of the qualifying thresholds — registering at least 1 percent support in three DNC-approved polls or tallying at least 65,000 individual campaign donors — in time. During an interview Thursday night at the Edward M. Kennedy Institute in Boston after the debate participants were announced, the Salem Democrat downplayed the importance of the nationally televised event.
"It's a fair question, but I knew getting in the race so late that there was a really good chance I wouldn't make the debate," he said. "But what's important right now is that everywhere I go my message is resonating on the ground with American voters. And ultimately, this election is not going to be decided by the first DNC debate with 20 people. It's going to be decided by the American voters."
Moulton compared the situation to his first campaign for Congress, in which he became the first Bay State Democrat in more than two decades to defeat an incumbent congressman from his own party. Seven months into the race, polls showed Moulton down by more than 50 points to embattled Rep. John Tierney.
"Sometimes this takes persistence," he said. "We ended up winning that primary by 11 [percentage points] — closing a 53-point gap and then winning by 11 — and then won a general election by 14 in a district that voted overwhelmingly for a Republican governor."
In an email to supporters Thursday afternoon, Moulton also compared his current circumstances to the 2016 Republican presidential primary.
"I'm not losing any sleep over it, and neither should you," he wrote. "This race is a marathon, not a sprint. At this point in the 2016 presidential campaign, Jeb Bush was leading in the Republican primary. Ben Carson was in second. And Donald Trump hadn't even announced his candidacy yet."
Inbox: Rep. Seth Moulton addresses the fact he missed the deadline to meet DNC debate criteria. "I knew that getting in the race so late there was a strong chance I'd miss the first debate—and yes, I will. But fear not! I'm not losing any sleep over it, and neither should you." pic.twitter.com/17ID8KDA9s

— Stephanie Murray (@StephMurr_Jour) June 13, 2019
During his interview Thursday, the 40-year-old congressman reiterated that he wasn't concerned — but added that he's also "not naive."
"Look, it's a big field," he said. "And we poll very well among people who know me, but most Americans just don't know me yet."
According to a Morning Consult poll last week, 80 percent of 2020 primary voters either had never heard of Moulton (59 percent) or had no opinion of him (21 percent). Of those who had an opinion of him, he was viewed favorably by 12 percent and unfavorably by 8 percent. Moulton said Thursday that the way to remedy his lack of name recognition was simply more public appearances and time campaigning in early primary states.
"There's an element of this which just takes time," he said.
Moulton won't be the only candidate watching the first debate from home (or at least from outside the Miami events center). Montana Gov. Steve Bullock; former Alaska Sen. Mike Gravel; and Miramar, Florida Mayor Wayne Messam also did not meet the DNC's requirements.
Additionally, several candidates who entered the race later than Moulton — former Vice President Joe Biden, Colorado Sen. Michael Bennet, and New York City Mayor Bill de Blasio — were able to garner enough support to qualify for the first debate.
The next DNC debate is scheduled for July 30 and 31 in Detroit and has the same thresholds. Candidates still just have to meet at least one — the polling threshold or 65,000 donors — to qualify. However, the two-day event, like the debate later this month, has a 20-candidate limit. So if Moulton and others do reach at least one of the DNC's requirements, the party will use a series of tiebreakers, which prioritize polling over donors, to cull the number of participants back to 20.
Moulton's campaign declined to say whether they expect to make the debate stage next month.
"The DNC debates will not determine who the nominee is," Matt Corridoni, a campaign spokesman, told Boston.com.
"At this point in 2016 Trump wasn't even in the race," Corridoni said. "In 2008, Hillary Clinton was the presumed nominee, and in 2004 we were preparing for President Howard Dean. History shows it's better to be where we're positioned now than anyone else. Seth has been receiving a great response on the ground and he'll continue to take his message directly to voters."
In an interview Friday morning, DNC Chairman Tom Perez told MSNBC that he has "great respect" for Moulton — as well as Bullock, who has complained about the debate thresholds.
Perez argued that the party gave candidates an "ample amount of time" and that the qualifying rules amounted to an "unprecedented level of inclusion."
"They had a lot of time," he said. "A 1 percent bar is a fair bar. It's hard to get a lower bar than 1 percent. And so we gave folks a fair shake. And I have great respect for Congressman Moulton, and I worked closely with Governor Bullock. I think they are wonderful people, and it would not surprise me at all if they qualified for the debate stage next month."
The third and fourth Democratic debates are scheduled for September and October, respectively. The DNC has raised the bar for qualifying in those events; candidates will have to reach 2 percent in four approved polls or 130,000 campaign donors.