Politics
7 ways Elizabeth Warren's new plan would change how our elections work
The Massachusetts senator says her proposal would make voting easier and more secure.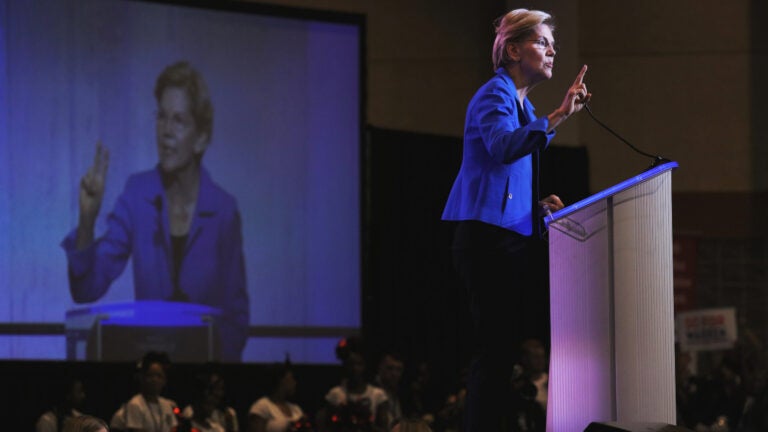 Since entering the 2020 race for the Democratic presidential nomination, Elizabeth Warren has looked to stand out from the crowded field with a constant stream of policy proposals she says she would pursue, if elected.
The subject of Warren's latest plan: The election system itself.
The Massachusetts senator unveiled a proposal Tuesday to make sweeping changes to the way federal elections are run in the United States, from registering voters to counting ballots, and creating new national standards for what is currently a highly decentralized system. The plan comes after years of Republican-led attempts to limit voting rights and lingering questions about the system's vulnerabilities.
"Our democracy is too important for it to be under-resourced and insecure," Warren wrote in a Medium post published Tuesday morning. "We need to do everything we can to make sure our elections are convenient, professional, and secure — and we should be willing to pay for it."
Warren has already called for abolishing the Electoral College for presidential elections. But her new proposal would touch all federal elections — i.e. Congress — and potentially many state and local elections.
"We have around 8,000 election jurisdictions all doing their own thing," she wrote. "They are overstretched, under-resourced, and their technology is often laughably out of date."
In total, Warren says the plan would allocate around $20 billion over 10 years for the reforms, which includes the creation of a new federal agency. She says the cost would be covered by her proposed wealth tax on fortunes worth more than $50 million.
Here's what the country would be getting for the investment:
1. New federal voting machines (and ballots)
For the sake of both voting security and accessibility, Warren's plans calls for old, paperless voting machines to be replaced by federally standardized equipment and hand-marked paper ballots. The Bay State senator says the new class of technology — paid for by the federal government — is particularly needed given Russian cyberattacks (some successful) on voting systems in 39 states in 2016.
"Right now some jurisdictions use dated machines that are easily hackable with no paper trail," she wrote Tuesday. "Ballot design is all over the place. No more. The federal government will replace every voting machine in the country with state-of-the-art equipment and require adoption of a uniform federal ballot."
Warren says the uniform ballots would be based on "easy-to-use design principles." The federal government would also provide every polling location with handicap-accessible voting machines
2. Expanded voter registration
Warren's plan would mandate states to adopt both same-day and automatic voter registration for federal elections.
As of this year, 16 states and Washington, D.C. allow voters to register on Election Day (otherwise known as same-day registration), while 17 states and Washington, D.C. are expected to have some form of automatic voter registration in place by the 2020 election.
Typically, in states with automatic voter registration, eligible voters are automatically registered after they interact with the state's Department of Motor Vehicles (such as when they renew their license). They can then choose to opt out. Warren's plan would apply the same model to interactions with federal agencies.
According to Warren, the reason her plan also requires states to offer same-day registration as well is to provide a "fail-safe for anyone who is mistakenly left off the rolls."
3. Make Election Day a national holiday
Most countries around the world hold national elections on the weekend, so that voting doesn't conflict with most citizens' work. But since federal elections in the United States are held on a weekday, Warren wants that second Tuesday in November to be a national holiday "to make it easier for people to get to the polls."
Republican leaders have characterized such proposals as an attempted "power grab" by Democrats, but the concept isn't controversial among the 2020 field. Nearly every single contender in the Democratic presidential primary supports making Election Day a public holiday.
4. Expand early voting to all states
Currently, 39 states currently offer some form of early voting or mail-in voting; Warren wants to make that number 50. Under her plan, states would be required to offer 15 days of early voting for federal elections, as well as expanded hours and the option to mail in one's ballot.
"Early voting and vote by mail is necessary so no one has to choose between a paycheck or exercising their right to vote," Warren told the Washington Post earlier this year.
5. No more voter purges
Warren's plan also includes a slate of ideas to address racially discriminatory practices to restrict voting. That includes a ban on voter purges, in which states look to "clean up" voter rolls by deleting names from their registration lists.
According to the Brennan Center for Justice, there has been a substantial increase in voter purges over the last decade, particularly since a Supreme Court ruling in 2013 that struck down part of the Voting Rights Act. According to a study by the nonpartisan think tank, many of the purges have been based on flawed methodology and threaten to disproportionately disenfranchise minority voters.
Warren says states would be banned from removing names from voter registration lists unless the individual requests to be removed or if "objective evidence" is provided that they have died, changed their address, or otherwise lost their eligibility to vote.
Warren also said her plan would grant convicts the right to vote — but only after they have served their time in prison.
6. Independent redistricting
With the Supreme Court slated to rule on two partisan gerrymandering cases and another round of redistricting looming after 2020, Warren would require states to use independent commissions when redrawing their congressional maps.
"Both parties should compete on a level playing field; not in a rigged game designed to suppress the will of the people," she said.
Warren's plan didn't get into the specifics of what the commissions would look like. Seven states currently have various forms of independent panels primarily tasked with drawing congressional districts, ranging from five to 14 bipartisan members, appointed by state lawmakers or judges.
7. The creation of a new federal agency
How would all of those reforms be implemented — especially in a nation where elections across the country are administered by a mishmash of state, county, and municipal governments?
Warren's plan would create a new federal agency, dubbed the "Secure Democracy Administration," to replace the Election Assistance Commission, which was created in 2002 to help states comply with voting reforms at the time.
The new independent agency would be charged with managing and developing new cybersecurity measures, which states would be required to implement — with technical assistance and training from the SDA. States would also be required to run post-election risk-limiting audits before certifying results. Currently, only 34 states have any sort of audit to ensure the accuracy of their elections.
The SDA would also make sure that states are following the new, mandatory standards and incentivize them to implement those principles in state and local elections.
According to Warren's proposal, states could craft plans to implement the new federal standards in their state and local elections. If approved by the SDA, the federal government would cover all of the state's election administration costs — with additional "bonus payments" for states that increase voter turnout across all demographic groups.
Warren says local jurisdictions could also partner with the federal government on their own plans, even if their state does not wish to participate.
States are allowed to follow their own rules for non-federal elections, but wouldn't receive any federal election funding beyond security measures. However, if states don't comply with the federal rules for federal elections, the SDA would be able to sue to intervene.
In a preemptive rebuttal to those who might argue her plan unconstitutionally infringes on states' rights, Warren's campaign released a letter Tuesday from legal experts asserting that Congress has authority to regulate the time, place, and manner of federal elections — as well enforce the 14th and 15th Amendments as they pertain to voting rights in state and local elections.
They even cited the opinion of the late conservative Justice Antonin Scalia that congressional power to regulate elections is "paramount, and may be exercised at any time, and to any extent which it deems expedient."
"The Constitution gives Congress the tools to regulate the administration of federal elections," Warren wrote Tuesday. "It's time to pick up those tools and use them."