Politics
Ayanna Pressley explains why she voted against border funding bill
"Do not believe for one moment that it is not feasible to get these children and families toothpaste and blankets."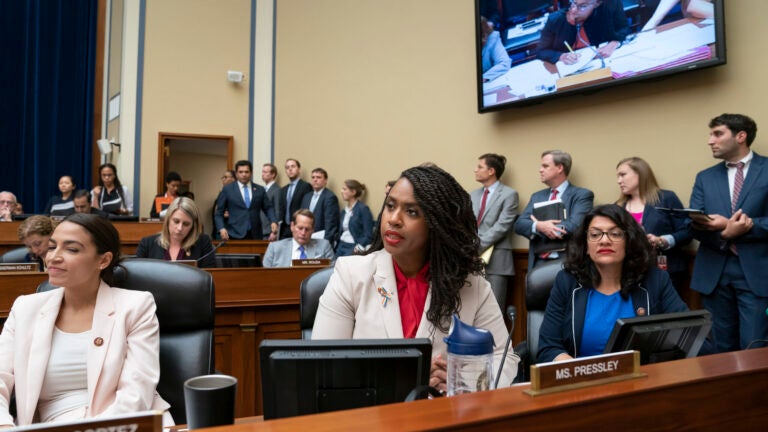 Rep. Ayanna Pressley explained in a Medium post on Wednesday why she was one of the four Democrats to vote against the emergency border aid package that was passed by the House. 
The $4.5 billion in funding — to care for the thousands of detained migrant families and unaccompanied children — was approved on Tuesday along party lines despite push-back from progressives, who were seeking significant changes to the legislation. Pressley, along with Reps. Alexandria Ocasio-Cortez of New York, Ihan Omar of Minnesota, and Rashida Tlaib of Michigan, voted "no."
We are sent to Congress to lead, to legislate and to carry the stories and struggles of those we serve. More on why, with a heavy heart but clear eyes, I voted no last night → https://t.co/Phqpm1z9fd | #MA7 #CloseTheCamps pic.twitter.com/VtXvCryz7C

— Rep Ayanna Pressley (@RepPressley) June 26, 2019
The Massachusetts congresswoman wrote on Wednesday that the "threats to our immigrant neighbors" from the Trump Administration are a "daily lived reality" for her constituents in the 7th Congressional District. She said she was encouraged to see improvements made to the bill and applauded her Democratic colleagues for "fighting to protect the rights of immigrants."
But she said she found herself struggling with one question and frustration: 
I worked with my progressive colleagues to push for improvements to the border supplemental bill that aim to get medical care, essential toiletries, and a semblance of humanity to children held captive at the border and to hold this Administration's deportation force accountable for human rights abuses taking place in broad daylight. In recent days, I find myself circling back to the same frustration — why is it that when the liberation, safety, health and humanity of black and brown children is on the line we are told that we must compromise, moderate our outrage, or delay justice? The answer to that question should bring each of us a deep pause and honest reflection about the history of this nation. When I see photos of babies lying on concrete floors, I think of my own daughter.
Pressley said before the vote in a joint statement with her three freshman colleagues that she couldn't "in good conscience" give additional funding to Immigration and Customs Enforcement. 
On Wednesday, Pressley called out the Trump Administration, saying it "traffics in injustice and lies": 
They have created an untenable situation at the border and children are dying in custody — a practice of cruelty plain and simple. Customs and Border Protection (CBP) and Immigration and Customs Enforcement (ICE) are not capable nor qualified to manage the care and custody of children and families. Do not believe for one moment that it is not feasible to get these children and families toothpaste and blankets. While I pray that the funding Congress has approved makes it to its intended purpose, the best predictor of the future is the past, and ICE and CBP have a track record of promoting a deep culture of corruption and abuse.

Families belong together and each of us deserves to live without fear. We must reject the status quo and affirm that when a family crosses our border fleeing persecution, they should be able to apply for asylum, and settle safely in community while awaiting a decision on their pending immigration case.
Pressley said she voted "no" with a "heavy heart" after much deliberation.
"I voted no because I believe we have to reject the status quo and work towards a clear vision of a humane immigration system, a just immigration system," she wrote. "I voted no knowing that as a society, we are judged by how we treat our children. I believe that it is the work of legislators to live our values and to negotiate. Tonight, I can tell my daughter that I have done both of those things."